Recycling- Bigger Pelletizing Extruders in High Demand
---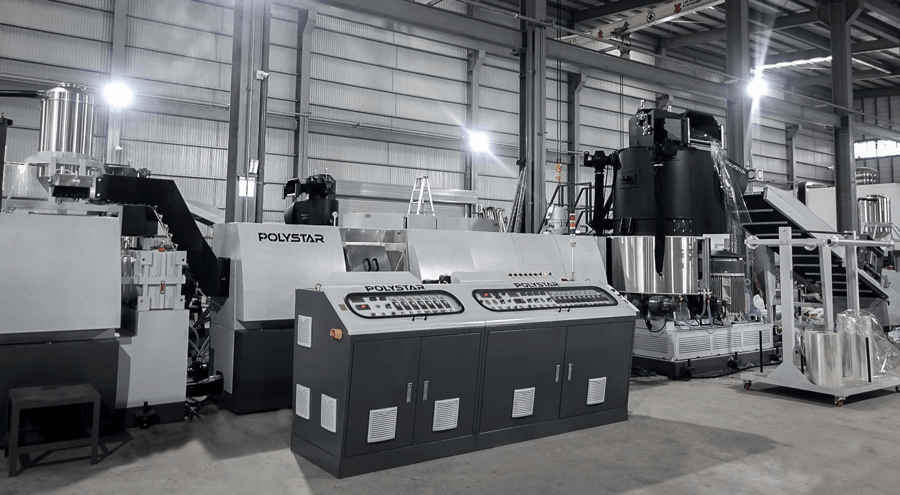 Higher-capacity recycling machines in need
With the growing importance of recycled-based products for both rigid and flexible packaging, the demand for plastic recycling continues to increase worldwide. Recyclers are now buying multiple machines at the same time and more notably, larger-capacity machines.
In some markets, the 800-1,000 kg/hour plastic pelletizing extruder has already become the standard for post-consumer and even some post-industrial recyclers.
This new trend is more evident when two post-consumer recyclers - one located in Japan (Kanagawa) and the other one in Mexico City, both placed an order of four 800-1,000 kg/hour machines all at the same time to be able to fulfill the increasing recycling demand of washed PE film, HDPE bottles, and PP woven bags.
In the same period, several recyclers in Australia, India, Colombia, Saudi Arabia, UAE and the US have also repeated their orders with multiple (at least 2) higher-capacity machines from POLYSTAR.
( Plastic recycling machine for post-consumer waste in demand )
Cutter-compactor increases output for big recycling lines
There is a clear advantage of having a built-in cutter- compactor for larger-sized recycling extruders. Because of this, the most popular machine model amongst recyclers has been the Repro- Flex due to its high level of efficiency and stability in recycling both soft and hard plastic scraps in a variety of forms.
When processing post-consumer materials, the cutter-compactor reduces the moisture level of the material coming from the washing lines such as washed flakes (from plastic film and pp woven bags) as well as regrind waste from milk and shampoo bottles. At the same time, it stabilizes the material feeding into the extrusion pelletizing line to ensure consistent production output and better pellets quality.
(The integrated cutter-compactor improves the overall output stability, especially for bigger extruders)
Feeding consistency is key for big recycling extruders
Feeding consistency is especially important to achieve and maintain higher production output in larger-sized recycling extruders. This is the case for processing both post-consumer and post-industrial waste.
For soft plastics such as flexible packaging, industrial film and washed flakes, the cutter-compactor, through natural heat and friction generated from the rotation, can quickly compact and densify the light-weighted material into a more solid form to be fed into the extruder at a constant rate.
When recycling rigid plastics such as PE bottle flakes from milk and shampoo bottles or regrind from injection products, the cutter-compactor functions to regulate the feeding speed of the material and prevents over-feeding to the extruder. It also works well with hot, rigid materials coming from the Squeeze dryer, as the constantly-rotating compactor further prevents the material from sticking to each other and bridging. In addition, the pre-conditioning process inside the compactor softens the rigid material, which reduces the shearing force and therefore minimizes the wearing on extruder screw and prolongs its lifespan.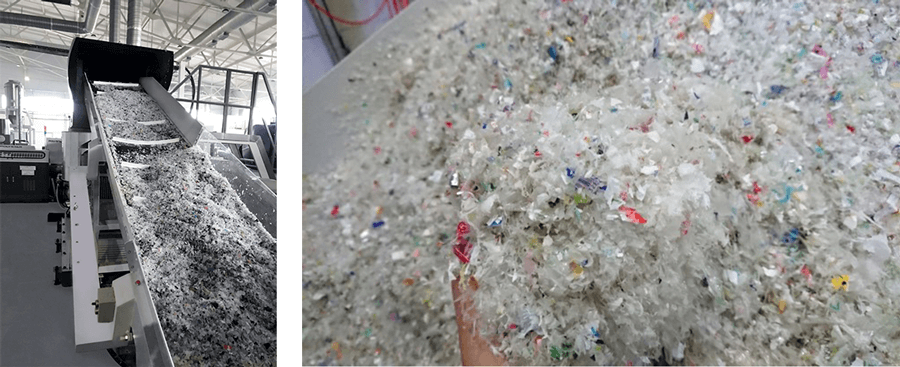 (Both film and bottle flakes are processed more efficiently in extruders with cutter-compactors built-in)

Two-stage pelletizing machines for post-consumer recycling
The two-stage (mother-baby) recycling extruder has gained popularity in recent years amongst post-consumer recyclers, as many have begun to see the advantage of having extra degassing and additional filtrations during the recycling process.
Recyclers have the option of adding a second extruder to the Repro-Flex model. Also having a cutter compactor built-in and operating with the same working principles, the Two-stage model Repro-Flex Plus has a total of three degassing zones and two filtration steps throughout the entire recycling process.
This is particularly effective for processing heavily-printed, laminated, multi-layered film waste and washed materials. The second stage process ensures that the materials are thoroughly degassed and filtered to improve the quality of the recycled pellets and as a result, increase the reusability back to the production lines.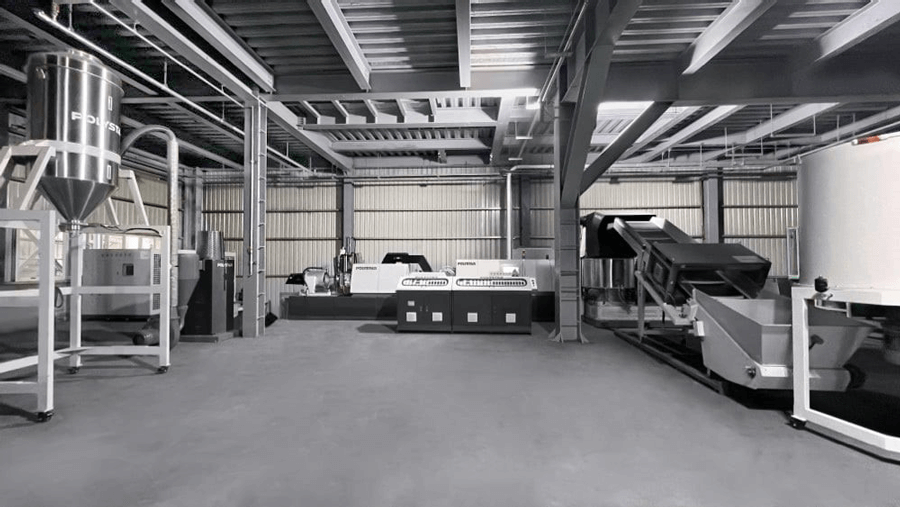 (Two-stage recycling extruders with a cutter-compactor built-in have many benefits for recyclers who process heavily printed film and washed materials)
Shorter delivery time. Even for big machines.
The impact of COVID-19 continues to present many challenges, resulting in high shipping costs and shortage of supply.
As the demand for plastic recycling machines remains strong, POLYSTAR continues to prepare in-stock plastic recycling machines to avoid long delivery times.
With the new (third) facility, we have been able to better serve our customers with faster machine delivery time and in-time spare parts support, keeping a large number of critical machine components in stock.
Our manufacturing facility in Taiwan, Sinji industrial park continues to operate at 100% during this time, making sure our customers receive the plastic recycling machines within a relatively shorter period of time, even for larger-sized and customized recycling machines. On the other hand, the delivery time for standard recycling machines such as Repro-Flex 85, Repro-One and Repro-Air is only 30 – 45 days.