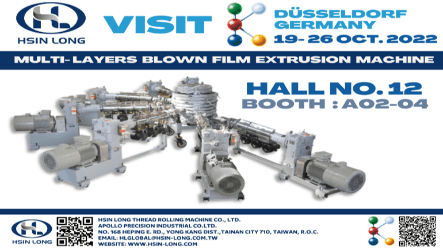 Multi-Layers Blown Films market is expected to increase in the next few years. First, let's give a brief talk about the Blown Film Extrusion Die Head. Mention about the Blown Film Extrusion Die Head, the types of die head will base on the final products. The Multi-layers Blown Film Extrusion Machine is available using different materials to produce the plastic films with various functions and well performance.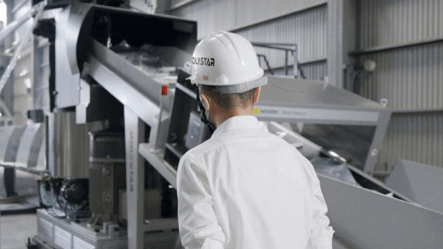 The production of plastic bags and plastic films around the globe is huge. In recent years, producers have implemented new technologies to complete a circular economy in their factories. To make this possible, producers need a plastic recycling system that produces good quality pellets and a blown film machine that can process up to 100% recycled plastic pellets.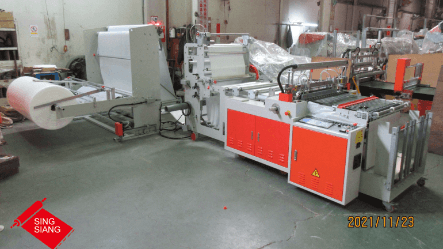 Sing Siang Machinery Co., Ltd. (SSM) is established in 1975 in Taiwan, specialized in all kinds of bag making machines and always provides customers with the most comprehensive technological service. Based on more than 40 years of design and manufacturing experience, SSM is capable of designing machines with practical performance for customers, at a reasonable and competitive price.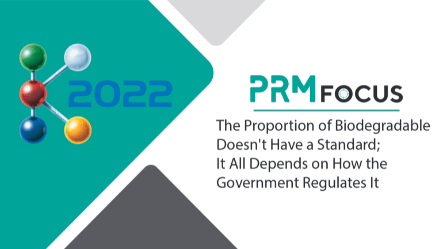 During a pre-K press event, Messe Düsseldorf's Executive Director Petra Cullmann announced that the main themes for K 2022 (Oct. 19-26) will be digitization, climate protection, and the circular economy, which are also the direction governments and enterprises worldwide are currently working towards. Whilst climate issue is becoming a crucial topic worldwide and biodegradable materials are being valued more, Taiwan's film-blowing machine manufacturers have greatly improved their film-blowing technology. At K 2022, many film-blowing machine manufacturers in Taiwan mostly covered this topic in the exhibition.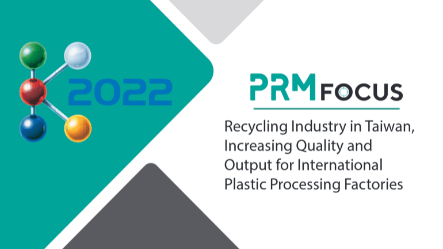 New regulations in many countries now require producers to use a higher percentage of recycled content in flexible and rigid packaging products. The instability of raw material prices and supplies also forces plastic producers to better recycle their production waste. With the great importance of recycled-based plastic products, the global demand for plastic recycling is expanding. Recyclers are now purchasing more advanced technologies and much plastic equipment at once, as well as bigger pelletizing extruders. We have different manufacturers having new developments and especially focusing on how to increase the potential as a whole of their machines. Below we mention some examples of manufacturers and their latest developments, all going in the same direction and taking care of what international customers are concerned about, such as an increase in output, multi-purpose recycling machines, higher efficiency, and also lower maintenance costs.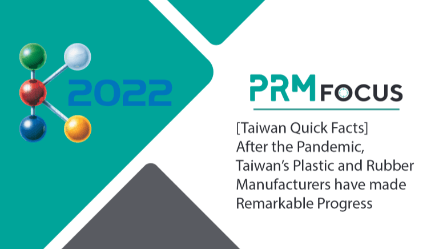 After the outbreak of the pandemic, although many orders of products and equipment were affected and delayed, there were some manufacturers became beneficiaries. For example, the pandemic prevention products such as masks, plastic gloves, or medical-grade parts saw a dramatic rise in the production industry. In the past three years, business travel and visits around the world have ceased almost entirely. Many Taiwanese companies have utilized this period of time to invest in manpower and resource research and development, which will be demonstrated in this year's K Show. *High-precision Die Processing Capability, GMA Wins the Favor of European Customers *Botheven Machinery Launched the Market's First Innovative Knitting Machine, which is More Automated and In Line with the Modern Trend *Quick Reaction, from a Stationery Machine Manufacturer to an Expert Mask Machine Manufacturer *Focus on the Design of each Unit, Stacking out the Big Upgrade of the Machine *From Transportation Protective Buffer Material to Electronics, Agriculture, and Stationery, Bubble Film is Widely Used *Proportional Valves Suitable for Various Industries to Supply the Needs of Industry 4.0 and the Medical Industry *PAL Breaks Through the Sealing Melting Point of Biodegradable Materials, Accurate and Stable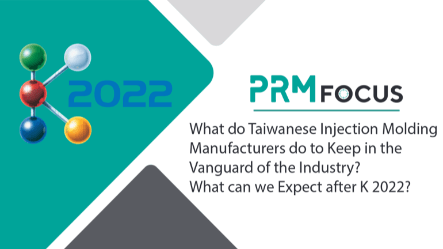 It is well known that the Injection Molding Industry is wide. This is due to the final products that these machines can manufacture in our daily life. Taiwanese suppliers are not only well known for their innovations, but also for the quality-price relation. In order to assure quality, most Taiwanese manufacturers build their machines with Taiwan, Europe, Japan, or US-made parts and components, providing high reliability for customers. For many international customers, this is the time they are finally waiting to make the decision on which machinery to purchase for their production lines.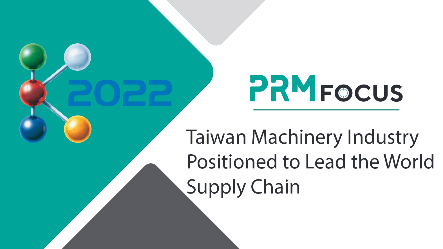 Since the 2019 K-Show until now, in just three years, the situation in the world has changed dramatically due to the outbreak pandemic. However, people are getting used to this unique circumstance. Including supply chains disconnected from the global economy. Even if the pandemic ends in the future, there will still be some uncertain factors such as geopolitics, trade war, and climate change. No one can guarantee the "broken chain" will not happen again.  In the early stage of the pandemic, Taiwan successfully managed the situation and gained some buffer. This led Taiwan to become a trusted supply chain partner all over the world! The recycling industry is especially outstanding! From PIR to PCR, Taiwan's recycling technology is highly appreciated by global buyers.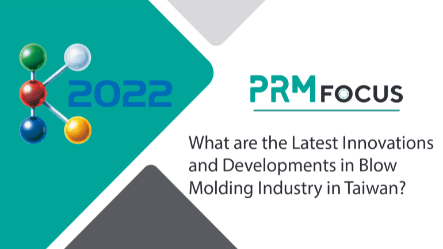 After K 2019, it is well known that the whole industry changes its way to deal with business, especially those that have a presence at an international level. After 3 years we have another perspective when it comes to service. We have interviewed and discussed with several Blow Molding suppliers who are the pioneers in this industry in Taiwan, the challenges they have faced during these 3 years of the pandemic and how they solved them to continuously provide high quality service to their customers worldwide. The common challenge for all suppliers faced is the after-sales service since travel restrictions were more difficult for machine manufacturers to send engineers to international customers' factories.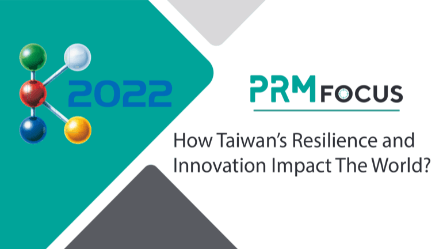 Notoriously, the post-pandemic era has made the Rubber Machinery Manufacturers in Taiwan invest more in their R&D capabilities to improve the features and efficiency of their machinery. This initiative has given an extra boost of recognition around the world for the continuous solutions provided by Taiwanese manufacturers. Some of these innovations include the improvement of energy-saving, reduce labor costs, reduced material wastes, increased material quality, and automate machinery processes.One of the indispensable advantages that have allowed Taiwanese Rubber Suppliers to stand out over their competitors is their automated functions to reduce labor requirements, and water and energy savings.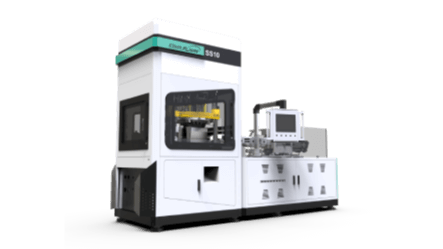 PET is widely used packaging material for water, beverage, and food industry. It is also highly recycled.  Major brands in beverage industry such as Pepsi and Coca-Cola are also planning to increase the rPET percentage within their product packaging. Many countries around the globe have launched environmental strategies such ESG...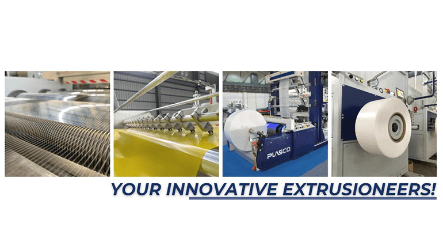 PLASCO is an Industry leader in design, manufacture, and supply of innovative plastic extrusion line to the market worldwide. Our performance spectrum range from individual extruder machine, to the engineering, planning, and delivery of complete turn-key factories. We offer our customer our speciality knowhow in the field of plastic extrusion, our innovations and engineering background is our core competence to provide customized solution and has driven us success for more than 30 years. Our advantages • With 2 manufacturing factories in Taiwan including test center. • More than 3600 PLASCO extrusion lines all over the world • Installed the extrusion lines in more than 80 countries worldwide • Focus on innovation and quality: independent R&D dep. and electrical engineer • Customized and top quality to satisfy customers • Convenient to find spare parts all over the world: we use the well-known global components for machines Work with PLASCO • Customized design & auxiliary equipment provided • Efficiency & exact lead-time • Service & support: installation, operation training, and technical knowledge support • CE certificate of compliance With its high level of reliability, efficiency, energy saving concept, and top quality finish product, PLASCO plastic extrusion line ensures the modest investment compared with its high productivities to facilitate the ever-demand requirement of all market sectors.