IRAN
HOT NEWS
IRAN PLAST 2018 Interview Videos Part Two
For Part Two of the interviews, we would like to invite Azin Polymer, the Iranian agency that has worked with Taiwanese companies for many years, and VDMA (one of the largest German business associations) to share their view on the Iranian market.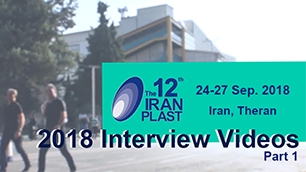 IRAN PLAST 2018 Interview Videos Part One
People thought there isn't a market need for plastic and rubber machinery in IRAN PLAST. On the contrary, Iran has shortages on a lot of equipment and raw materials. However, although there is a huge demand for goods, money could not be remitted due to the sanctions.