GRECO: Sustainable Bioplastics Make the World a Better Place to Live
---
We are delighted to invite you to join us at the upcoming exhibition events. We will be showcasing our latest eco-product solutions, featuring bioplastics, recyclable materials, energy conservation, carbon reduction, and sustainable supply chains.
Fakuma 2023/10/17-21 -

GRECO Booth: Hall FoyerOST/ FO-36

VietnamPlas 2023/10/18-21 –

GRECO Booth: B332
Eco-solution to the Future
Sustainable bioplastics derived from natural plants, make life more energy efficient and make the world a better place to live.
ISOTHANE Bio TPU (biodegradable thermoplastic polyurethane): The bio-content can be custom-produced according to customer needs.
Our TPU ISOTHANE ® offers a versatile solution over a wide hardness range from shoes to automotive and medical industry. It exhibits excellent abrasion, chemical resistance and weather stability. In addition, TPU ISOTHANE ® offers a sustainable series using bio-based and recycled materials to reduce carbon footprint. ISOTHANE ® Bio-TPU integrates with up to 50% content from biomass and it can reduce around 40-50% carbon footprint compared to fossil-based TPU. Bio TPU can be custom-produced with various bio-content according to customer needs. It is sourced and extracted from natural plants such as corn starch and castor seeds, making it a sustainable alternative to petrochemical-based materials.
We also work with GRS certified partners to make our materials sustainable without compromising on quality. All the flow of material and process are strictly audited according to Global Recycled Standard. This ensures feedstock is systematically traceable by the mass balance approach. Our recycled portfolio include r-ABS, r-TPU, ETPU grades with a 20% to 100% share of PIR (post-industrial recycled) materials and LFRT series with PCR and PIR plastic materials.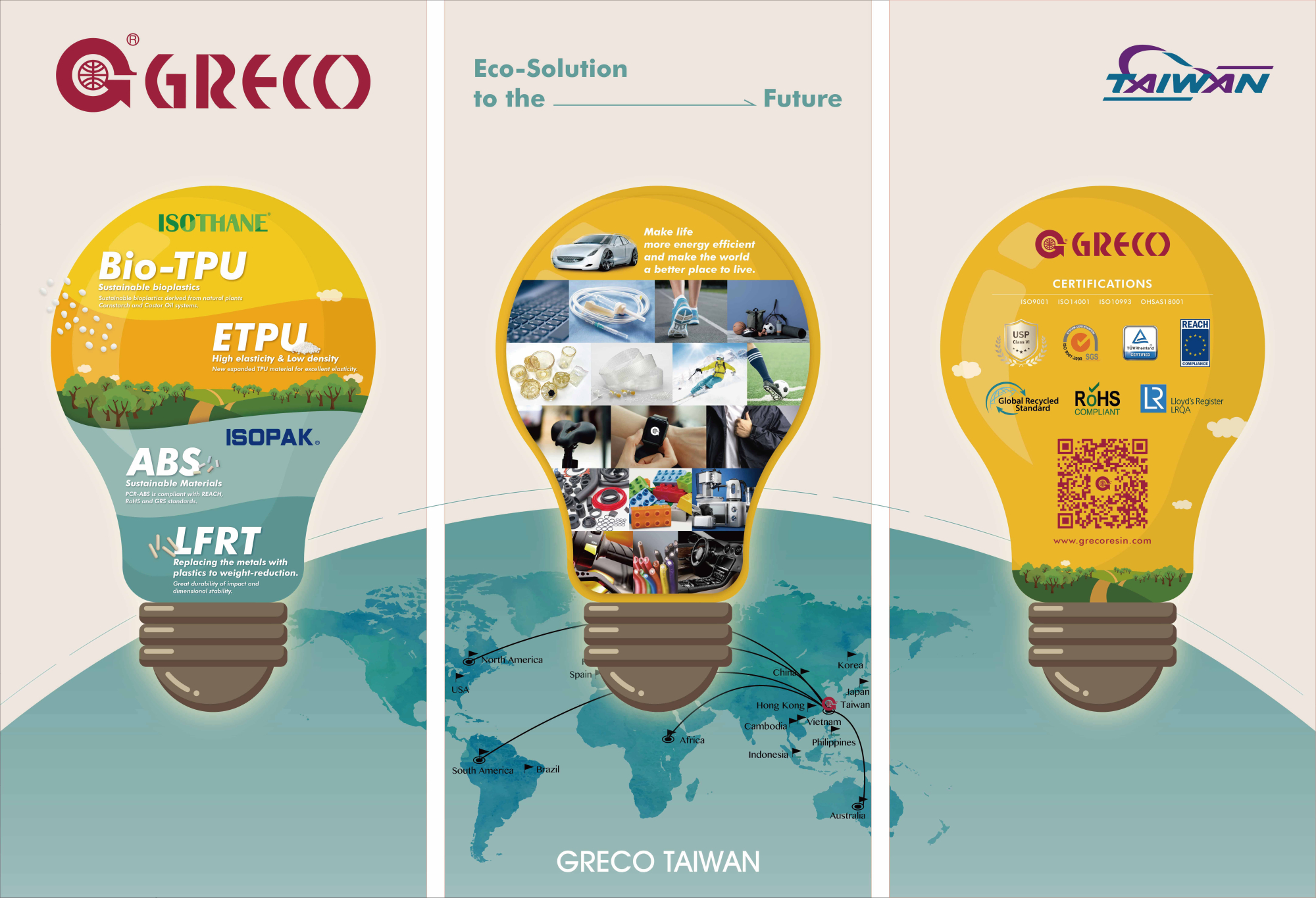 *Carbon Reduction for GRECO's product portfolio
GREAT EASTERN RESINS INDUSTRIAL CO., LTD. is one of the renowned manufacturers, suppliers and exporters of TPU Material, with a factory in Taiwan. We constantly upgrade our products to meet the international standards. We hold a team of professionals to assure on-time deliveries of quality products to our customers consistently.
If you are interested in our products, please feel free to contact us.
Learn more about TPU through the video