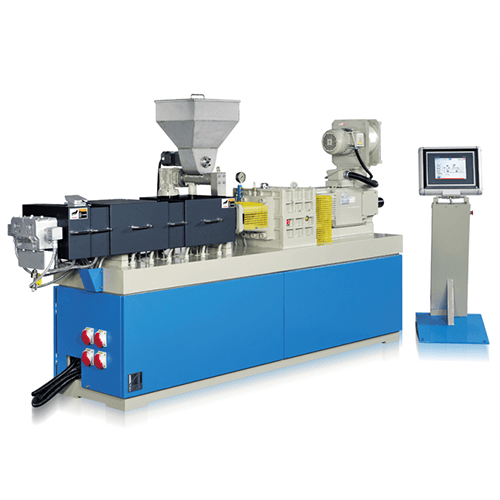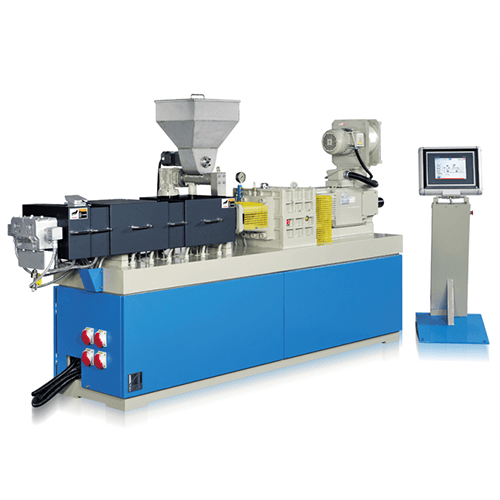 Classification :
Extruders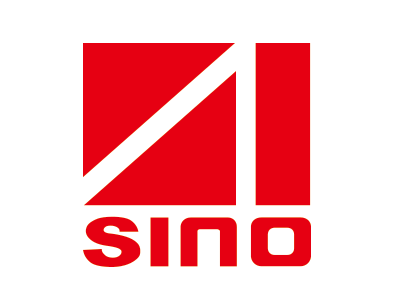 Country: Taiwan
Phone: 886-3-4838475
Fax: 886-3-4839052
Contact Person: Donald A. Stephens
The optimization of the PSM30A resulted in a more compact, durable and highly efficient design that is very easy to operate. It is designed with product development, small batch research and production, and educational institutes in mind. The internal cooling water channel with high power Al or Cu heating elements has been proven to provide excellent thermal transfer, precise temperature control and be energy efficient. The PSM30A has vacuum degassing and ventilation functions which are identical to the larger full production models. The screw threads of the PSM30A are also designed to match the high output of the full production models. This compatibility allows for the direct transfer of the experimental parameters to full production models without conversion factors involved. Furthermore, the system is also capable of remote control and includes an Ethernet network and communication function via the Internet to allow for central remote control or communicating with other peripheral devices. All PSM30 series extruders meet or exceed CE and international safety standards. Sino-Alloy can also design a custom line for meeting your specifications.
| Model | PSM20A | PSM30A | PSM50 | PSM50A | PSM72 | PSM72A | PSM92 | PSM92A |
| --- | --- | --- | --- | --- | --- | --- | --- | --- |
| Throughput (kg/hr) | 2~15 | 15~80 | 20~180 | 50~300 | 20~600 | 200~700 | 211~1200 | 400~1200 |
| Screw Speed (rpm) | 600 | 600 | 350 | 600 | 300 | 600 | 350 | 600 |
| Main Motor Power (kW) | 5.5 | 18 | 45 | 90 | 110 | 220 | 317 | 430 |
| Main Motor Speed (rpm) | 1750(4P) | 1750(4P) | 1750(4P) | 1750(4P) | 1750(4P) | 1750(4P) | 1750(4P) | 1150(6P) |
| Torque (Nm/screw) | 45 | 147 | 615 | 710 | 1750 | 1750 | 5045 | 3430 |
| Screw Diameter (mm) | 21.7 | 31.2 | 50 | 50 | 72 | 72 | 92 | 92 |
| Center Height (mm) | 1100 | 1000 | 1000 | 1000 | 1000 | 1200 | 1200 | 1200 |
| Total Length (mm)* | 2238 | 2859 | 4370 | 4457 | 5210 | 5964 | 7494 | 7522 |
| Width (mm)* | 550 | 570 | 760 | 760 | 870 | 940 | 1040 | 1200 |
| Total Height (mm)* | 1270 | 1262 | 1250 | 1250 | 1402 | 1581 | 1759 | 1564 |
| Frame Length (mm)* | 1850 | 2400 | 3560 | 3560 | 4020 | 4990 | 6042 | 5865 |
| *(L/D=40) | | | | | | | | |