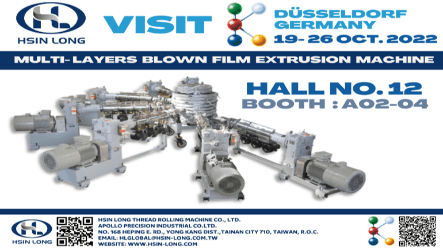 HSIN LONG: Your Best Consultant of Multi-Layers Blown Film Extrusion Die Head in K 2022
Multi-Layers Blown Films market is expected to increase in the next few years. First, let's give a brief talk about the Blown Film Extrusion Die Head. Mention about the Blown Film Extrusion Die Head, the types of die head will base on the final products. The Multi-layers Blown Film Extrusion Machine is available using different materials to produce the plastic films with various functions and well performance.
Returning in November, Propak West Africa is once again set to be the primary exhibition for the packaging, plastics, printing and processing industries to showcase their products and connect with their industry peers.
Taiwan's largest industry 4.0 exhibition - Intelligent Asia 2022 - will be grandly unveiled from August 24th to 27th at Taipei Nangang Exhibition Center Hall 1 & 2. Packing the whole procedure of smart manufacturing from production to delivery section, the show gathers 9 major sectors including Automation, Robots...