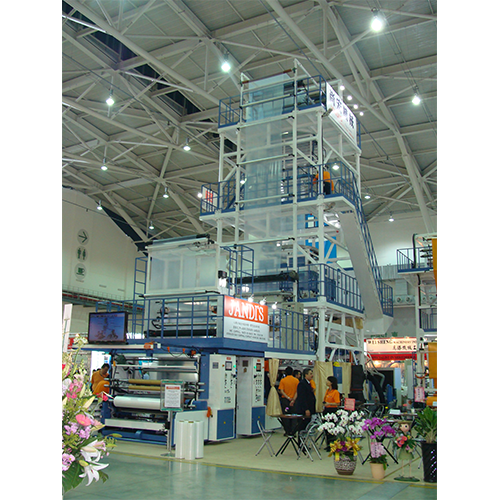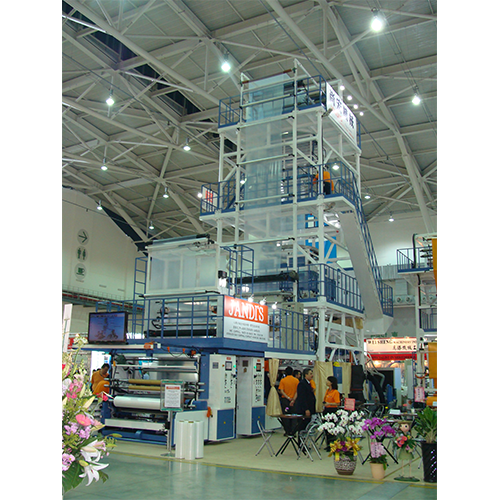 Classification :
Blow Film Extrusion Line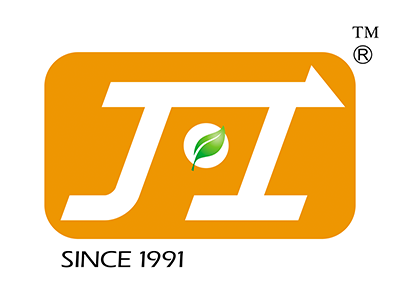 Country: Taiwan
Phone: 886-5-220-0506
Fax: 886-5-220-1955
Contact Person: Mr. Huang
A-B-C 3 LAYER CO-EXTRUSION FILM INFLATION MACHINE

MODEL

GF-L3C-MT-1800

FEATURE

MATERIAL TO BE USED

LDPE / LLDPE / mLLDPE / HDPE / EVA / PP

MAX. FILM WIDTH

FLAT FILM 1800mm ; WITH GUSSET 2500mm (5000mm OPEN WIDTH)

FILM THICKNESS

0.020 ~ 0.20mm (THINNER or THICKER GAUGE REQUIRED, TO BE SPECIFIED BY BUYER)

LAYER RATIO

1:1:1 TO 1:3:1

EXTRUSION OUTPUT

Max. 650kg/hr

MAX. PRODUCTION CAPACITY

550kg/hr for 1:1:1
480kg/hr for 1:2:1
400kg/hr for 1:3:1

REAL PRODUCTION OUTPUT

REAL PRODUCTION OUTPUT DEPENDS ON THE MATERIAL, FILM SIZE, OPERATION CONDITIONS, SKILL & EXPERIENCE

THICKNESS TOLERANCE

+/- 3 to +/- 10%
Depends on the material compound, film thickness & operation conditions

EXTRUDER

(THREE SETS)

SCREW DIAMETER

75mm x 2
85mm x 1

SCREW L/D RATIO

30:1

DRIVING MOTOR

100HP X 2, INVERTER CONTROL
125HP X 1, INVERTER CONTROL

EXTRUSION CAPACITY

75mm : Max. 200kg/hr
85mm : Max. 250kg/hr

CO-EXTRUSION DIES

ψ400mm (or to be specified by buyer), EUROPEAN DESIGN


CONTROL PANEL

TYPE

INDEPENDENT TYPE SWITCH BOARD (BOX), CE STANDARD

TEMP. CONTROL

PID TEMPERATURE CONTROLLERS, COLD-START PROTECTION


COOLING UNIT

EXTERNAL COOLING

FULL-AUTOMATIC THICKNESS CONTROL, EUROPEAN DESIGNED FLYER AIR RING
EUROPEAN HMI CONTROL

INTERNAL COOLING

EUROPEAN DESIN IBC DISKS
EUROPEAN HMI CONTROL

AIR BLOWER

20HP, INVERTER CONTROL

TAKE-UP UNIT

FIXED TOWER, HEIGHT

12.5 M

OSCILLATING HAUL-OFF

HORIZONTAL TYPE, SITTING ON SLEWING RING BEARING,
OSCILLATING IN NEARLY 360°, HMI CONTROL

TAKE UP ROLLER

1900mm

TAKE UP MOTOR

3HP, INVERTER CONTROL

TAKE-UP SPEED

MAX. 60M/min or TO BE SPECIFIED BY BUYER

BUBBLE GUIDE

CAGE TYPE, UP/DOWN BY MOTOR DRIVEN
OPEN/COSE BY MOTOR DRIVEN, AUTO-ADJUST BY WIDTH CONTROL

STEADY PLATE

MOTOR DRIVEN TYPE , MADE OF ALUMINUM ROLLERS

GUSSET BOARD

450mm DEPTH, MOTOR DRIVEN

GUIDE UNIT

TWO SETS A.C. MOTOR + INVERTER

WINDING UNIT

SCGC TYPE

SURFACE / CONTACT / GAP / CENTER, 4-IN-1, FULL-AUTOMATIC, HMI CONTROL, TWO STATION WINDER

BOBBIN CHANGE

PNEUMATIC SYSTEM

FILM CUTTING

PNEUMATIC SYSTEM

EFFECTIVE WIDTH

1800mm

WOUND-UP DIAMETER

Max. 800mm

SURFACE WINDING

2HP, INVERTER CONTROL

CONTACT/GAP/CENTER WINDING

3HP, INVERTER CONTROL, SERVO MOTOR FOR POSITIONING

AIR SHAFTS

3" x 3 PCES ON EACH WINDING STATION, TOTAL 6 PCES ;
6" AIR SHAFTS or 6" AIR CHUCKS by extra charge

SIDE-OPENING

TWO SETS, AIR BLOWING TYPE

SLITTING DEVICE

SINGLE-BLADE UNIT X 2 SETS, DOUBLE-BLADE UNIT x 2 SETS

TENSION CONTROL

AUTOMATIC TYPE, WITH LOADCELLS

UNLOADING UNIT

HYDRAULIC SYSTEM, ONE ON EACH SIDE

OTHERS TO BE INCLUDED

- 4-COMPONENTS GRAVIMETRIC DOSING UNIT x 3 SETS

- EXTRUSION CONTROL (YILED & GRAM PER METER CONTROL)

- 4-IN-1 MATERIAL AUTO LOADING SYSTEM* 3 SETS

- PRESSURE & MELTING TEMP. GAUGE x 3 SETS

- AUTO FILM GAUGING SYSTEM WITH OSCILATING RING TO WORK WITH AUTO AIR RING

- AUTOMATIC WIDTH CONTROL

- MONITORING & SUPERVISING SYSTEM, WITH 15" HMI SCREEN, TO CONTROL MATERIAL RECIPES / PRODUCTION OUTPUT / FILM WIDTH / FILM THICKNESS / IBC.

- EDGE POSITION CONTROL (EPC)

- AIR CHILLING SYSTEM, WATER COOLING TYPE (WITH COOLING TOWER & WATER PUMP)

- EDGE-TRIM WINDER, 2-SPINDLE TYPE

OPTIONS

5.0 KW CORONA TREATER, HEAT-SLITTING UNIT, 6" AIR SHAFTS or 6" AIR CHUCKS, CENTER POSITION CONTROL(CPC), AIR COOLING TYPE AIR CHILLER ….etc.

REMARKS

* Final specifications of the co-extrusion machine depend on the film application, material to be used, accepted thickness tolerance, and your special requirements.