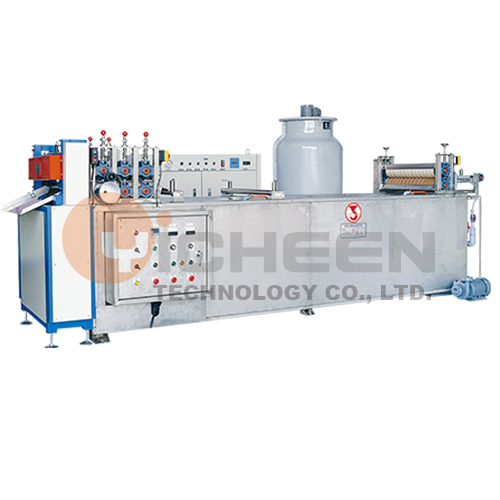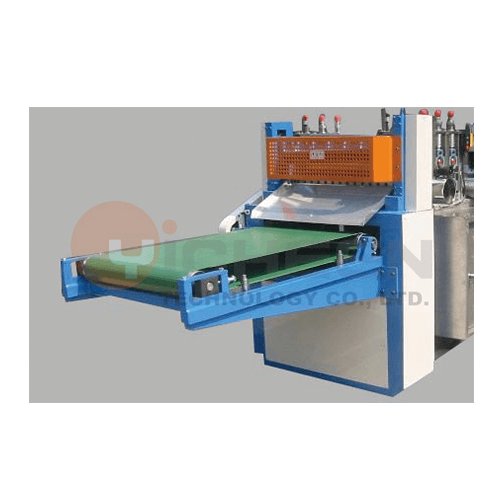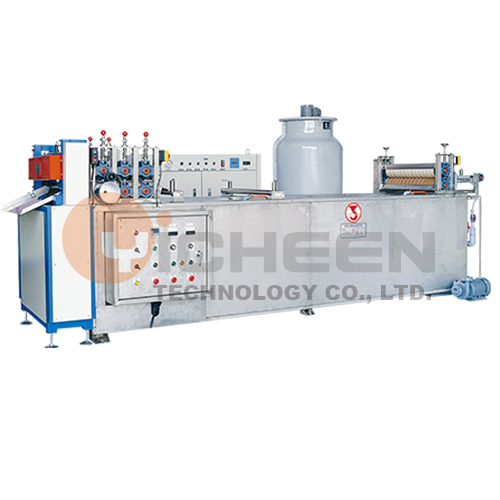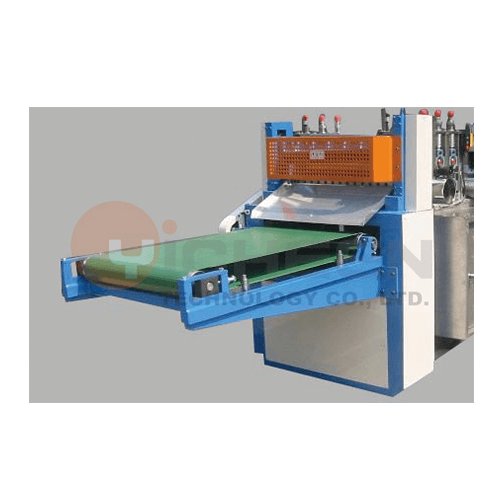 Classification :
Rubber Sheet cooling ,cutting, stacking system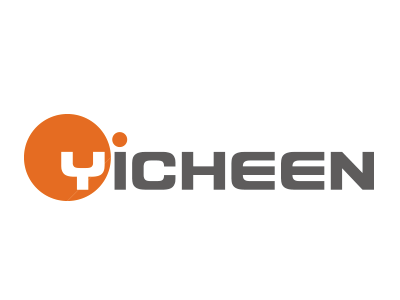 Country: Taiwan
Phone: 886-6-3562788 (21)
Fax: 886-6-3562777
Contact Person: Peggy
The machine can offer fast cooling of the rubber sheet to the desired temperature. This process ca prevent non-vulcanized rubber sheets from sticking together during stacking, reducing the possibility of deterioration.
Eliminating contamination of powder dust, and improving the quality of the environment.
Cooling water of this machine can add anti-stick agent Antitack-161
The machine adopt DC motor or inverter controlled AC motor, providing variable speed adjustment with maximum speed up to 25M/min.
Operating method adopt button and rotator switch for controlling speed.
Cutting device could be set up after sheeting for simplifying production process, and save labor cost
Model
YC-500(standard)
YC-500L (lengthen)
YC-502 (dual tank)
Sheet size
L10~¥M × W 550 mm × T 1~10 mm
sheeting speed
10~25 M/min.
Tank
1
1
2
Tank capacity
750L
1130L
1130L
Machine size
L2850×W1110×H1420mm
L3850×W1110×H1420mm
L3850×W1110×H1420mm
N.W.
650 kgs
750 kgs
750 kgs
Options
discharge cutting device
10 tons refrigerating device (10tons chiller + cooling tower)
15 tons refrigerating device (15tons chiller + cooling tower)
20 tons refrigerating device (20tons chiller + cooling tower)
Specifications are subject to change without notice for design improvement.
The specification can be designed by customers demand.
Conveyer
Rubber, Silicone, EVA, Synthetic materials