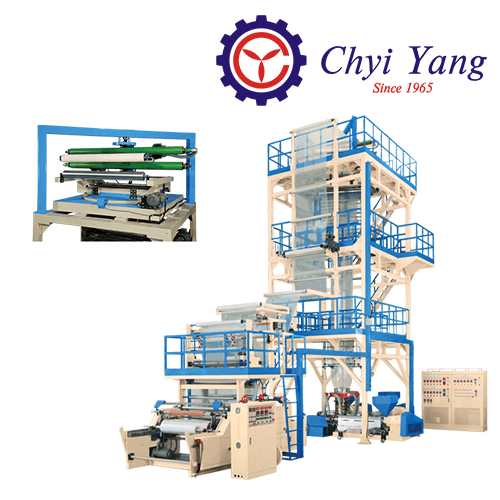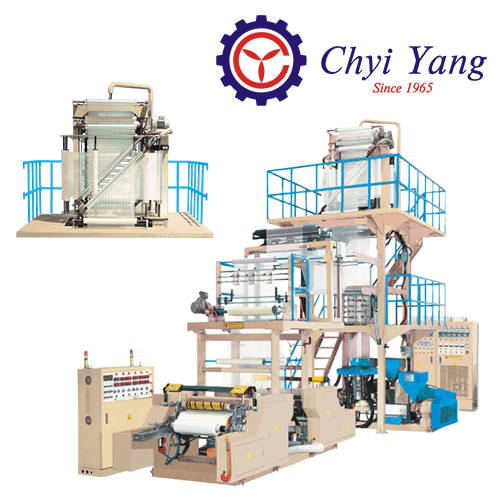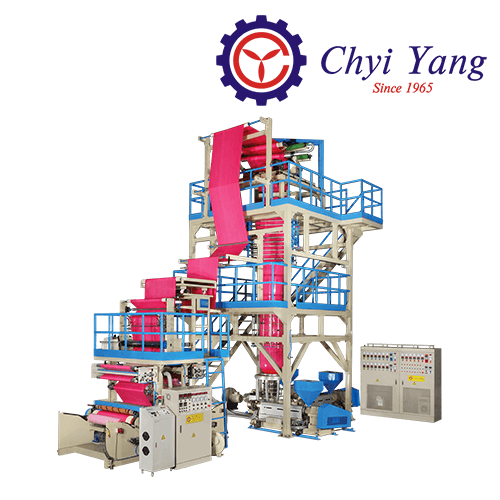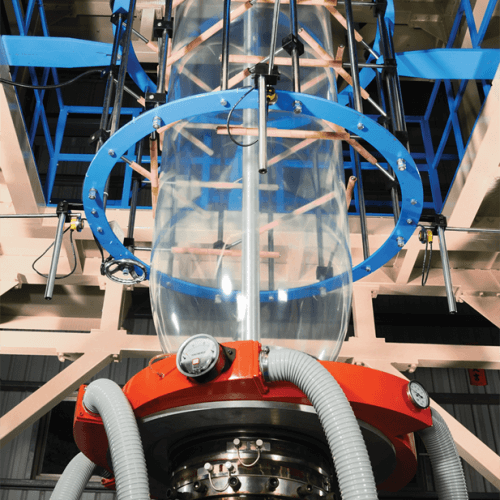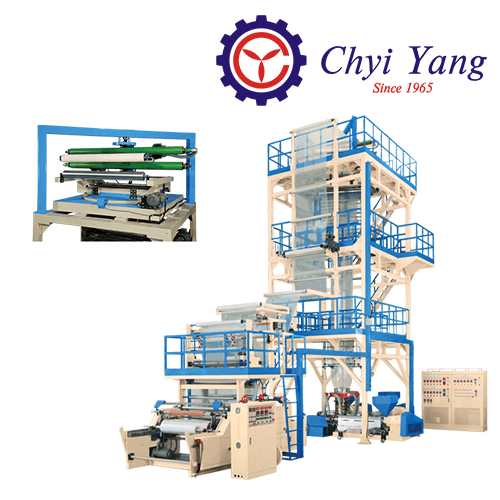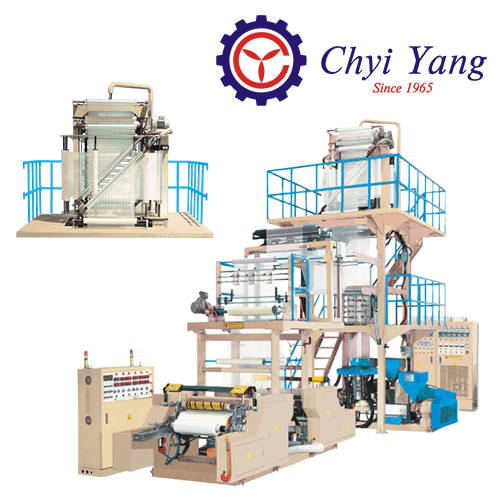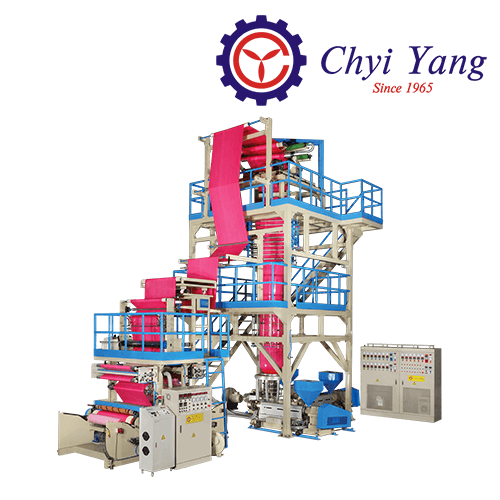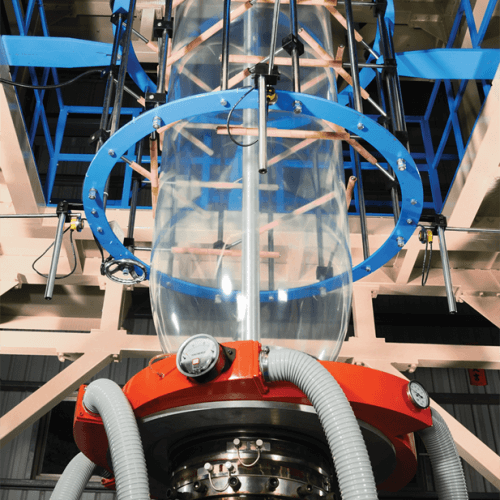 Classification :
Co-Extrusion / Multilayer Blown Film Machine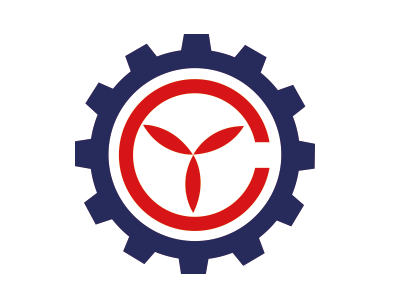 Country: Taiwan
Phone: 886-3-328-8686
Fax: 886-3-328-3737
Contact Person: Renee Kuo
Application for greenhouse sheet, agricultural film, construction sheet, food package and sack
Max. film width up to 4.2 m (8.4 m in single-layer-opened film)
Raw material HDPE, LDPE, LLDPE, EVA, MPE, PP etc.
Three sets of gearbox, motor for independent control
360º Oscillating Nip roller device is optional for uniform thickness film and improve the defects of rotary die device.
Optional "Waste film recycling machine" lets this machine doesn't have any waste plastic film, it can feed waste film directly into screw to save your cost
We didn't show all our models, please don't hesitate to contact us for bigger extruders.
MODEL NO.

THDP-35

THDP-45

THDP-55

THDP-65

THDP-75

Screw Diameter (mm)

35 x 3 sets

45 x 3 sets

55 x 3 sets

65 x 3 sets

75 x 3 sets

Output (Kg/hr) *

35-90

50-100

60-120

70-150

80-200

Roller Width (mm)

750

1000

1200

1600

2000

Film Thickness (mm)

0.025~0.2

0.025~0.2

0.025~0.2

0.025~0.2

0.045~0.2

Power Required (Kw)

75

90

130

160

180

Drive Motor (HP)

15 x 3 sets

20 x 3 sets

30 x 3 sets

40 x 3 sets

50 x 3 sets

LDPE Die Diameter (mm)

100 or 150

120 or 200

150 or 300

450

800

Machine Dimension (m)

8.4 x 3.5 x 6.5

8.8 x 4 x 7

9.2 x 4.5 x 7.5

9.6 x 5 x 8

10 x 6 x 8.5




*Output depending on film width, thickness, die size, raw material.

*For more details specification, special requirements & quotation, please kindly contact us.



OEM with Italy manufacturer for better 3-layer Co-Extrusion film quality
3-Layer Co-Extrusion Blown Film Machine
Chyi Yang showed one set 3-Layer Co-Extrusion Blown Film Machine in 2014 Taipeiplas exhibition. We cooperated with Italy SYCRO to produce main parts including IBC, 3-layer co-extrusion die, air ring, automatic width & thickness controller. The internal bubble control (IBC) is available for film cooling & increasing output. Film width is set up by touch screen instead of manual operation. According to the oil price increases & not stable, Chyi Yang uses Automatic Thickness & Width Control to control the difference range between ±5% to save resin cost. The air ring is up-and-down moveable in order to improve the cooling when you run high speed. There are 48 points in air ring to adjust the thickness automatically. The extruders are 65mm & 90mm & 65mm, equipped with motor 75HP & 100HP & 75HP. The max. film width is 1500mm & the capacity is max. 8.4tons per day.

Except the above, this machine is also equipped with 360° oscillating nip roller device & tension controller & fully automatic winder. It is suitable for the production of laminating film, greenhouse sheet, construction sheet, food packages and sacks, etc. Material composition can be 2-layer of A+B structure, 3-layer of A+B+C or A+B+A. The screw material is bi-mental MAC-24 from Japan, the mixing design is very good for different resin composition, carbonate additive & recycled material. The 360° oscillating nip roller device can efficiently produce more uniform and flat film. The oscillating nip roll system mainly conquers troublesome rotary die maintenance problems which have been happening for several decades. In addition, it also provides the most efficient way to randomize gauge variations which are caused by ambient drafts. It results in the most smooth and perfect production rolls.

Our fully automatic winder got Taiwan patent no. 113496. The cutter is "front cutter type", when the film be cut, it won't run back & be re-winded in the steel roller, there is no waste film. Two operators can take care of eight sets machines, that means you can save labor cost. Tension control remains the film tension to be the same, the film won't tighten paper core while it becomes jumbo roll. Fully automatic winder can cut & change rolls automatically, the arms will lift down the finished rolls, all functions are for economizing manpower.

Go straight to Chyi Yang for machinery that exceeds your exceptation !