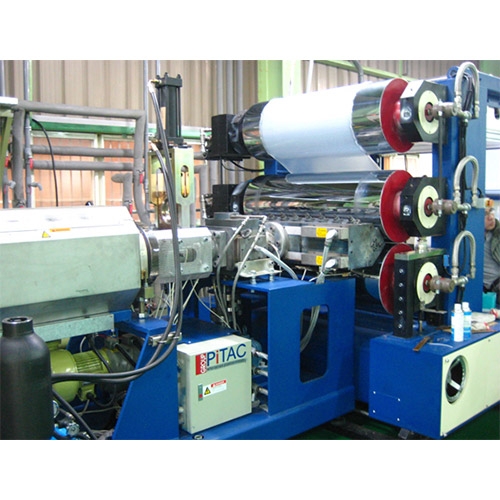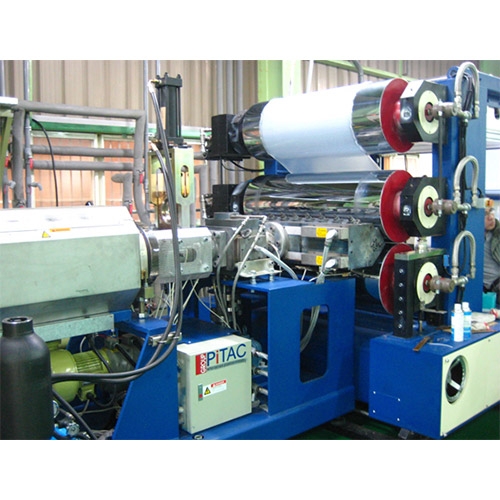 1.
Extruder
is driven by AC Inverter duty motor, with excellent efficiency and lowest power consumption.
2. Extruder hopper with low-level sensor work with auto-feeder will keep
material
in stable supply.
3. Hydraulic driven screen changer avoid any particle goes to melting pump & flat-die.
4. Melting pump with accurate rotation
control,
keeps the material flow stable.
5. Extruder & melting pump speed is working on pressure synchronized controlling system.
6. Flat-die with
individual flow
& lip-gap control, keep the sheet thickness uniform.
7. By individual servo-drive, the forming roller will rotate at perfect balance speed.
8. Forming roller gap is controlled by servo-motor, with computerized control will be sure the roller gap accuracy.
9. With roller
cooling
water
monitoring,
will keep the sheet quality constantly.
10. Edge trimming + crushing + on-line recycling system wastage free.
11. Static eliminator will remove the sheet surface static- electricity.
12. With
sheet
tension control will keep the sheet-roll to be winded neat.
13. Winding shaft is using air-shaft and
quick coupling
connecting, when the roll reaches setting length, the shaft will rotate to un-loading position
automatically .
14. With PC base + PLC controlling system, will keep all the production record for tracking, and easy for
trouble-shooting
.
15.
Web base user interface
, controlling & monitoring is able
go
through
Internet
.
Model No.
PT-120TS2/3
PT-130TS2/3
PT-150TS2/3
Main Features
Extrudin Rate (kg/hr)
HIPS: 330kg/hr
PP: 260kg/hr
HIPS: 450kg/hr
PP: 350kg/hr
HIPS: 630kg/hr
PP: 500kg/hr
Sheet Thickness (mm)
0.2~1.8
0.2~1.8
0.2~1.8
Sheet Width (mm)
600~1200mm
600~1200mm
600~1200mm
Sheet Cooling Type
By Roller Touching or Air-Knife
By Roller Touching or Air-Knife
By Roller Touching or Air-Knife
Finishing Roll Diameter
1000mm (max.)
1000mm (max.)
1000mm (max.)
Multi-Layer
Optional
Optional
Optional
Extruder
Hopper Volume
250 litters
250 litters
250 litters
Recycled Crushed Material Feeder
yes
yes
yes
Barrel Inlet Rifling Design
yes
yes
yes
Barrel Inlet Water Circulation
yes
yes
yes
Main Driving Motor
AC 150HP inverter-duty
AC 200HP inverter-duty
AC 250HP inverter-duty
Screw L/D Ratio
32~36
32~36
32~36
Barrel Heating Zone
6
6
6
Barrel Venting
Optional
Optional
Optional
Barrel Heating Capacity
60KW
72KW
84KW
Barrel Blower Cooling Zone
6
6
6
Screen Changer
Type
Two holes-exchange
Two holes-exchange
Two holes-exchange
Driving Type
By hydraulic cylinder
By hydraulic cylinder
By hydraulic cylinder
Hydraulic Pump
2HP
2HP
2HP
Heating Zone
2
2
2
Heating Capacity
10KW
12KW
14KW
Pressure & Resin Temp. Sensor
1 zone
1 zone
1 zone
Melting Pump
Melting Pump Capacity
83 cc/rev.
158 cc/rev.
220 cc/rev.
Driving Motor
AC 10HP Inverter duty
AC 15HP Inverter duty
AC 20HP Inverter duty
Max. Outlet Pressure
250 bar
250 bar
250 bar
Heating Zone
1
1
1
Heating Capcity
4KW
6KW
10KW
Pressure & Resin Temp. Sensor
1 zone
1 zone
1 zone
Origin
Italy
Italy
Italy
Flat Die
Die Gape (mm)
0.1 ~ 2.5
0.1 ~ 2.5
0.1 ~ 2.5
Flow Adjusting Block
yes
yes
yes
Die Lip Push Bolt
yes
yes
yes
Heating Zone
5
5
5
Pressure & Resin Temp. Sensor
1 zone
1 zone
1 zone
Origin
Italy
Italy
Italy
Forming Roller Unit
Roller Diameter
350mm x 3 pcs
450mm x 3 pcs
450mm x 3 pcs
Roller Driving
5HP servo motor
7.5HP servo motor
10HP servo motor
Roller Cooling Design
Double-shell
Double-shell
Double-shell
Roller Opening Control
by servo & computer
by servo & computer
by servo & computer
Auxiliary Cooling Roller
200mm dia x 1pcs
200mm dia x 2pcs
250mm dia x 4pcs
Trimming & Coating Unit
Edge Trimming Knife
2 pcs
2 pcs
2 pcs
Crusher
5HP
7.5HP
10HP
Blower
3HP
3HP
5HP
Silicon Storage Tank
100 litter
100 litter
100 litter
Silicon Coating Roller
3 pcs
3 pcs
3 pcs
Silicon Circulating Pump
yes
yes
yes
Winder
Winder
2 sets
2 sets
2 sets
Sheet Tension Control
yes
yes
yes
Static Eliminator
yes
yes
yes
Finishing Roller Diameter
1000mm (max.) @ 1000kg
1000mm (max.) @ 1000kg
1000mm (max.) @ 1000kg
Control System
PLC Control
yes
yes
yes
PC Base System
yes
yes
yes
Web-Base Interface
yes
yes
yes