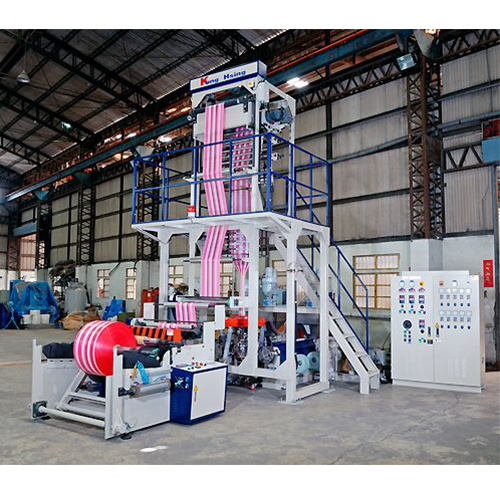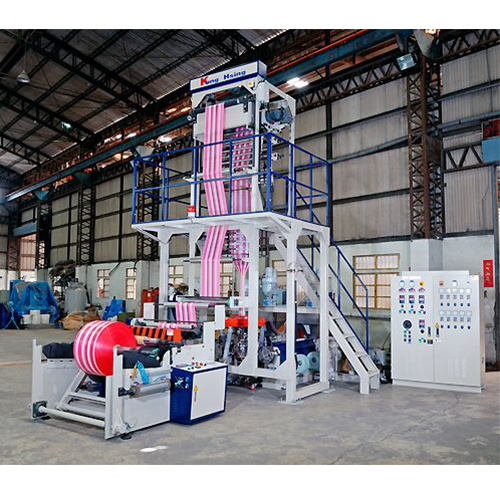 Classification :
Blown Film Line
Country: Taiwan
Phone: 886-5-2374466
Fax: 886-5-2376971 /886-5-2381029
Contact Person: Kun Lin Tsai
MODEL
KS-TE45
FEATURE
MATERIAL TO BE USED
HDPE
MAX. FILM WIDTH
700 mm
THICKNESS OD FILM
0.008~0.08 m/m
MAX. EXTRUSION OUTPUT
100 kg/hr
EXTRUDER
SCREW DIA.
45 mm
SCREW L/D
30:1
SCREW/CYLINDER MATERIAL
SACM-645 STEEL WITH HARD WITH NITROGEN TREATMENT
CYLINDER COOLING
1/2 HPx1
DRIVING MOTOR
20 HPx2
HEATER CAPACITY
30 kw
DIES (mm)
70~100 Ø
TEMPERATURE CONTROL
10 ZONES
COOLING EQUIP
5 HP
TAKE-UP UNIT
TYPE
HEIGHT ADJUSTABLE
PINCH ROLLER (mm)
165Øx750L
TAKE-UP MOTOR
1 HP
TAKE-UP SPEED (m/min)
12~120
SUB-PINCH ROLLER (mm)
100Øx750L
GUIDE MOTOR
15 kg/cm
WINDING UNIT
FW TYPE
ONE STATION AUTOMATIC SURFACE TYPE WINDER x 1
EFFECTIVE WIDTH
700 mm
DIA. OF FILM WOUND-UP ROLL
1000 mm
WINDER MOTOR
1 HP
DIMENSION (LxWxH)(M)
5x2.5x4.8
OPTIONAL DEVICE

Gravimetric Dosing Unit
Oscillating Take Up Unit
IBC (Internal Bubble Cooing Computer Control System)
Line Speed Synchronized with Computer Control
Thickness Measurement
Two Stations Surface Winder
Thickness Controller
Chiller
Automatic Hopper Loader
Heat Slitting Device
Film Surface Treater
EPC (Edge Position Control)
Pressure Gauge
Electronic Tension Control
Rotary Die
Crane for Die and Air Shaft
Automatic Gauge Control with
Automatic Cooling Ring
PIB Pump System (For LDPE/LLDPE)
*Specifications are subject to change without notice for improvement.