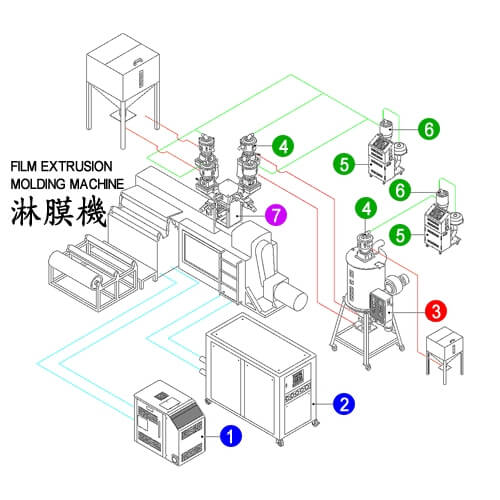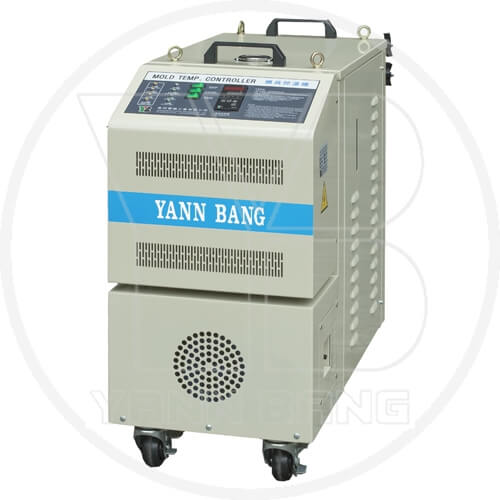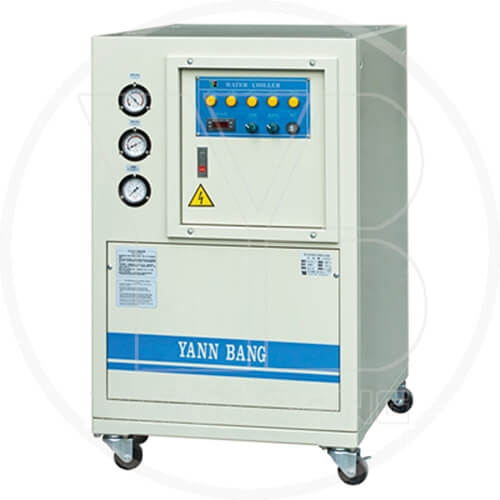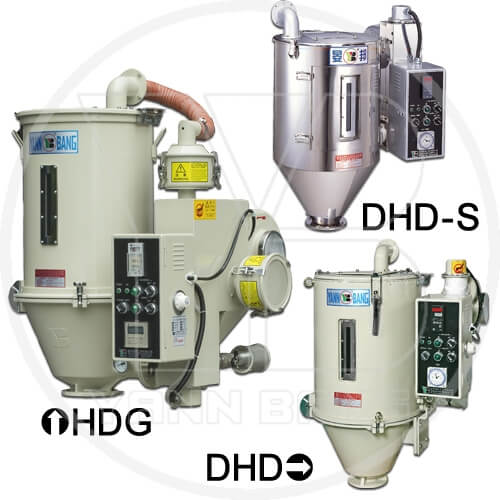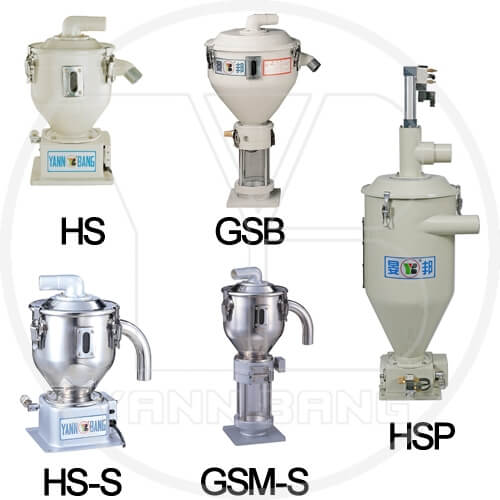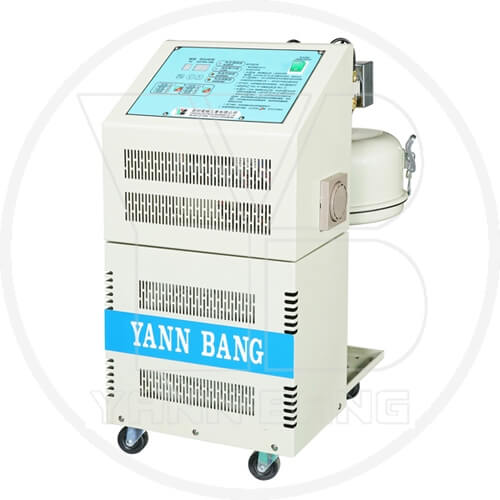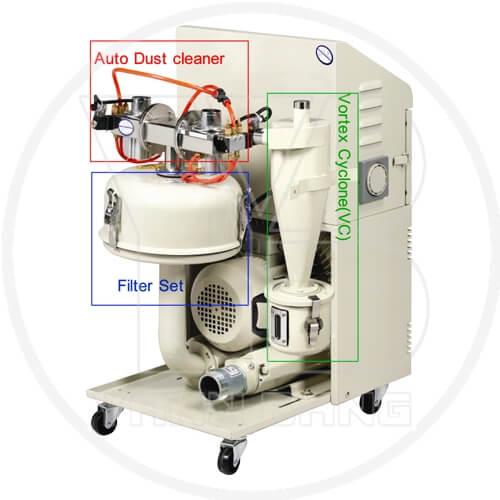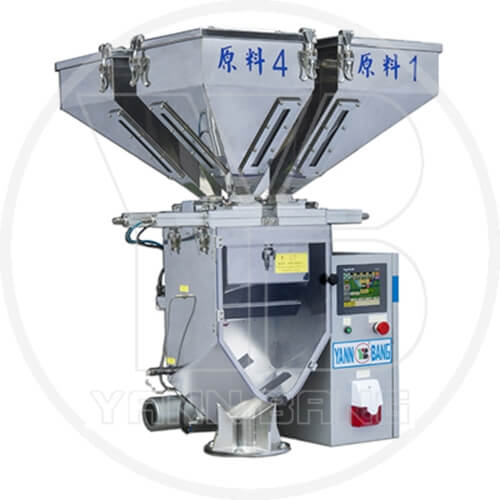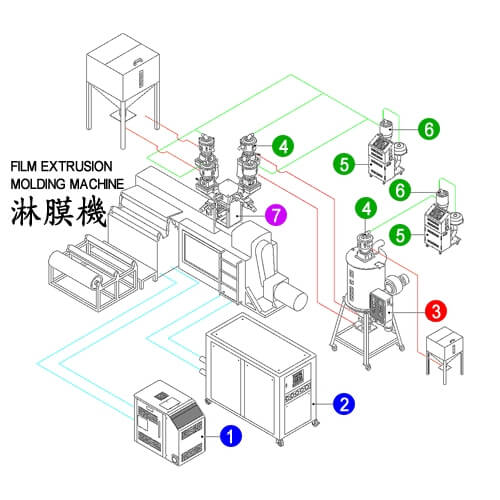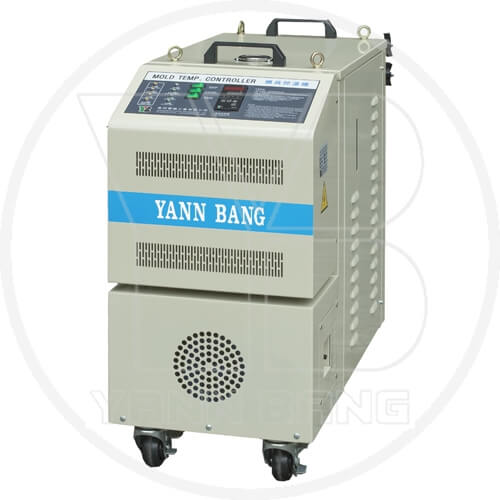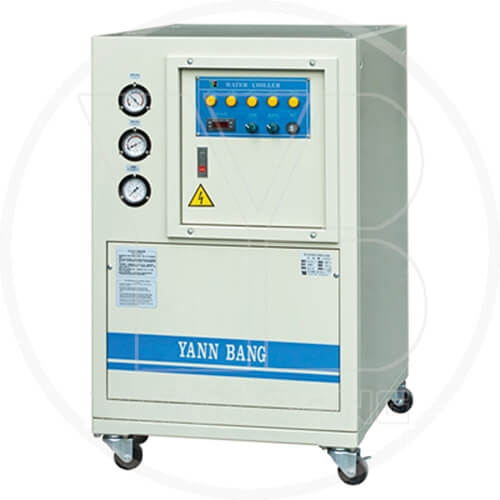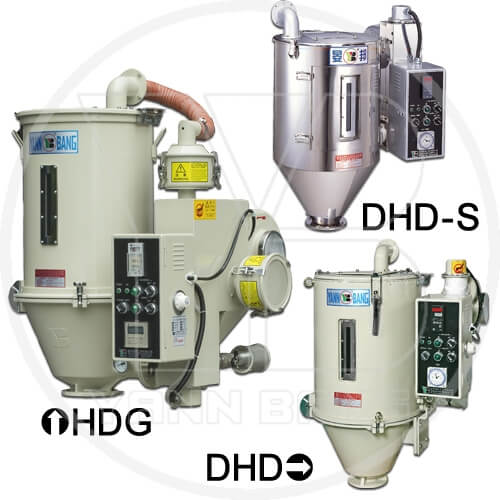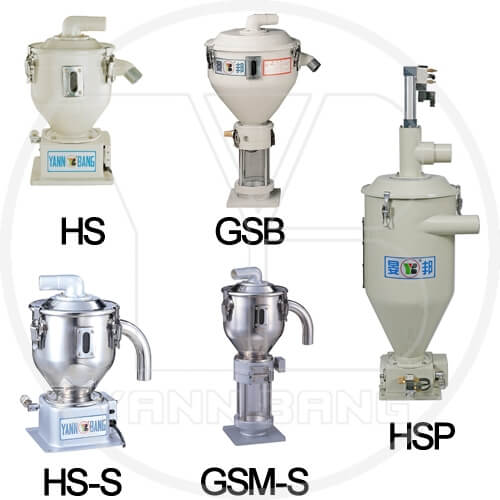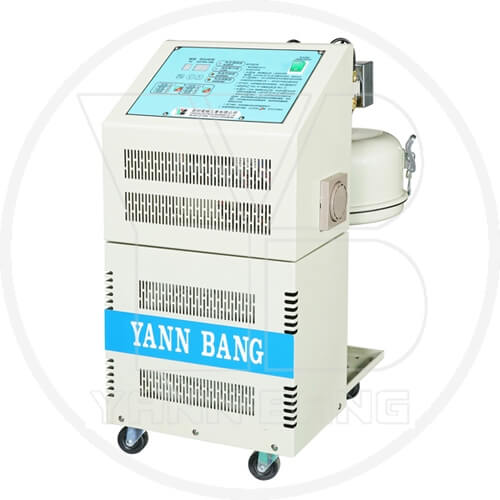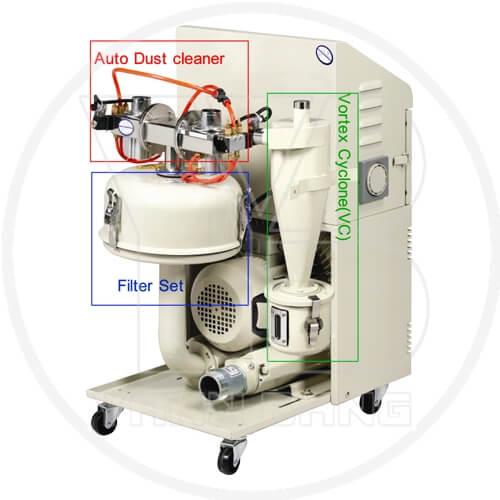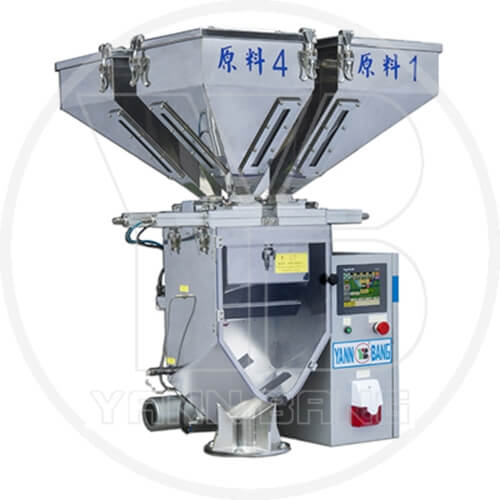 Classification :
Automatic System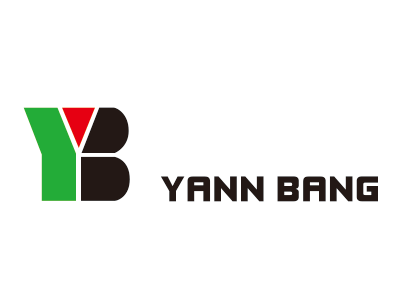 Country: Taiwan
Phone: ENGLISH: 886-4-2271-0000 | 中文:886-4-22716999
Fax: 886-4-2271-1988
Contact Person: Bunny Tsai
We have a wide range of auxiliary equipment for film extrusion molding mechines, like hopper dryers, dehumidifying dryers, chillers, PET crystallizers, vacuum loaders, mold temperature controllers, master-bacth feeders and auto dosing and mixing systems.
Better company image
Greater productivity
Lower cost
Better energy efficiency
Less material waste and pollution during the conveying process
Better working environment
Less noise due to the separation of the blowers from the working place
Mold Temperature Controller (YBMI/YBMD)
Steady controlled temperature makes plastic molding accurate in size and consistent with quality. Accurate mold temperature solves the problem of plastic flow patterns, reducing flow and weld lines, gloss appearance, record grooves effect, silver streaking, stress-whitening, warping, and etc....
P.I.D temperature controllers are used for accurate control of temperature within±1℃.
Two-step-heating selector makes rapid temperature increasing possible when require thus saving time and power specially start up in the morning. Patented "Heat-insulated" design improves your safety, extend the machine's lifetime and make maintenance more efficiently.
YBMI : By oil, suit for long-term continuous operation, keep the temperature steady, no flash on tiny and thin products, and no corrosion. However, the heater may be damaged if you do not use the thermo oil correctly or change oil routinely. Recommend to choose oil-type mold temperature controller when your required temperature is 150℃ or above.

YBMD : By water, heating up faster, cooling better, harmless to your mold and more economic than oil type for maintenance and cost. However, the water boiling point is low and the element of different water may occur corrosion or limescale to affect the heat exchange and products quality. Recommend to choose water-type mold temperature controller when your required temperature is 150℃ or below.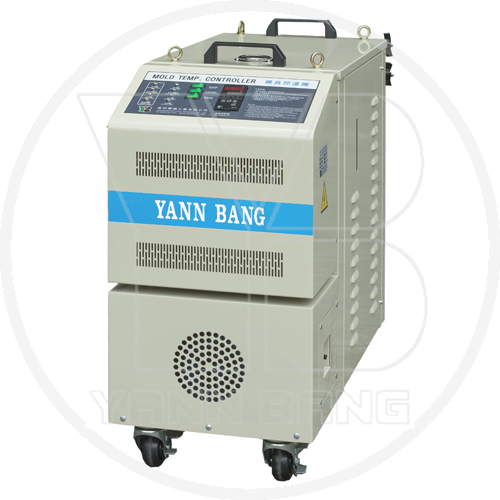 Water Chiller (YBW )
Use the latest European, American or Japanese compressor, available in single and double compressors. The compressors of the double-compressor model can either run alone or together.

High-efficient shell-pipe condenser which has heat-transmission function can save energy.

Well-designed safety protection. It is also equipped with a digital temperature display indicator and abnormal warning indicators for the long lasting.

Applied Machinery: oil temperature, ultrasonic ,high frequency machine/injection /extrusion/blow molding machine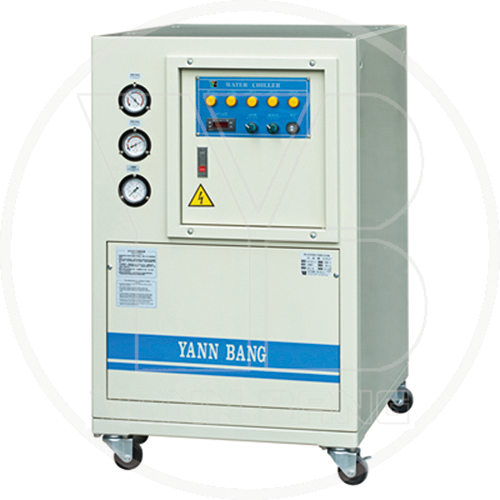 1. Energy-Efficient Hopper Dryer (G series)
Awarded patents in Germany, Taiwan and China, the advanced technology recycles internal heat and faster heating. That saves your energy over 30% and extend equipment life time. Work with a dehumidifier can save more!
The temperature inside hopper increases quickly for better drying and shorten above 30% of drying hour. Simultaneously HEI can separate dust and oil for better quality. An energy-efficient device can save energy and improve working environment for you.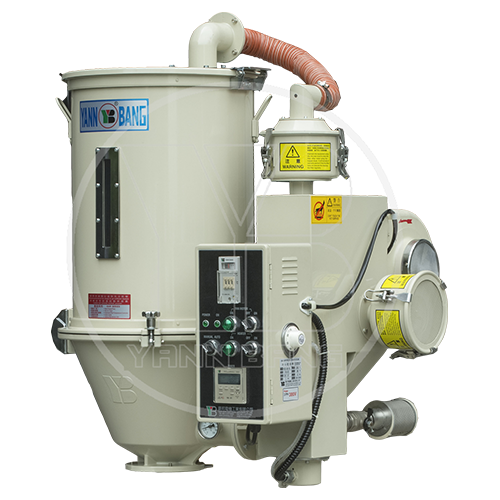 2. Stainless Hopper Dryer For Optics
‧ The perfect dry capacity is special for optics and electronics use.
‧ Unique design is dust-free and clean-free. Stainless and polish one-unit hopper is compact and light weight to install on the molding machine directly.
‧ To see the material level through a sight glass is to make working more efficient.
3. Hopper Dryer (HD/IHD/DHD)
‧ HD Series
Rapid heating.
Constant temperature control.
‧ IHD Series
Special insulated design.
Energy saving.
Save against burns.
‧ DHD Series
Insulated design.
Dust-free, clean free.
The standard DHD model is equipped with timer(T), EGO overheat protector(P),and patented magnetic stand (NSD)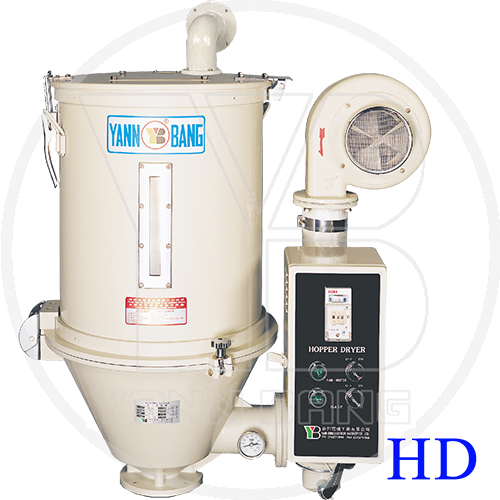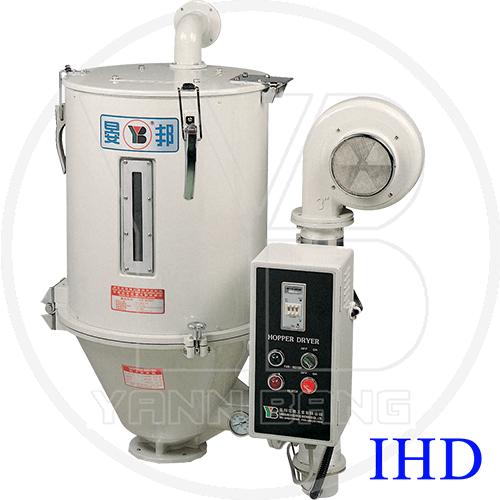 Suction Hopper
By negative pressure principle, convey the raw material into the hopper controlled by the limited switch.
Fitted with a proximity switch to make the accurate control and the material supply easily observed. It can be mounted directly onto the molding machine and gives the operator a clear view of the loading through the sight glass.
Stainless Series for Optics (HS-S/GS-S)
The stainless suction hopper which is internal buffed is dust-free and best choice for optics industry.
Working with a floor-type auto loader (TAE series) .It is the best choice for powder user. Available for powder, pellet or flake resin. Both new and recycled material are no problem. Special design to prevent dust and keep workshop clean. No longer worry about the powder jam at the bottom.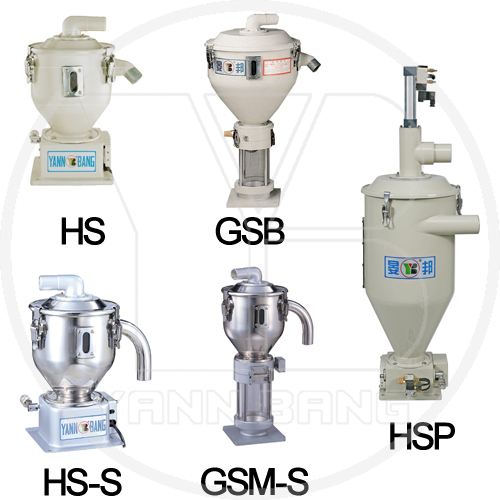 Floor Mounted Auto Vacuum Loader
The separated design of a blower and a suction hopper with mighty horsepower is suitable for long distance conveying. The flexible combination of one blower with one suction hopper up to four suction hoppers can help you to save space and equipment investment cost. That also keeps your resin away the pollution and extend suction points easily for future need.
Easy use by a quiet and powerful induction motor. The motor cabinet can be placed on the floor for convenient operation and the suction hopper on the hopper dryer for easy installation.
Use the same commutator motor as the BC series, and separate motor cabinet and suction hopper design as the TA and TC series. Combine the advantages of the hopper mounted and floor mounted loaders.
TC series

The blowers are belt-driven that are the best choice for silent operation.
Patented Optional Parts

Vortex Cyclone (VC): Works with any auto loaders to stop the regrinded resin from discharging to the surrounding area.

Filter Set: s optional equipment from YANN BANG is perfect for dust-free of indoor working place. To do the filter routine maintenance is so easy without dirtying your hands and place. Unload the filter set without opening the cover until move to the please you want to clean.

Auto Dust Cleaner: Saves your time and labor. No need to clean your filter anymore. The Auto Dust Cleaner is designed to install upon the filter of the loader. Set the timer and it cleans your filter routinely.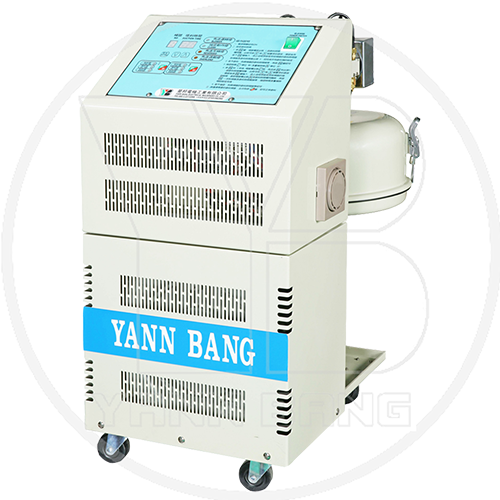 Vortex Cyclone (VC)
Works with any auto loaders to stop the regrinded resin from discharging to the surrounding area.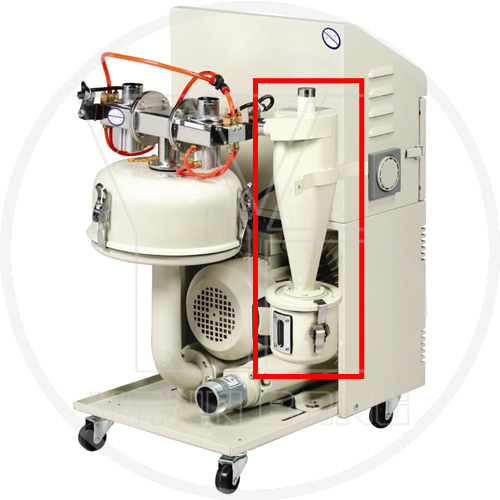 Gravimetric Auto Dosing & Mixing System (ADMG)
COST SAVE: ADMG can measure powder resin, granule resin, master-batch, or additive precisely.

EASY OPERATE: By entering the percentage of each batch and supply value to operate effectively, HMI automatically calculates all required values operate and monitor by single personnel or connect a PC through a modern to through a modern to maintain the system or solve problem. HMI is dynamic and versatile to provide the most efficient and economic operation.
ACCURACY & CONSISTENCY: ADMG automatically measures the required amount accumulatively in order when you add extra resins or additives which will not affect the precision of dosing or mixing.

ERROR REPORT: Error problems are recorded the time by day, month, and year for the maintenance.

EASY CLEAN & SPACE SAVE: Stainless design and individual function units are easy to discharge and install.