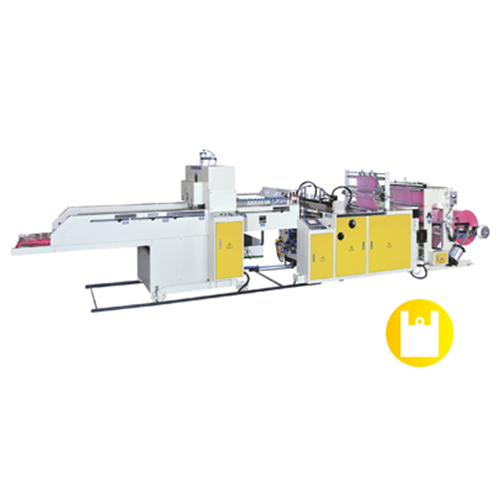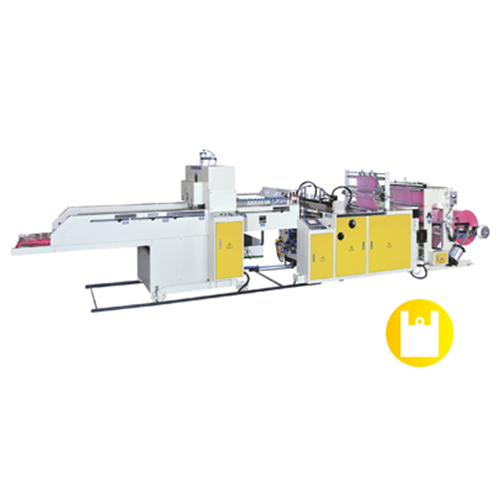 Classification :
Fully Automatic T-Shirt Bag Making Machines
Country: Taiwan
Phone: 886-5-2686688
Fax: 886-5-2687821
Contact Person: Cathy Chang
‧ Japan servo motro & driver controls bag length precisely and high speed production, reducing electric consumption.
‧ Bag legth & speed can be changed easily from touch screen.
‧ Germany made photocell-SICK for accurate printing mark.
‧ Machine frame is made of thick steel plate for stability at high speed operation.
‧ Automatic lift up reel unwinder with air shaft, reducin the number of employees.
‧ Automatic tension control and powder break system for jumbo diameter reels.
‧ In-line hydraulic punching machine with bags folding device and Japan made sensors for accurate bags punching and folding position.
‧ Punch-out scraps are collected by conveyor for recycling.
Model
CW-500P-SV1
CW-700P-SV1
CW-800P-SV1
BAG WIDTH (mm)
Max. 450
Max. 600
Max. 700
BAG LENGTH (mm)
Max. 650
Max. 800
Max. 1000
PRODUCTION SPEED (cycles/min)
Max. 250
Max. 240
Max. 220
CONVERTING THICKNESS (mm)
0.01~0.035
0.01~0.035
0.01~0.035
MAX. REEL
DIAMETER (mm)
800
800
800
HEATER (kw)
5
6
7
POWER
REQUIRED (kw)
7
8
9
AIR VOLUME &
PRESSURE (hp)
5
6
7
DIMENSIONS
L x W x H (cm)
650 x 150 x200
650 x 170 x200
650 x 180 x200
PACKING L x W x H (cm)
230 x 120 x 180
400 x 150 x 220
230 x 160 x 180
400 x 170 x 220
230 x 180 x 180
400 x 180 x 220
NET WEIGHT (kg)
200
200
200
GROSS WEIGHT (kg)
2300
2800
3000
REMARK
1 Photo cell
1 Photo cell
1 Photo cell