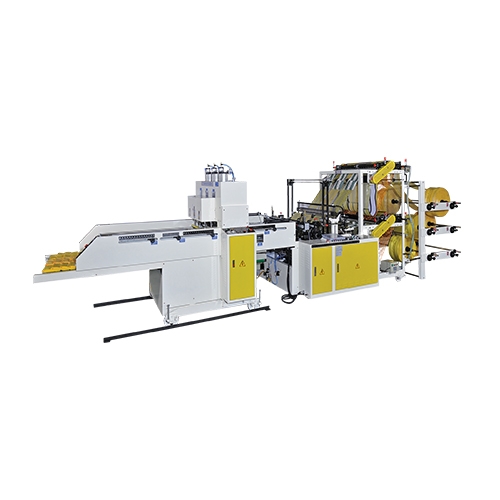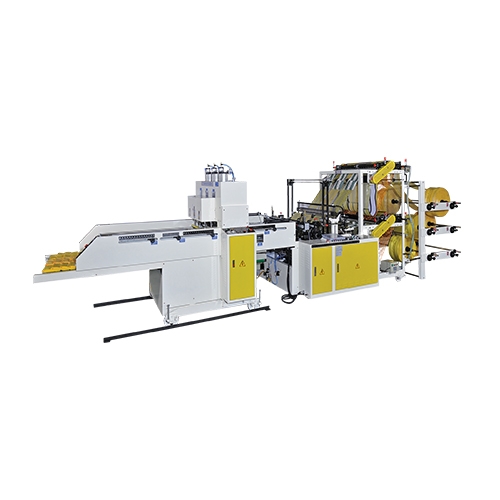 Classification :
Fully Automatic T-Shirt Bag Making Machines
Country: Taiwan
Phone: 886-5-2686688
Fax: 886-5-2687821
Contact Person: Cathy Chang
‧ Automatic electronic control. Use pluging type IC easy replacing.
‧ Electromagnetic clutch and brake keep bags cutting and sealing accurately.
‧ The machine will stop automatically.
When 1. The bags becomes super-imposed or overlapped.
2. Film finished.
3. The temperature not reaching setting.
4. Air pressure not enough.
‧ This machine use penumatic punching machine, low power consumption, low noise level, no hot air pollution, smooth & perfect punching.
1.Servo Motor Control.
2.Folding Device (minimum length 360 mm)
3.Calendar Type Bag Equipment.
Model
CWA2+6+P-800-SV
32"
CWA2+6+P-1000-SV
40"
BAG WIDTH (MAX.)
9" x 6
230 mm x 6
12" x 6
300 mm x 6
BAG LENGTH
250 ~ 700 mm
250 ~ 700 mm
CONVERTING THICKNESS
0.008 ~ 0.04 mm
0.008 ~ 0.04 mm
ACCURACY LENGTH
± 1 mm
± 1 mm
SPEED PCS/MIN
30 ~ 120 x 6
30 ~ 120 x 6
MOTOR (HP)
2
2
HEATER
4.2 kw
4.6 kw
POWER REQUIRED
8.7 kw
9.2 kw
DIMENSION L x W x H (CM)
630 x 155 x 155
630 x 175 x 155
MACHINE WEIGHT
2700 kgs
2800 kgs
PACKING L x W x H (CM)
280 x 187 x 175
300 x 157 x 185
280 x 197 x 175
300 x 175 x 185
GROSS WEIGHT
3100 kgs
3200 kgs