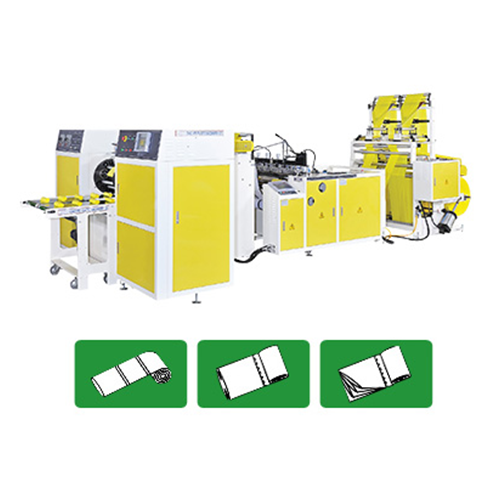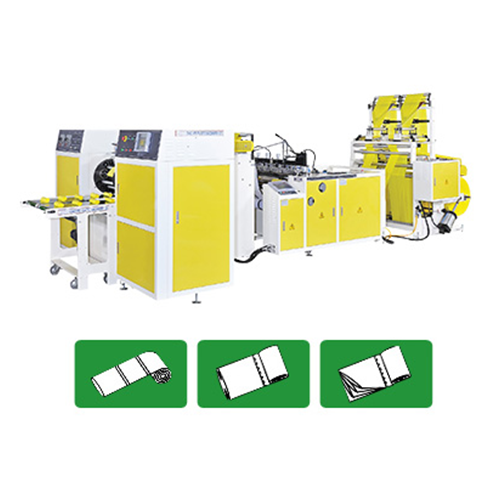 Classification :
Perforating Bag Making Machines
Country: Taiwan
Phone: 886-5-2686688
Fax: 886-5-2687821
Contact Person: Cathy Chang
Special for two lines perforating coreless bottom and star sealing bags on roll.

In-line triangle folding device for star sealing bags.

E.P.C. (Edge Position Control) for the film at correct position.

Japan made servo motors & servo drivers control bag length precisely and high speed production, reducing electric consumption.

Bag length & production speed can be changed easily from touch screen.

German made photocell-SICK for accurate printing mark.

Automatic lift up reel unwinder with air shaft, reducing the number of employees.

Automatic tension control with AC motor and inverter system for jumbo diameter film roll.

Two lines automatic roll changing system.
Model
CW-800R-SV
CW-1000R-SV
WIDTH OF FILM ROLL BEFORE FOLDING (mm)
150 ~ 330 x 2
150 ~ 430 x 2
FINISHED ROLL WIDTH (mm)
Max. 300 x 2
Max. 300 x 2
BAG LENGTH (mm)
300 ~ 1000
300 ~ 1200
PRODUCTION SPEED(meter/min/line)
Max. 100
Max. 100
THICKNESS (mm/layer)
0.01 ~ 0.035
0.01 ~ 0.035
HEATER (kw)
6
7
POWER REQUIRED (tw)
11
12
AIR VOLUME & PRESSURE
800 L/min
6 kg/cm²
800 L/min
6 kg/cm²
DIMENSIONS L x W x H (cm)
650 x 295 x185
650 x 315 x185
PACKING L x W x H (cm)
200 x 220 x 170
255 x 200 x 200
350 x 230 x 180
200 x 220 x 170
255 x 200 x 200
370 x 230 x 180
NET WEIGHT (kg)
2500
2700
REMARK
2 Photocells
2 Servo Motors
2 Photocells
2 Servo Motors