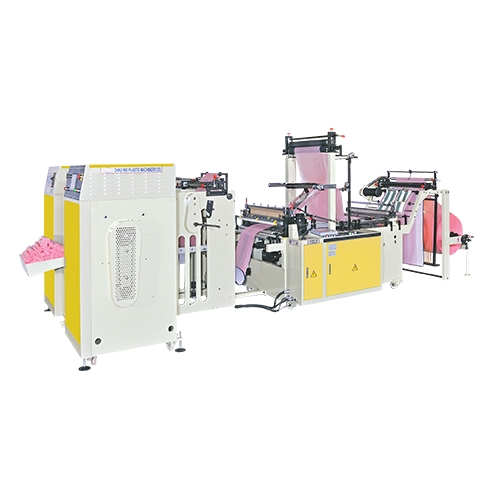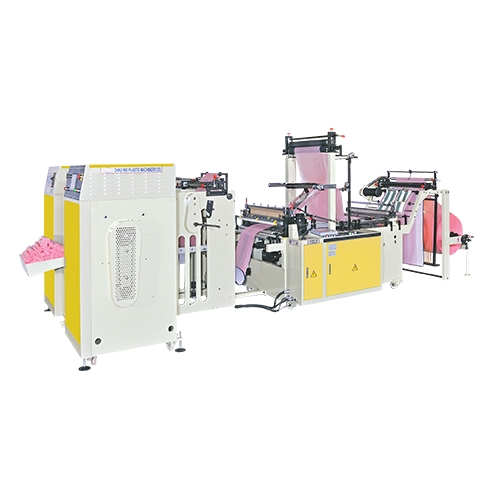 Classification :
Perforating Bag Making Machines
Country: Taiwan
Phone: 886-5-2686688
Fax: 886-5-2687821
Contact Person: Cathy Chang
FULLY AUTOMATIC HIGH SPEED PERFORATING CORELESS BAGS ON ROLL + DOUBLE SHAFTS REWIND CHANGING ROLLS DEVICE.
● CWAP+CS-SV can produce coreless C type bags. E type bags, Garbage bags, and Table Cover (Sufra) on roll.
● CWAP+CS-SV adopting automatic double shafts changing coreless rolls device.
● The folding device for C type & E type bags, there is no gap in the gusset point.
● C & E type bags can save occupating space.
● Rewinder machine: main machine maintains same producing speed even just rewinds few pieces per roll due to double shaft rewinder system.
OPTIONAL DEVICE:
● Triangle folding device
● Adopting free tension sealing knife device for star sealing bags.
Model
CWAP+CS-500-SV
CWAP+CS-700-SV
CWAP+CS-800-SV
BAG WIDTH (MAX.)
18" (450 m/m)
25" (650 m/m)

29" (750 m/m)
BAG LENGTH
32" (800 m/m)
43" (1100m/m)
48" (1200mm)
THICKNESS OF FILM
0.008 ~ 0.05 mm
0.008 ~ 0.05 mm
0.008 ~ 0.05 mm
P.C.S. /MIN
30 ~ 120 (60M/min)
30 ~ 120 (60M/min)
30 ~ 120 (60M/min)
MAIN MOTOR (HP)
1
1
1
HEATER
2.0 kw
2.5 kw
3.1 kw
POWER REQUIRED
3.0 kw
3.8 kw
4.3 kw
MACHINE DIMENSIONS (CM)
590 x 225 x 210
590 x 225 x 210
590 x 225 x 210
MACHINE WEIGHT
1200 kgs
1300 kgs
1400 kgs
PACKING L x W x H (CM)

330 x 120 x 210

225 x 190 x 210

330 x 150 x 210

225 x 190 x 210

330 x 165 x 210

225 x 190 x 210

GROSS WEIGHT
1600 kgs
1700 kgs
1800 kgs
Model
CWAP+CS-1000-SV
CWAP+CS-1200-SV
BAG WIDTH (MAX.)
35" (900m/m)
40" (1000m/m)
BAG LENGTH
53" (1350mm)
60" (1500mm)
THICKNESS OF FILM
0.008 ~ 0.05 mm
0.008 ~ 0.05 mm
P.C.S. /MIN
30 ~ 120 (60M/min)
30 ~ 120 (60M/min)
MAIN MOTOR (HP)
1
2
HEATER
4.5 kw
5.2 kw
POWER REQUIRED
6.3 kw
7.2 kw
MACHINE DIMENSIONS (CM)
610 x 225 x 210
610 x 225 x 210
MACHINE WEIGHT
1500 kgs
1600 kgs
PACKING L x W x H (CM)
330 x 175 x 210
225 x 190 x 210
330 x 190 x 210
225 x 190 x 210
GROSS WEIGHT
1900 kgs
2000 kgs