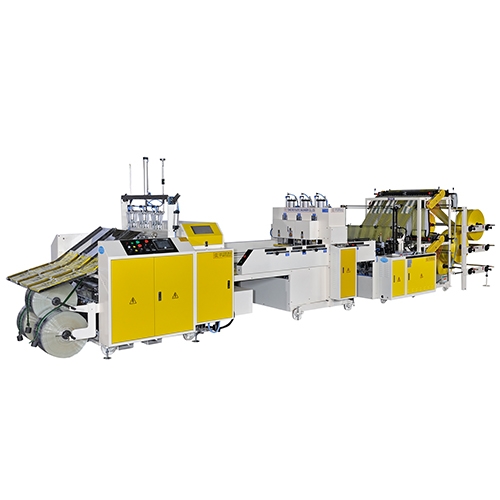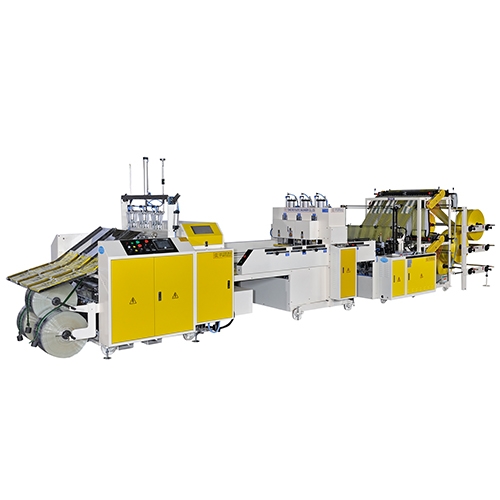 Classification :
Fully Automatic T-Shirt Bag Making Machines
Country: Taiwan
Phone: 886-5-2686688
Fax: 886-5-2687821
Contact Person: Cathy Chang
FULLY AUTOMATIC HIGH SPEED DOUBLE LAYERS 8 LINES T-SHIRT BAG MAKING MACHINE WITH SERVO MOTOR CONTROL AND AUTO PACKING DEVICE.
‧ In-line auto-packing machine, reducing number of employees.
‧ German made photocell-SICK for printed outer bags.
‧ Japan made servo motor & servo driver control bag length precisely and stable speed, reducing electric consumption.
‧ Bag length & speed can be changed easily from touch screen.
‧ Individual back feeding device for stable tension.
‧ Heat needle for stacked bags.
‧ In-line auto punching machine uses air pressure to push oil hydraulic.
‧ Machine auto stop when: 1.Bags jammed.
2.Film finished or broken.
3.Temperature below the setting.
Model
CWA2+8+ATP-800-SV
CWA2+8+ATP-1000-SV
BAG WIDTH (mm)
120~160 x 8
120~200 x 8

BAG LENGTH (mm)
230~580
230~580
THICKNESS (layer/mm)
0.008~0.03
0.008~0.03

PRODUCTION SPEED (cycles/min)
MAX. 120 x 8
MAX. 120 x 8
WIDTH OF OUTER BAG (mm)
140~190
140~220

ROLL DIAMETER OF OUTER BAG (mm)
Max. 500
Max. 500
PACKING SPEED (packs/min.)
Max. 6 x 4 Lanes
Max. 6 x 4 Lanes

THICKNESS OF OUTER BAG (layer/mm)
0.02~0.05
0.02~0.05
HEATER (kw)
9
16

POWER REQUIRED (kw)
16

17

DEMENSION L x W x H (cm)
890 x 170 x 230

890 x 180 x 230

PACKING L x W x H (cm)
258 x 190 x 210
330 x 200 x 220
260 x 180 x 220

258 x 200 x 210
330 x 220 x 220
260 x 200 x 220

NET WEIGHT (kg)
2950

3150

GROSS WEIGHT (kg)
3350
3350