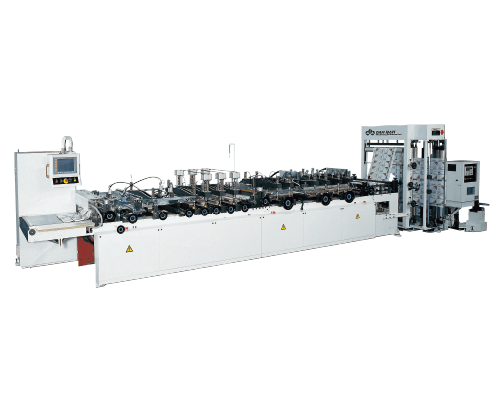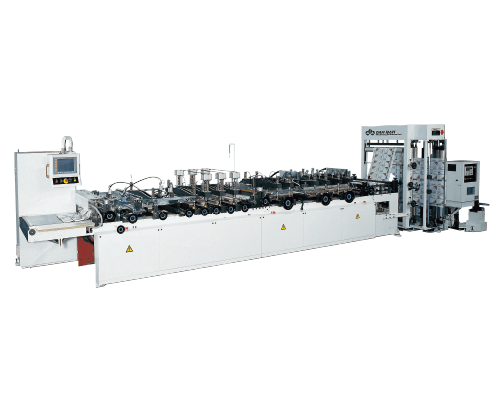 Classification :
Bag Making Machine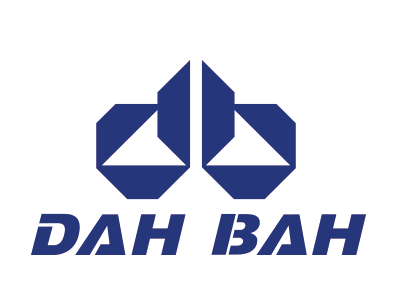 Country: Taiwan
Phone: 886-4-24832477
Fax: 886-4-24830852
Contact Person: Angela Chi
Application & Materials
Sealable laminated film, thickness 40-150μ
Main Drive & Feeding Motor
Main drive servo motor with driver provide accurate sealing time control, suitable for constant sealing time control system.
Feeding Motor
Equipped with two sets of servo motors and drivers, which can raise the production speed and provide accurate bag length control.
Unwinding Section
Horizontal type unwind stand / Swing-out/Lift-up type mechanical shaft with 3" adapters makes loading and unloading more convenient.
Equipped with Automatic Tension Controller (diameter calculating type), provide constant and stable web tension control.
Equipped with Line/Edge Position Controller (LPC), provide accurate bag sealing and trimming position.
Upgraded dancer-roller provides stable tension for films before entering the bag making section.
Bag Making
Four-lanes operation for making 3-side-seal bags.
Longitudinal double sealing device and cooling devices provides each sealing area could be sealed twice by different sealing temperature. Suitable for high-speed production and ensure the bag sealing quality.
Equipped with skip operation system, the maximum bag-length could be extended. (skip-times: as request).
Equipped with automatic lift-up mechanism to lift up the upper sealing stands and bars to avoid overheating the material when the machine stops.
The design of safety cutter provides extra safety for the operator.
Maintenance
Equipped with covered bearing, which is unnecessary for lubrication, prolong the parts life and makes maintenance easier, faster and cleaner.
Computer Control Operation With Touch-Screen
Maintain a constant sealing time, which may largely reduce test-run scraps. When the machine speed is changed, it is not necessary to adjust temperature of the heater.
Touch-screen makes operation easier and faster.
Built-in Sealing Temperature Controller.
Auto alarm/Stop available for abnormal condition.
Alarm messages are displayed on the screen.
Modem interface available for remote maintenance.
Operation and maintenance procedures and parameters are memorized in the computer control system for easy setup or review.
Data base for saving 100 sets of working parameters.
Optional Accessories
Unwind 3"/6" airshaft.
Hydraulic loading device (in unwind section)
6" air chuck
Vertical/horizontal 2nd unwind stand
Various puncher
Conveyer
Round corner cutter
Trim rewinder
Bottom symmetrical folding stand
ABM-S Series
Model No.
ABM-54S
ABM-64S
ABM-74S
MAX. PARENT WEB WIDTH
400~1000 mm
400~1200 mm
400~1400 mm
MAX. PARENT WEB DIAMETER
650/800 mm
650/800 mm
650/800 mm
MAX. BAG WIDTH
500 mm
600 mm
700 mm
MAX. BAG LENGTH
500 mm
500 mm
500 mm
MAX. MACHINE SPEED
180 Cuts/min.
180 Cuts/min.
180 Cuts/min.
INSTALLATION INFORMATION
(standard specification)
NET WEIGHT
4700kg
4800kg
5000kg
AREA REQUIRED
L12141xW5229xH1795
L12462xW5149xH1980
L12550xW5620xH2195
POWER
380V/31KW/65A
380V/33KW/67A
380V/35KW/69A
WATER
15-20℃
15-20℃
15-20℃
AIR
6kg/cm3
6kg/cm3
6kg/cm3