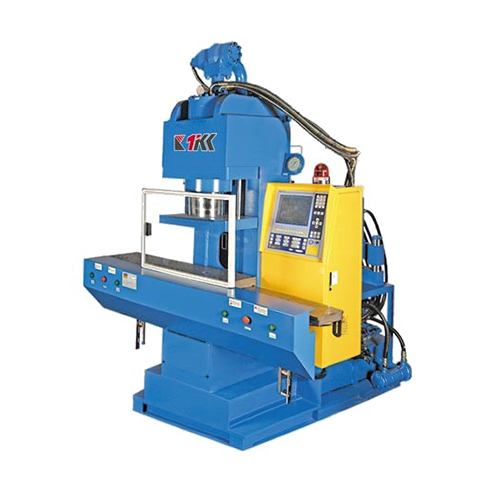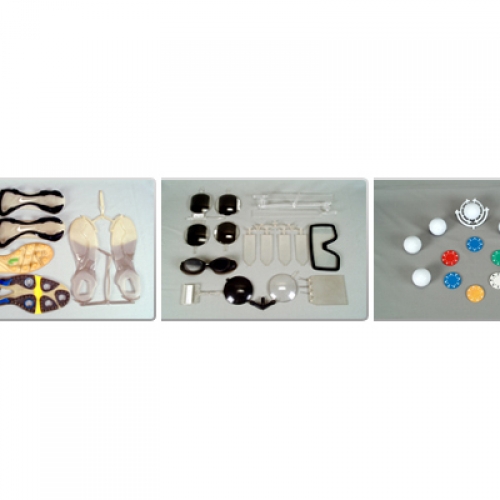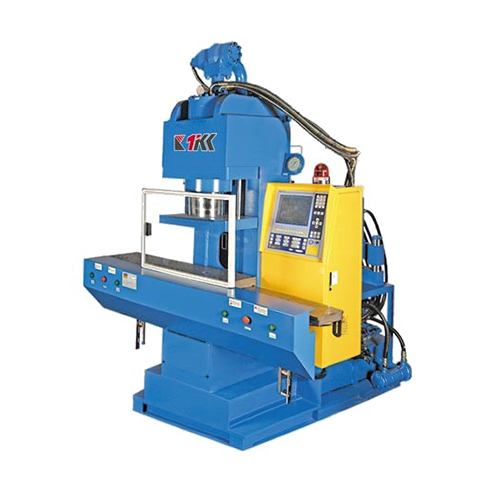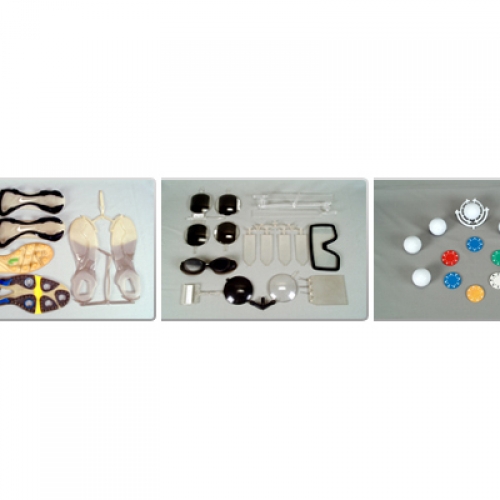 Classification :
Injection Molding Machine - KC series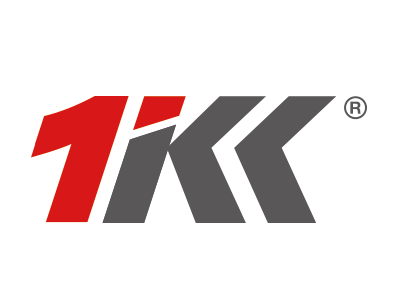 Country: Taiwan
Phone: 886-2-2281-3361
Fax: 886-2-2281-8206
Contact Person: Terry Hsieh
KC Series Vertical Injection Molding Machine

●Vertical mold clamp and horizontal extruder. No-post design is open on three sides and suitable for medium-size extruded products with inclusions.
●Extruder base can be raised and lowered, and adjusted in or out for quick handling of the molds.
●C-shaped structure and one-step operation minimize the possibility of deformation from high pressure.
●Direct-pressure mold clamp plus twin-cylinder extrusion system for high precision and long life.
●Meets all requirements for inclusion molding, and a platen or rotary plate may be used to achieve maximum efficiency.
Machine Type
Unit
Screw Diameter
mm
Injection Pressure
kg/cm2
Theoretical Shot Volume
cm3
Max. Shot Weight(PS)
g
oz
Injection Rate
cm3/sec
Screw Stroke
mm
Screw Speed Max.
rpm
Nozzle Contact Force
tons
Nozzle Retraction Stroke
mm
Number of Temperature Control
-
Material Hopper Capacity
|
KC-350-D(DM)
KC-450-D(DM)
KC-R-350
KC-R-450
32
38
42
38
42
45
32
38
42
38
42
45
2050
1454
1190
1745
1429
1244
2050
1454
1190
1745
1429
1244
113
158
194
191
233
267
113
158
194
191
233
267
103
144
177
173
212
243
103
144
177
173
212
243
3.6
5.1
6.2
6.1
7.5
8.6
3.6
5.1
6.2
6.1
7.5
8.6
48
68
83
87
106
122
48
68
83
87
106
122
140
168
140
168
0-175
0-160
0-175
0-160
3.9
3.9
3.9
3.9
130
150
130
150
3
4
3
4
25
50
25
50
| | |
| --- | --- |
| Machine Type | Unit |
| Clamping Force | tons |
| Opening Force | tons |
| Platen Size | mm |
| Distance Between Tie Bare | mm |
| Min. Mold Height | mm |
| Opening Stroke | mm |
| Max. Open Daylight | mm |
| Ejector Force | tons |
| Ejector Stroke | mm |
| | | | |
| --- | --- | --- | --- |
| KC-350-D(DM) | KC-450-D(DM) | KC-R-350 | KC-R-450 |
| 45 | 85 | 45 | 85 |
| 8.3 | 13 | 8.3 | 13 |
| 420x270 | 460x330 | 420x270 | 460x330 |
| - | - | Ø860 | Ø1168 |
| 175 | 210 | 175 | 210 |
| 200 | 270 | 200 | 270 |
| 375 | 480 | 375 | 480 |
| 1.3 | 2.5 | 1.3 | 2.5 |
| 75 | 80 | 75 | 80 |
| | |
| --- | --- |
| Machine Type | Unit |
| Slide Stroke | mm |
| Rotary Station | - |
| Max. Mold Weight | kg |
| Station Accuracy | mm |
| | | | |
| --- | --- | --- | --- |
| KC-350-D(DM) | KC-450-D(DM) | KC-R-350 | KC-R-450 |
| 270/480 | 320/500 | - | - |
| - | - | 2-4 | 2-4 |
| 120 | 150 | 200x2/120x4 | 300x2/200x4 |
| ±0.02 | ±0.02 | ±0.02 | ±0.02 |
| | |
| --- | --- |
| Machine Type | Unit |
| Max. Hydraulic Pressure | kg/cm2 |
| Pump Output | liters/min |
| Oil Reservoir Capacity | liters |
| Cooling Water Consumption | liters/hr |
| Pump Motor Power | kw |
| Barrel Heating Power | kw |
| Total Wattage | kw |
| | | | |
| --- | --- | --- | --- |
| KC-350-D(DM) | KC-450-D(DM) | KC-R-350 | KC-R-450 |
| 140 | 140 | 140 | 140 |
| 43 | 65 | 43-10 | 65-12 |
| 200 | 300 | 200 | 300 |
| 800-1000 | 1000-1200 | 800-1000 | 1000-1200 |
| 7.5 | 11 | 11 | 14.7 |
| 5.5 | 7.5 | 5.5 | 7.5 |
| 13 | 18.5 | 16.5 | 22.2 |
| | |
| --- | --- |
| Machine Type | Unit |
| Machine Weight | tons |
| Machine Dimensions(L x W x H) | m |
| Shipping Weight | tons |
| Shipping Measurements(L x W x H) | m |
| | | | |
| --- | --- | --- | --- |
| KC-350-D(DM) | KC-450-D(DM) | KC-R-350 | KC-R-450 |
| 3.1/3.5 | 5.8/6.5 | 3.8 | 7.2 |
| 2.8x1.05x2.05 | 3.3x1.15x2.65 | 3.5x1.65x2.15 | 3.9x1.8x2.7 |
| 3.5/4.3 | 6.5/7.2 | 4.6 | 8 |
| 3.0x1.25x2.25 | 3.5x1.35x2.5 | 3.8x1.85x2.4 | 4.1x2x2.5 |