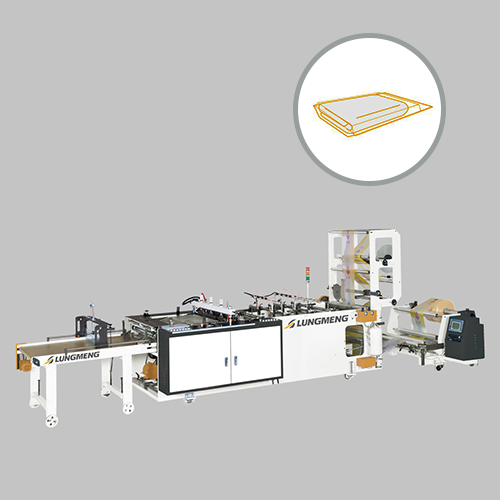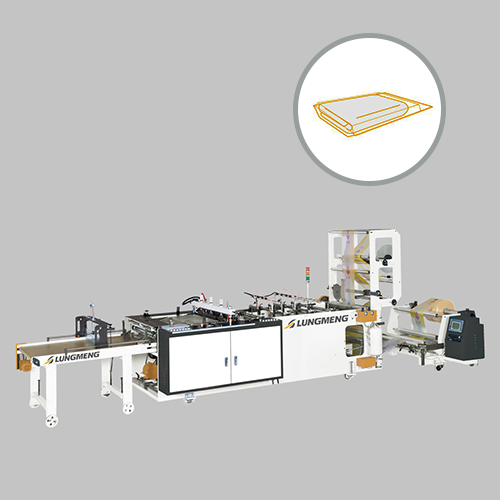 Classification :
Converting System
Country: Taiwan
Phone: 886-6-232-1126
Fax: 886-6-203-1178
Contact Person: Kelly Kao
Designed for side seal, bottom seal and double bottom seal bags, which takes less than 1/2 hour for the change over.

Servo driven control system, high speed production output at 200 bags/min.

Abnormal indicator to protect the machine and easy troubleshooting.

Advanced microprocessor motion control for quick length change and photo registration.
| | | | | | | | | | | | | | |
| --- | --- | --- | --- | --- | --- | --- | --- | --- | --- | --- | --- | --- | --- |
| MODEL | SEALING TYPE | CUTTING WIDTH (MM) | CUTTING LENGTH (MM) | MACHINE SPEED (CYCLE / MIN) | THICKNESS OF FILM (MM) | LDPE MIN. THICKNESS | HDPE MIN. THICKNESS | LDPE TOTAL MAX. THICKNESS | HDPE TOTAL MAX. THICKNESS | TOLERANCE (MM) | POWER REQUIRED (KW) | N.W. (KGS) | MACHINE SIZE (MM) |
| ASTP-800C (Side Seal) | Side Sea | 60 - 770 | 60 - 770 | 30 - 200 | Side Sea | 0.02 | 0.01 | 0.2 | 0.07 | ± 1 | 9 KW | 1600 KG | 4800 x 1580 x 1881 |
| ASTP-800C (Bottom Seal) | Bottom Sea | 60 - 770 | 60 - 770 | 30 - 160 | Bottom Sea | 0.02 | 0.01 | 0.3 | 0.2 | ± 1 | 9 KW | 1600 KG | 4800 x 1580 x 1881 |
| ASTP-800C (Double Seal) | Double Sea | 80 - 770 | 80 - 770 | 30 - 160 | Double Sea | 0.02 | 0.01 | 0.3 | 0.0.7 | ± 1 | 9 KW | 1600 KG | 4800 x 1580 x 1881 |
| ASTP-1000C (Side Seal) | Side Sea | 60 - 770 | 60 - 1020 | 30 - 200 | Side Sea | 0.02 | 0.01 | 0.2 | 0.07 | ± 1.5 | 11 KW | 1800 KG | 4800 x 1830 x 1881 |
| ASTP-1000C (Bottom Seal) | Bottom Sea | 60 - 1020 | 80 - 800 | 30 - 160 | Bottom Sea | 0.02 | 0.01 | 0.3 | 0.2 | ± 1.5 | 11 KW | 1800 KG | 4800 x 1830 x 1881 |
| ASTP-1000C (Double Seal) | Double Sea | 80 - 1020 | 80 - 800 | 30 - 160 | Double Sea | 0.02 | 0.01 | 0.3 | 0.07 | ± 1.5 | 11 KW | 1800 KG | 4800 x 1830 x 1881 |
| ASTP-1200C (Side Seal) | Side Sea | 60 - 770 | 60 - 1220 | 30 - 200 | Side Sea | 0.02 | 0.01 | 0.2 | 0.07 | ± 1.5 | 12 KW | 2000 KG | 4800 x 2030 x 1881 |
| ASTP-1200C (Bottom Seal) | Bottom Sea | 60 - 1220 | 80 - 800 | 30 - 160 | Bottom Sea | 0.02 | 0.01 | 0.3 | 0.2 | ± 1.5 | 12 KW | 2000 KG | 4800 x 2030 x 1881 |
| ASTP-1200C (Double Seal) | Double Sea | 80 - 1220 | 80 - 800 | 30 - 160 | Double Sea | 0.02 | 0.01 | 0.3 | 0.07 | ± 1.5 | 12 KW | 2000 KG | 4800 x 2030 x 1881 |