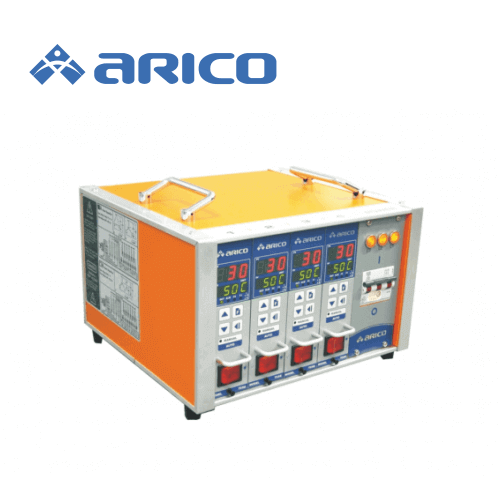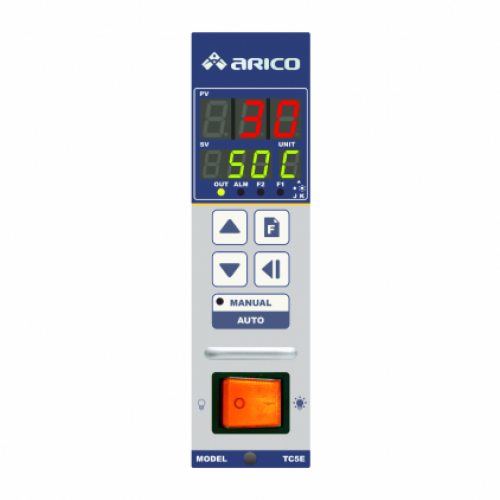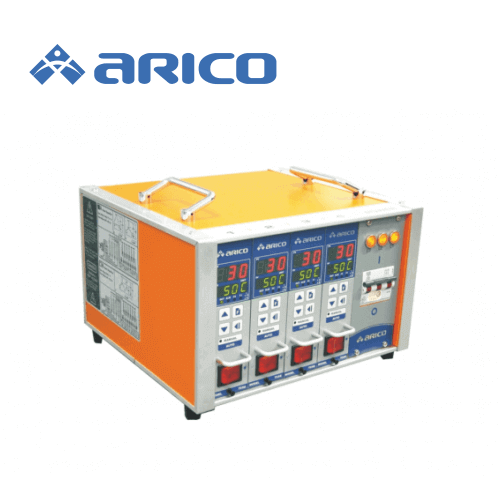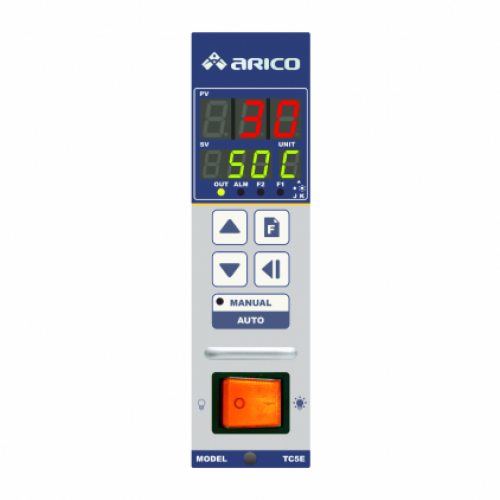 Classification :
Hot Runner Temperature Controllers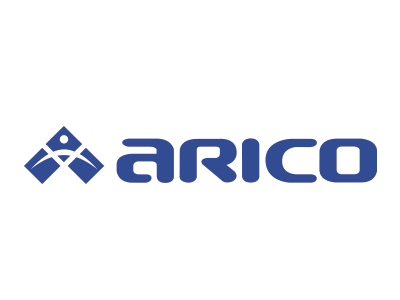 Country: Taiwan
Phone: 886-2-29101266
Fax: 886-2-29159434
Contact Person:
High-grade aluminum frame design

Stackable design, installation space saved

The steel handle for move easily

Built-in NFB switch

Fan built-in for heat sink

Euro type multi-pole connector apply, the quality stable

Terminal and wire crimped by auto machine, the quality stable

Universal standardized chassis for any brand of module
ARICO - The Best Solution Of Hot Runner Temperature Controllers
ARICO Technology and worldwide's rubber and plastic injection industry manufacturers have cultivated a long and stable co-operation relationship between us for many years. We was founded in 1987, base on sophisticated manufacturing technology, and focus on the research and development and innovation of industrial control instrument technology. We are not only good at producing customized precision Hot Runner Temperature Controllers and related application equipment, but also provides high-quality Hot Runner Temperature Controllers with the most convenient setting mechanism, stable quality, at a reasonable price to manufacturers in Taiwan, China, the United States, India, Argentina, Israel, Mexico, Thailand, Malaysia, Southeast Asia and other countries. In addition to accumulating and stabilizing partners for related instruments with Hot Runner Temperature Controllers, ARICO continues to conduct research and development in order to provide more stable and efficient machine stability, just for achieving a higher efficiency and stable instrument technology level on temperature control, displacement sensing, pressure sensing, injection molding machine IoT on rubber and plastic industry.
Power input: 230 VAC ± 15 %
Power frequency: 50 / 60 Hz
Power consumption(MAX): 7W ( each module )
Input impedance: 10M Ω
Output wattage: 3600W, Every module 15A / 240Vac
Storage temperature: -20 ~ 70 °C
Work temperature: 0 ~ 50 °C
Work humidity: 10 ~ 80 % RH. ( non-condensing )
Control accuracy: ± 0.25 % FS
Measure accuracy: ± 0.25 % FS
K TYPE Thermocouple range: 0 ~ 600 °C ( 32~999 °F )
J TYPE Thermocouple range: 0 ~ 600 °C ( 32~9999 °F )
| | | | | | | |
| --- | --- | --- | --- | --- | --- | --- |
| TC5E | 1 zone | 2 zones | 4 zones | 6 zones | 8 zones | 12 zones |
| Type | T5A01 | T5A02 | T5A04 | T5A06 | T5A08 | T5A12 |
| Power Switch Capacity(A) | None | 32 | 32 | 63 | 63 | 63 |
| Output Connector | 4pin+E(ground) | 16pins x1 | 16pins x1 | 24pins x1 | 16pins x2 | 24pins x2 |
| Power Cable | 2mm²x 3C x 3M | 5.5mm² x 5C x 3M | 5.5mm² x 5C x 3M | 8mm² x 5C x 3M | 8mm² x 5C x 3M | 8mm² x 5C x 3M |
| Dimension W x H x D (mm) | 96 x 188 x 278 | 223 x 215 x 344 | 323 x 215 x 344 | 424 x 215 x 344 | 524 x 215 x 344 | 726 x 215 x 344 |
| | |
| --- | --- |
| TC5E | Model |
| Control Points | 1 Zone |
| Power Input | 230Vac±10%,50/60Hz |
| Power Consumption | 7W |
| Power Output | 3450W,230VAC/15A |
| Output Mode | Zero Cross/Phase angel |
| Input Temp. Sensor | J/K type |
| Temp. Unit | °C/°F |
| Temp. Control Range | 0~600°C / 32~999°F |
| Output Alarm | Six modes |
| Control Accuracy | ±0.25%FS |
| Measurement Accuracy | ±0.25%FS |
| Storage Temp. | -20~70°C / -4~158°F |
| Working Temp. | 0~50°C/32~122°F |
| Humidity | 10~80%RH. (non-condensing) |
| Fuse | Fast response ceramic F20A 250V 6.3*32 |
| Detection Function | None |
| Communication Mode | None |
| Communication rate | None |
Specification
TC5E
TC5H
TC5T
Control Points
1 zone
1 zone
2 zone
Power Input
230Vac±10%,50/60Hz
230Vac±10%,50/60Hz
230Vac±10%,50/60Hz
Power Consumption
7W
3W
7W
Power Output
3450W,230VAC/15A
3450W,230VAC/15A
3450W,230VAC/15A
(Every module)
Output Mode
Zero Cross/Phase angel
Zero Cross/Phase angel
Zero Cross/Phase angel
Input Temp. Sensor
J/K type
J/K type
J/K type
Temp. Unit
°C/°F
°C/°F
°C/°F
Temp. Control Range
0~600°C / 32~999°F
0~600°C / 32~999°F
0~600°C / 32~999°F
Output Alarm
Six modes
Six modes
Six modes
Control Accuracy
±0.25%FS
±0.25%FS
±0.25%FS
Measurement Accuracy
±0.25%FS
±0.25%FS
±0.25%FS
Storage Temp
-20~70°C / -4~158°F
-20~70°C / -4~158°F
-20~70°C / -4~158°F
Working Temp
0~50°C/32~122°F
0~50°C/32~122°F
-10~50°C /14~122°F
Humidity
10~80%RH. (non-condensing)
10~80%RH. (non-condensing)
0~80%RH. (non-condensing)
Fuse
Fast response ceramic F20A 250V 6.3*32
Fast response ceramic FF20A 500V 6.3*32
Fast response ceramic FF20A 500V 6.3*32
Detection Function
None
Current/ Fuse open circuit/ TRAIC short-circuit
Current/ Fuse open circuit/ TRAIC short-circuit
Communication Mode
None
RS-485 (Standard MODBUS), Optional
RS-485 (Standard MODBUS), Optional
Communication Rate
None
9600/19200/38400/57600/115200
9600/19200/38400/57600/115200