Classification : Automatic Blow Molding Machine
Country: Taiwan
Phone: 886-4-22765071
Fax: 886-4-22765070
Contact Person: Ms. Huang
● Carriage Movement by Tie Bars with Hydraulic System to Move as V-type Oblique Movement.
●
PLC Program with Separate Electric Control Panel.
●
Equipped with Auto Cutting Device, Conveyor, Parison Wall Thickness Controller as Option.
●
High-efficient Plasticizing Extrusion Screw for Processing Materials Completely.
●
Full Shine Special-designed Brake System for the Carriage to Provide Stable Movement and Swift Positioning.
EXPOSITION OF FULL SHINE'S MACHINE MODEL
SCREW DIAMETER(M/M)
MACHINE SERIES
MOLD HEAD(DIE HEAD)
MOLD STATION
PRODUCT TYPE
FS-40
(H) Horizontal
(S) Single Mold Head
(S) Single Mold Station
(O) Original
FS-45
(P) Parallel
(D) Double Mold Heads
(D) Double Mold Stations
(C) Two Colors
FS-55
(O) Standard / Oblique
(T) Three Mold Heads
 
(D) Two Layers
FS-65
(A) Pneumatic
(F) Four Mold Heads
 
(T) Three Layers
FS-75
(L) Frontal
(E) Eight Mold Heads
 
(F) Four Layers
FS-80
(I) Lateral
 
 
(L) Six Layers
FS-90
 
 
 
(V) View Stripe
FS-100
 
 
 
(P) PC baby bottle
Example
FS-65
P
D
S
D
| | | | | | |
| --- | --- | --- | --- | --- | --- |
| MODEL | FS-40 OSSO | FS-45 OSSO | FS-55 OSSO | FS-65 OSSO | FS-75 OSSO |
| Material | PE/PP | PE/PP | PE/PP | PE/PP | PE/PP |
| Screw diameter(m/m) | 40 | 45 | 55 | 65 | 75 |
| Screw L/D ratio(L/D) | 24/1 | 24/1 | 24/1 | 24/1 | 24/1 |
| Screw R.P.M speed(r.p.m.) | 20-66 | 15-61 | 15-60 | 15-60 | 15-58 |
| Inveter motor(HP) | 5 | 7.5 | 10 | 15 | 25 |
| Oil hydraulic drive motor(HP) | 5 | 7.5 | 10 | 10 | 15 |
| Optional air compressor(HP) | 5 | 5 | 7.5 | 7.5 | 10 |
| Air pressurer(kg/cm2) | 4-6 | 4-6 | 4-6 | 5-7 | 5-7 |
| Clamping force(Ton) | 2.8 | 3.9 | 4.4 | 6.9 | 10 |
| Oil tank capacity(Gallon) | 38 | 55 | 60 | 80 | 120 |
| Nunber of heaters(ZONE) | 4 | 4 | 4 | 5 | 5 |
| Heating capacity(KW) | 7 | 9.5 | 12.5 | 16.8 | 18 |
| Total installed power(KW) | 15 | 21 | 30 | 35 | 48 |
| Extruding capacity per hour(kg/hr) | 15 | 24 | 36 | 55 | 75 |
| Dry cycle per hour(time/hr) | 1285 | 1030 | 880 | 720 | 650 |
| Product capacity(c.c./L) | 15-500 | 60-1000 | 150-2500 | 500-5000 | 1L-10L |
| Product weight(g.) | 5-40 | 10-100 | 20-170 | 40-280 | 80-500 |
| Min./Max. diameter of product(m/m) | 10-75 | 20-100 | 30-140 | 50-200 | 80-260 |
| Extruding mouth outer diameter(m/m) | 50 | 56 | 80 | 150 | 200 |
| Mold center distance(m/m) | * | * | * | * | * |
| Clamping distance(m/m) | 120-230 | 130-320 | 140-410 | 150-540 | 160-670 |
| Length of mold capacity(m/m) | 100-210 | 126-232 | 156-292 | 200-380 | 240-421 |
| Width of mold capacity(m/m) | 200 | 290 | 306 | 350 | 425 |
| Machine net weight(kg) | 2200 | 2700 | 3200 | 4100 | 7000 |
| Machine dimension(m) | 2.3*1.4*2.2 | 3*1.4*2.3 | 3*1.5*2.3 | 3*1.6*2.6 | 4.2*1.7*2.7 |
| | | | | | |
| --- | --- | --- | --- | --- | --- |
| MODEL | FS-40 ODSO | FS-45 ODSO | FS-55 ODSO | FS-65 ODSO | FS-75 ODSO |
| Material | PE/PP | PE/PP | PE/PP | PE/PP | PE/PP |
| Screw diameter(m/m) | 40 | 45 | 55 | 65 | 75 |
| Screw L/D ratio(L/D) | 24/1 | 24/1 | 24/1 | 24/1 | 24/1 |
| Screw R.P.M speed(r.p.m.) | 20-66 | 15-61 | 15-60 | 15-60 | 15-58 |
| Inveter motor(HP) | 5 | 7.5 | 10 | 15 | 40 |
| Oil hydraulic drive motor(HP) | 5 | 7.5 | 10 | 10 | 20/15 |
| Optional air compressor(HP) | 5 | 5 | 7.5 | 7.5 | 10 |
| Air pressurer(kg/cm2) | 4-6 | 4-6 | 4-6 | 5-7 | 5-7 |
| Clamping force(Ton) | 2.8 | 3.9 | 4.4 | 6.9 | 10 |
| Oil tank capacity(Gallon) | 38 | 55 | 60 | 80 | 120 |
| Nunber of heaters(ZONE) | 6 | 6 | 7 | 8 | 9 |
| Heating capacity(KW) | 7.5 | 10.25 | 13.6 | 17.5 | 25 |
| Total installed power(KW) | 15 | 21 | 30 | 35 | 48 |
| Extruding capacity per hour(kg/hr) | 15 | 24 | 36 | 55 | 75 |
| Dry cycle per hour(time/hr) | 1285 | 1030 | 880 | 720 | 650 |
| Product capacity(c.c./L) | 15-500 | 40-500 | 100-1250 | 280-1800 | 0.5L-2.5L |
| Product weight(g.) | 4-25 | 5-40 | 10-100 | 20-170 | 40-170 |
| Min./Max. diameter of product(m/m) | 10-65 | 20-70 | 30-85 | 40-100 | 40-130 |
| Extruding mouth outer diameter(m/m) | 38 | 42 | 50 | 65 | 80 |
| Mold center distance(m/m) | 85 | 100 | 120 | 140 | 180 |
| Clamping distance(m/m) | 120-230 | 130-320 | 140-410 | 150-540 | 160-670 |
| Length of mold capacity(m/m) | 100-210 | 126-232 | 156-292 | 200-380 | 240-421 |
| Width of mold capacity(m/m) | 200 | 290 | 306 | 350 | 425 |
| Machine net weight(kg) | 2200 | 2700 | 3200 | 4100 | 7000 |
| Machine dimension(m) | 2.3*1.4*2.2 | 3*1.4*2.3 | 3*1.5*2.3 | 3*1.6*2.6 | 4.2*1.7*2.7 |
| | | | | | |
| --- | --- | --- | --- | --- | --- |
| MODEL | FS-40 OTSO | FS-45 OTSO | FS-55 OTSO | FS-65 OTSO | FS-75 OTSO |
| Material | PE/PP | PE/PP | PE/PP | PE/PP | PE/PP |
| Screw diameter(m/m) | 40 | 45 | 55 | 65 | 75 |
| Screw L/D ratio(L/D) | 24/1 | 24/1 | 24/1 | 24/1 | 24/1 |
| Screw R.P.M speed(r.p.m.) | 20-66 | 15-61 | 15-60 | 15-60 | 15-58 |
| Inveter motor(HP) | 5 | 7.5 | 10 | 15 | 25 |
| Oil hydraulic drive motor(HP) | 5 | 7.5 | 10 | 10 | 15 |
| Optional air compressor(HP) | 7.5 | 7.5 | 10 | 10 | 15 |
| Air pressurer(kg/cm2) | 4-6 | 4-6 | 5-7 | 5-7 | 5-7 |
| Clamping force(Ton) | 2.8 | 3.9 | 4.4 | 6.9 | 10 |
| Oil tank capacity(Gallon) | 38 | 55 | 60 | 80 | 120 |
| Nunber of heaters(ZONE) | 8.5 | 12 | 15 | 19.3 | 21.5 |
| Heating capacity(KW) | 7.5 | 10.25 | 13.6 | 17.5 | 25 |
| Total installed power(KW) | 16.5 | 23.5 | 32 | 39 | 52.5 |
| Extruding capacity per hour(kg/hr) | 15 | 24 | 36 | 55 | 75 |
| Dry cycle per hour(time/hr) | 1250 | 1000 | 850 | 720 | 650 |
| Product capacity(c.c./L) | 10-125 | 20-325 | 40-825 | 100-1000 | 180-4500 |
| Product weight(g.) | 3-10 | 5-25 | 10-50 | 10-90 | 15-145 |
| Min./Max. diameter of product(m/m) | 10-45 | 20-55 | 30-55 | 30-80 | 95 |
| Extruding mouth outer diameter(m/m) | 30 | 37 | 40 | 55 | 80 |
| Mold center distance(m/m) | 75+75 | 85+85 | 100+100 | 120+120 | 120+120 |
| Clamping distance(m/m) | 120-230 | 130-320 | 140-410 | 150-540 | 160-670 |
| Length of mold capacity(m/m) | 100-210 | 126-232 | 156-292 | 200-380 | 243-466 |
| Width of mold capacity(m/m) | 200 | 290 | 306 | 350 | 425 |
| Machine net weight(kg) | 2500 | 3100 | 3600 | 4600 | 7500 |
| Machine dimension(m) | 2.3*1.4*2.2 | 3*1.4*2.3 | 3*1.5*2.3 | 3*1.6*2.6 | 4.2*1.7*2.7 |
| | | | | |
| --- | --- | --- | --- | --- |
| MODEL | FS-55 OFSO | FS-65 OFSO | FS-75 OFSO | FS-90 OFSO |
| Material | PE/PP | PE/PP | PE/PP | PE/PP |
| Screw diameter(m/m) | 55 | 65 | 75 | 90 |
| Screw L/D ratio(L/D) | 24/1 | 24/1 | 24/1 | 28/1 |
| Screw R.P.M speed(r.p.m.) | 15-60 | 15-60 | 15-58 | 15-58 |
| Inveter motor(HP) | 15 | 20 | 30 | 50 |
| Oil hydraulic drive motor(HP) | 10 | 15 | 15 | 15 |
| Optional air compressor(HP) | 15 | 15 | 20 | 20 |
| Air pressurer(kg/cm2) | 6-8 | 6-8 | 6-8 | 6-8 |
| Clamping force(Ton) | 4.4 | 6.9 | 10 | 13 |
| Oil tank capacity(Gallon) | 60 | 80 | 120 | 250 |
| Nunber of heaters(ZONE) | 11 | 13 | 13 | 15 |
| Heating capacity(KW) | 16.5 | 20.8 | 25.7 | 30 |
| Total installed power(KW) | 37.5 | 48 | 61 | 80 |
| Extruding capacity per hour(kg/hr) | 36 | 55 | 75 | 100 |
| Dry cycle per hour(time/hr) | 750 | 750 | 650 | 650 |
| Product capacity(c.c./L) | 30-300 | 100-500 | 300-1000 | 500-2500 |
| Product weight(g.) | 10-25 | 10-40 | 15-90 | 40-170 |
| Min./Max. diameter of product(m/m) | 20-55 | 30-55 | 30-90 | 30-90 |
| Extruding mouth outer diameter(m/m) | 37 | 42 | 50 | 75 |
| Mold center distance(m/m) | 85+85+85 | 85+85+85 | 120+120+120 | 120+120+120 |
| Clamping distance(m/m) | 140-410 | 150-540 | 160-670 | 200-780 |
| Length of mold capacity(m/m) | 156-292 | 200-380 | 243-466 | 250-550 |
| Width of mold capacity(m/m) | 380 | 430 | 510 | 550 |
| Machine net weight(kg) | 3800 | 4800 | 7900 | 8900 |
| Machine dimension(m) | 3.1*1.8*2.3 | 3.2*1.9*2.6 | 4.3*2*2.7 | 5.2*3.1*3.5 |
| | | | | |
| --- | --- | --- | --- | --- |
| MODEL | FS-45 OSDO | FS-55 OSDO | FS-65 OSDO | FS-75 OSDO |
| Material | PE/PP | PE/PP | PE/PP | PE/PP |
| Screw diameter(m/m) | 45 | 55 | 65 | 75 |
| Screw L/D ratio(L/D) | 24/1 | 24/1 | 24/1 | 24/1 |
| Screw R.P.M speed(r.p.m.) | 15-61 | 15-60 | 15-60 | 15-58 |
| Inveter motor(HP) | 7.5 | 10 | 15 | 30 |
| Oil hydraulic drive motor(HP) | 7.5 | 10 | 10 | 15 |
| Optional air compressor(HP) | 10 | 15 | 15 | 20 |
| Air pressurer(kg/cm2) | 4-6 | 4-6 | 5-7 | 5-7 |
| Clamping force(Ton) | 3.9 | 4.4 | 6.9 | 10 |
| Oil tank capacity(Gallon) | 60 | 80 | 120 | 250 |
| Nunber of heaters(ZONE) | 4 | 4 | 5 | 5 |
| Heating capacity(KW) | 9.5 | 12.5 | 16.8 | 18 |
| Total installed power(KW) | 22 | 28 | 37 | 53 |
| Extruding capacity per hour(kg/hr) | 24 | 36 | 55 | 75 |
| Dry cycle per hour(time/hr) | 1030*2 | 880*2 | 720*2 | 650*2 |
| Product capacity(c.c./L) | 40-500 | 65-1250 | 150-2500 | 500-5000 |
| Product weight(g.) | 5-40 | 10-100 | 20-170 | 40-280 |
| Min./Max. diameter of product(m/m) | 10-75 | 20-100 | 30-140 | 50-280 |
| Extruding mouth outer diameter(m/m) | 56 | 80 | 150 | 200 |
| Mold center distance(m/m) | * | * | * | * |
| Clamping distance(m/m) | 120-320 | 140-410 | 150-540 | 160-670 |
| Length of mold capacity(m/m) | 126-232 | 156-292 | 200-380 | 240-640 |
| Width of mold capacity(m/m) | 250 | 280 | 380 | 420 |
| Machine net weight(kg) | 6400 | 6900 | 7400 | 8300 |
| Machine dimension(m) | 3*1.8*2.5 | 3.2*1.9*2.5 | 3.2*2*2.8 | 4.2*2.1*2.9 |
| | | | | |
| --- | --- | --- | --- | --- |
| MODEL | FS-45 OSDO | FS-55 OSDO | FS-65 OSDO | FS-75 OSDO |
| Material | PE/PP | PE/PP | PE/PP | PE/PP |
| Screw diameter(m/m) | 45 | 55 | 65 | 75 |
| Screw L/D ratio(L/D) | 24/1 | 24/1 | 24/1 | 24/1 |
| Screw R.P.M speed(r.p.m.) | 15-61 | 15-60 | 15-60 | 15-58 |
| Inveter motor(HP) | 10 | 10 | 15 | 30 |
| Oil hydraulic drive motor(HP) | 7.5 | 10 | 10 | 15 |
| Optional air compressor(HP) | 10 | 15 | 15 | 20 |
| Air pressurer(kg/cm2) | 4-6 | 4-6 | 5-7 | 5-7 |
| Clamping force(Ton) | 3.9 | 4.4 | 6.9 | 10 |
| Oil tank capacity(Gallon) | 60 | 80 | 120 | 160 |
| Nunber of heaters(ZONE) | 6 | 7 | 8 | 8 |
| Heating capacity(KW) | 10.25 | 13.6 | 17.5 | 19 |
| Total installed power(KW) | 26 | 30 | 38 | 54 |
| Extruding capacity per hour(kg/hr) | 24 | 36 | 55 | 75 |
| Dry cycle per hour(time/hr) | 1030*2 | 880*2 | 720*2 | 650*2 |
| Product capacity(c.c./L) | 30-200 | 40-500 | 100-1000 | 280-2000 |
| Product weight(g.) | 4-20 | 5-40 | 10-65 | 20-110 |
| Min./Max. diameter of product(m/m) | 10-65 | 20-70 | 30-85 | 40-110 |
| Extruding mouth outer diameter(m/m) | 42 | 50 | 65 | 80 |
| Mold center distance(m/m) | 100 | 120 | 140 | 160 |
| Clamping distance(m/m) | 130-320 | 140-410 | 150-540 | 160-670 |
| Length of mold capacity(m/m) | 126-232 | 156-292 | 200-380 | 243-466 |
| Width of mold capacity(m/m) | 250 | 280 | 380 | 420 |
| Machine net weight(kg) | 6500 | 7000 | 7500 | 8500 |
| Machine dimension(m) | 3*1.8*2.5 | 3.2*2*2.8 | 3.4*3*3 | 4.2*3.1*3.1 |
| | | | |
| --- | --- | --- | --- |
| MODEL | FS-55 OTDO | FS-65 OTDO | FS-75 OTDO |
| Material | PE/PP | PE/PP | PE/PP |
| Screw diameter(m/m) | 55 | 65 | 75 |
| Screw L/D ratio(L/D) | 24/1 | 24/1 | 24/1 |
| Screw R.P.M speed(r.p.m.) | 15-60 | 15-60 | 15-58 |
| Inveter motor(HP) | 10 | 15 | 30 |
| Oil hydraulic drive motor(HP) | 10 | 10 | 15 |
| Optional air compressor(HP) | 15 | 15 | 20 |
| Air pressurer(kg/cm2) | 4-6 | 5-7 | 5-7 |
| Clamping force(Ton) | 4.4 | 5.7 | 5.7 |
| Oil tank capacity(Gallon) | 80 | 120 | 160 |
| Nunber of heaters(ZONE) | 9 | 10 | 10 |
| Heating capacity(KW) | 15 | 19.3 | 21.5 |
| Total installed power(KW) | 32 | 40 | 56.5 |
| Extruding capacity per hour(kg/hr) | 36 | 55 | 75 |
| Dry cycle per hour(time/hr) | 850*2 | 720*2 | 650*2 |
| Product capacity(c.c./L) | 15-300 | 50-600 | 100-1000 |
| Product weight(g.) | 5-25 | 8-45 | 10-70 |
| Min./Max. diameter of product(m/m) | 10-55 | 20-70 | 30-90 |
| Extruding mouth outer diameter(m/m) | 40 | 55 | 80 |
| Mold center distance(m/m) | 85+85 | 100+100 | 120+120 |
| Clamping distance(m/m) | 140-410 | 150-540 | 160-670 |
| Length of mold capacity(m/m) | 156-292 | 200-380 | 243-466 |
| Width of mold capacity(m/m) | 300 | 380 | 420 |
| Machine net weight(kg) | 7100 | 7600 | 8700 |
| Machine dimension(m) | 3.4*2*2.8 | 3.6*3*3 | 4.4*3.1*3.1 |
| | | | |
| --- | --- | --- | --- |
| MODEL | FS-55 OFDO | FS-65 OFDO | FS-75 OFDO |
| Material | PE/PP | PE/PP | PE/PP |
| Screw diameter(m/m) | 55 | 65 | 75 |
| Screw L/D ratio(L/D) | 24/1 | 24/1 | 24/1 |
| Screw R.P.M speed(r.p.m.) | 15-60 | 15-60 | 15-58 |
| Inveter motor(HP) | 15 | 20 | 30 |
| Oil hydraulic drive motor(HP) | 10 | 10 | 15 |
| Optional air compressor(HP) | 15 | 15 | 20 |
| Air pressurer(kg/cm2) | 6-8 | 6-8 | 6-8 |
| Clamping force(Ton) | 4.4 | 6.9 | 13 |
| Oil tank capacity(Gallon) | 80 | 120 | 160 |
| Nunber of heaters(ZONE) | 11 | 13 | 13 |
| Heating capacity(KW) | 16.5 | 20.8 | 25.7 |
| Total installed power(KW) | 37.5 | 48 | 61 |
| Extruding capacity per hour(kg/hr) | 36 | 55 | 75 |
| Dry cycle per hour(time/hr) | 750*2 | 750*2 | 650*2 |
| Product capacity(c.c./L) | 50-250 | 100-400 | 200-600 |
| Product weight(g.) | 5-20 | 10-30 | 20-50 |
| Min./Max. diameter of product(m/m) | 20-55 | 20-55 | 20-70 |
| Extruding mouth outer diameter(m/m) | 37 | 42 | 50 |
| Mold center distance(m/m) | 85+85 | 85+85 | 120+120 |
| Clamping distance(m/m) | 140-410 | 150-410 | 160-670 |
| Length of mold capacity(m/m) | 156-292 | 200-380 | 243-466 |
| Width of mold capacity(m/m) | 410 | 460 | 520 |
| Machine net weight(kg) | 7200 | 7700 | 8900 |
| Machine dimension(m) | 3.4*2*3 | 3.6*3.2*3.2 | 4.4*3.3*3.3 |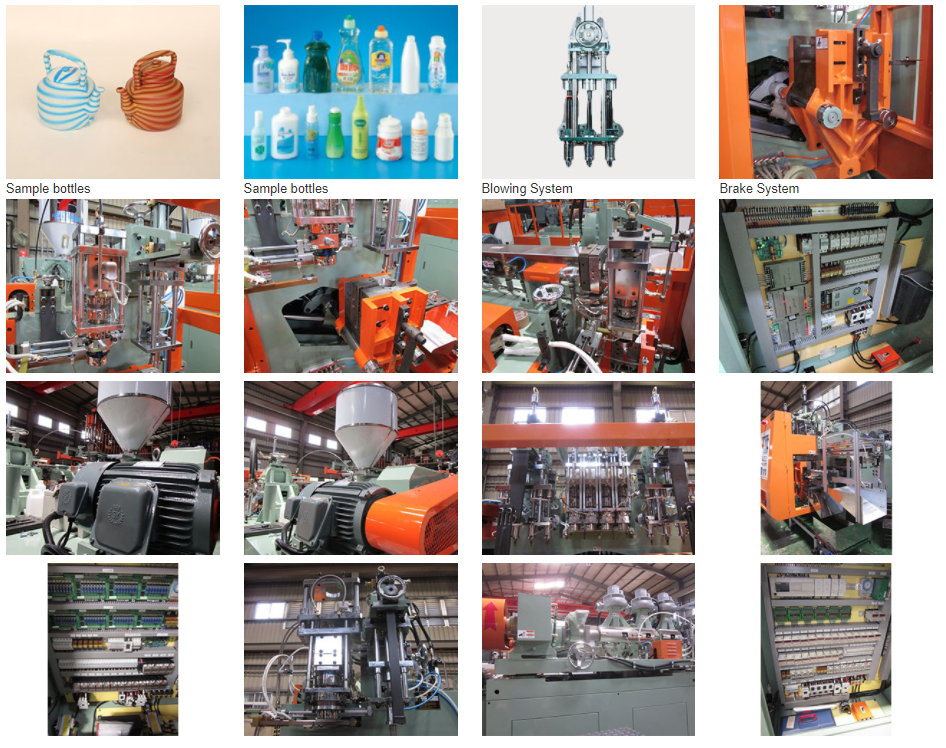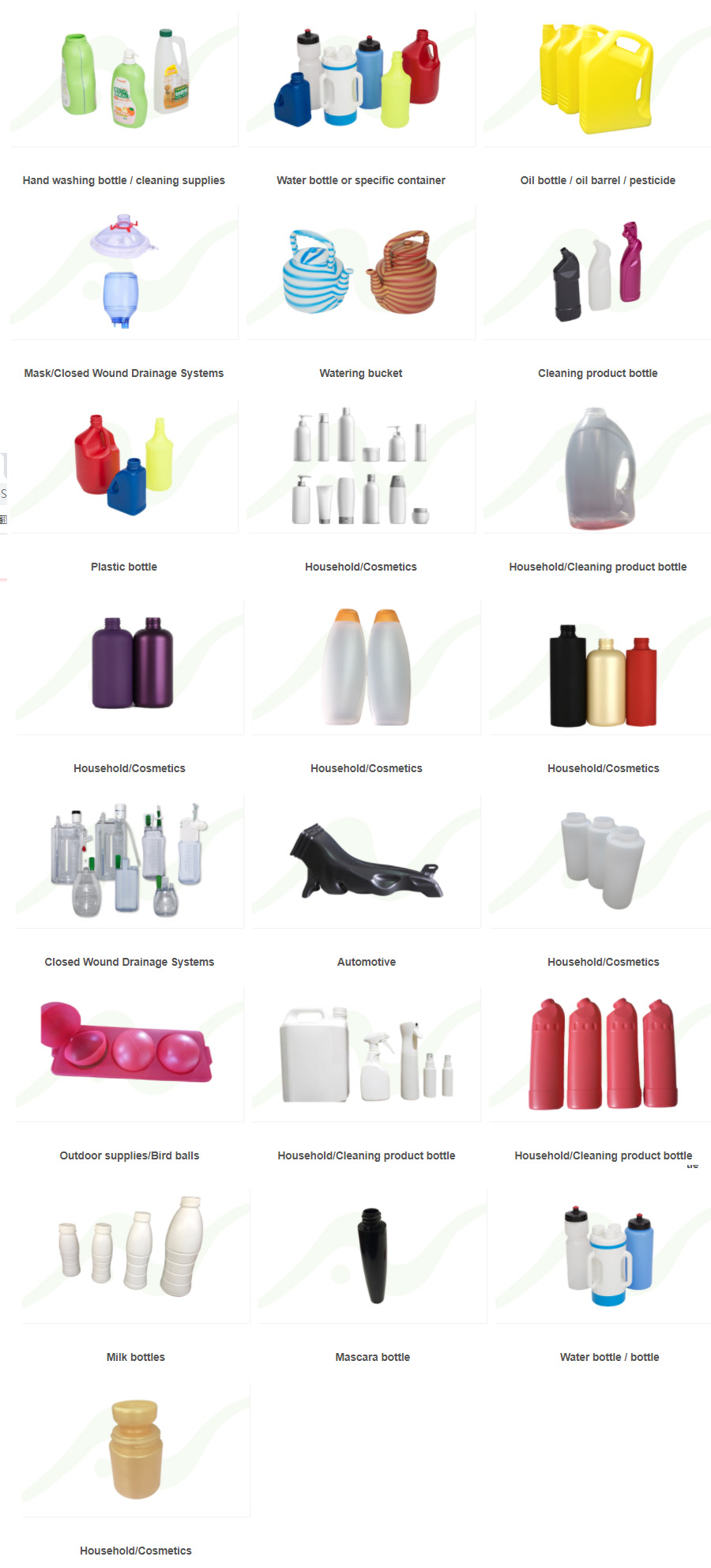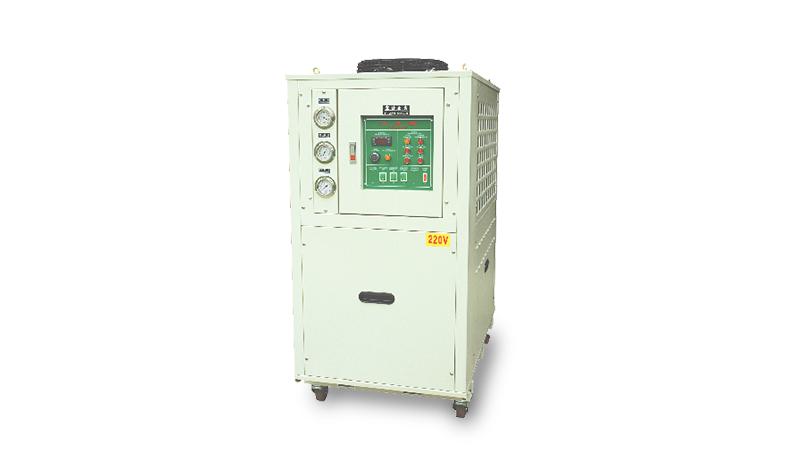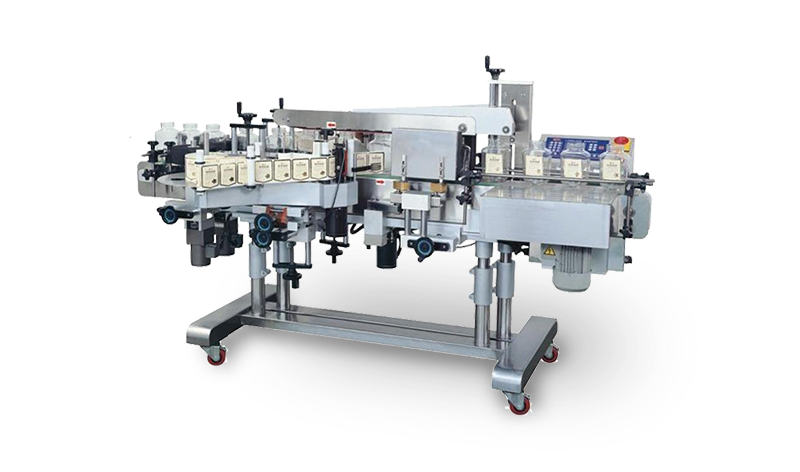 AIR COOLING CHILLER AUTO 2 SIDE LABELING MACHINE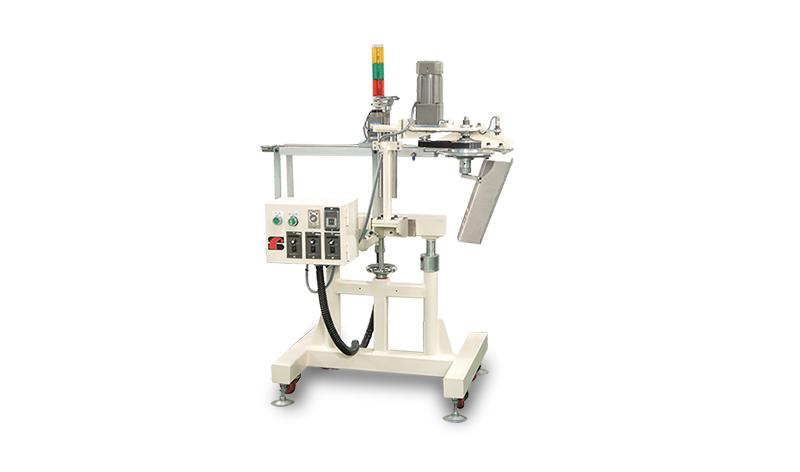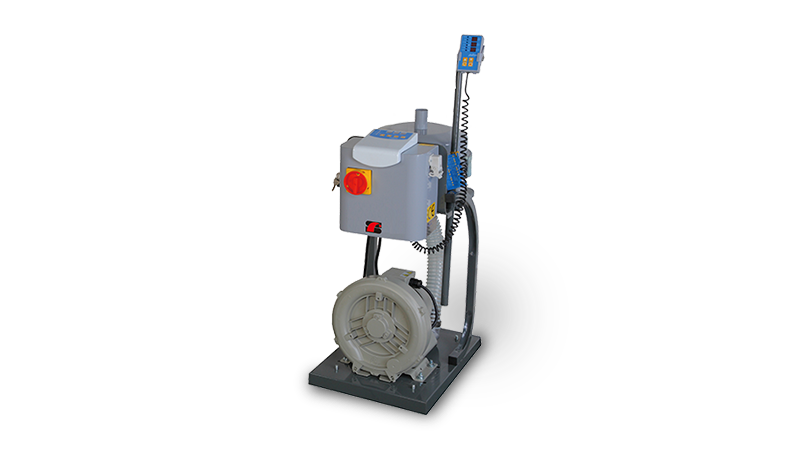 AUTO JAR NECK CUTTING MACHINE AUTO LOADER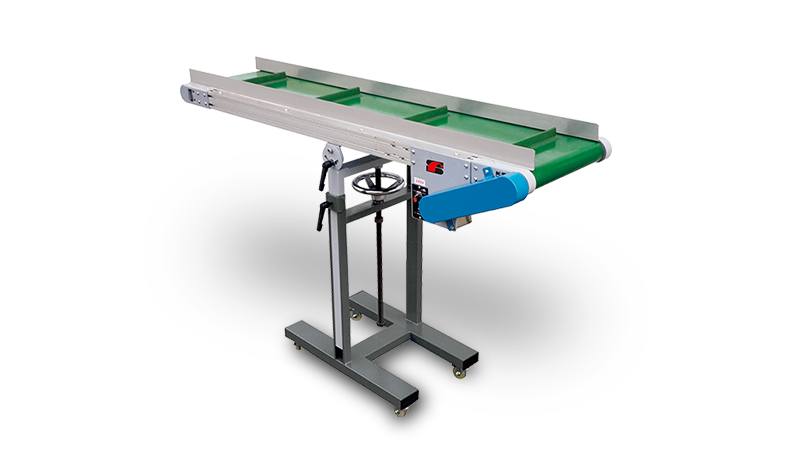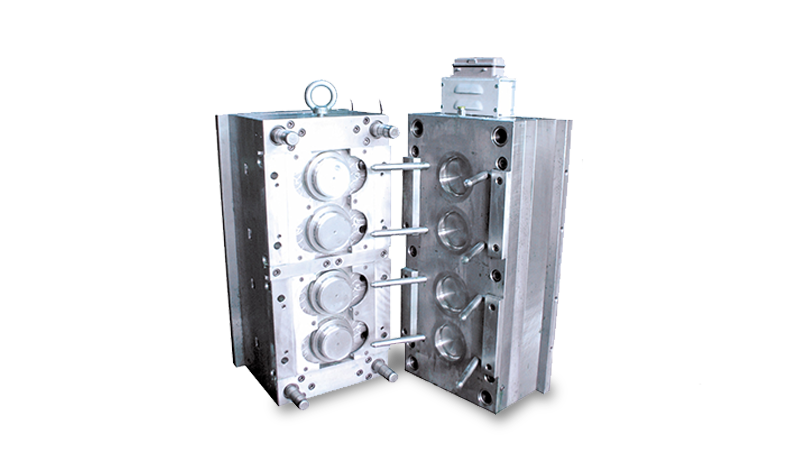 BELT TYPE CONVEYOR BLOW MOLD & INJECTION MOLD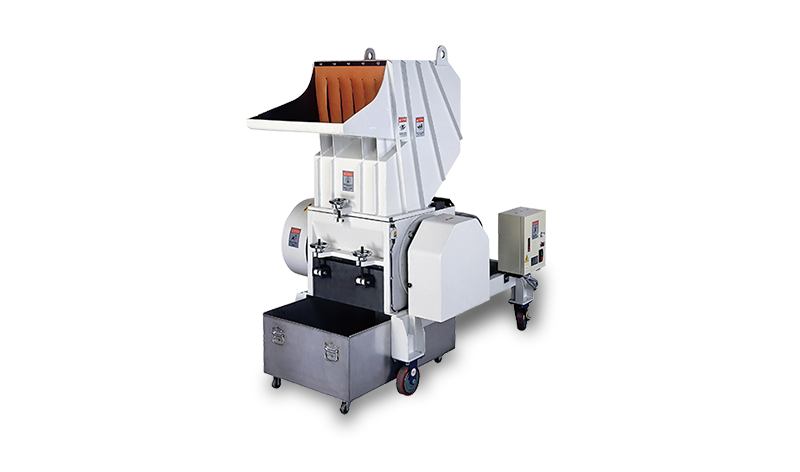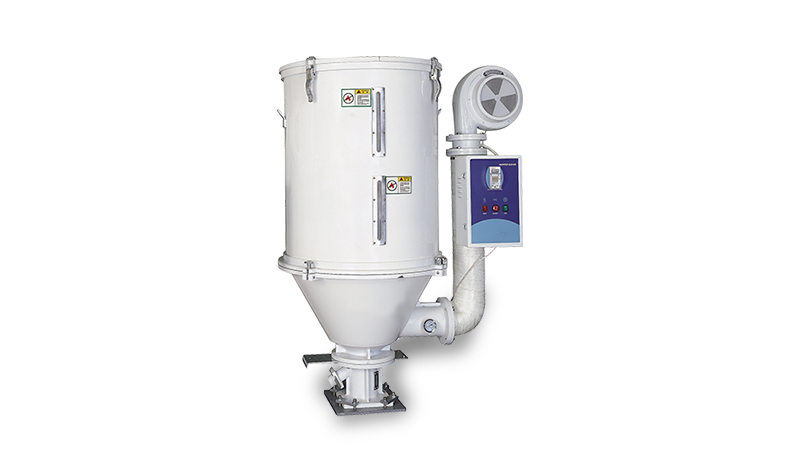 CRUSHER HOPPER DRYER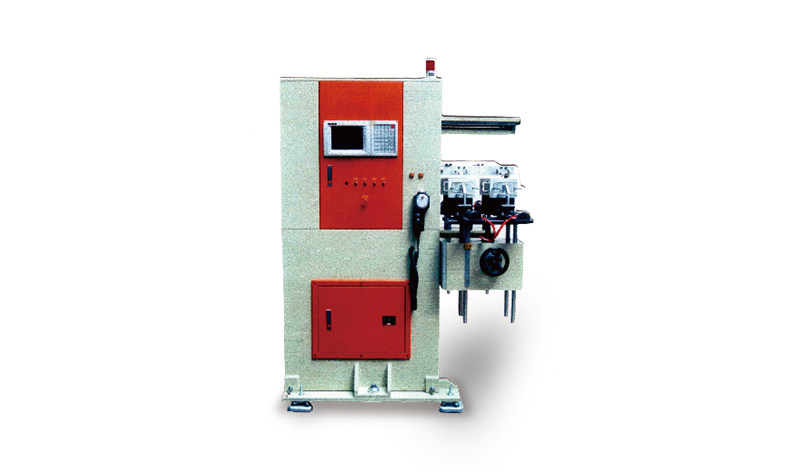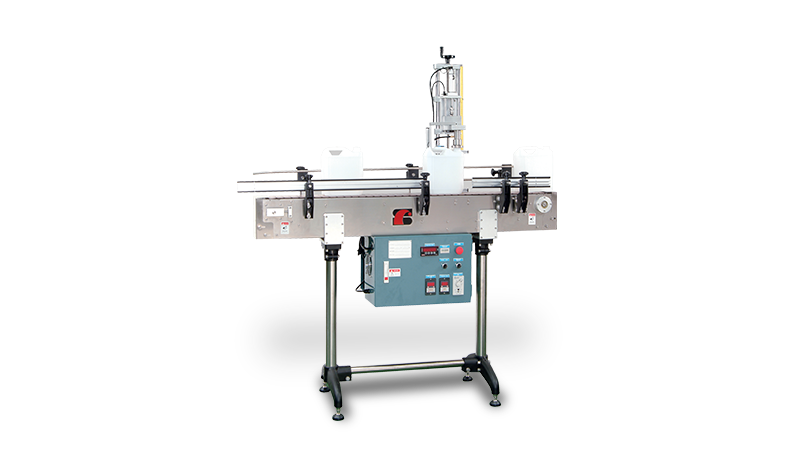 IN MOLD LABELING MACHINE LEAKING TESTER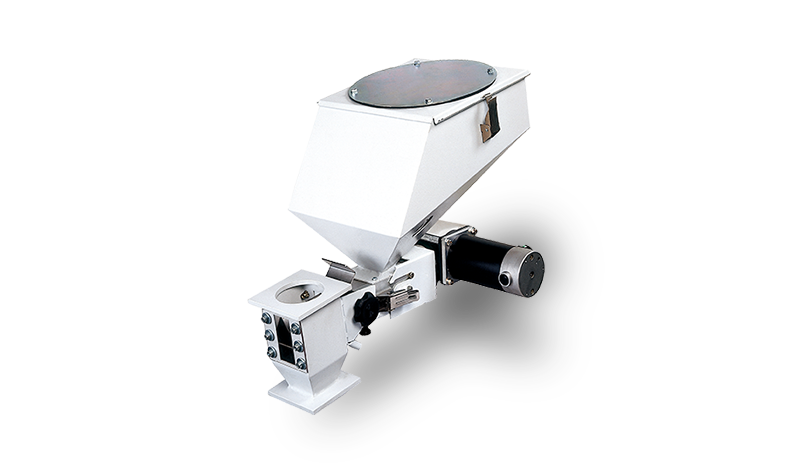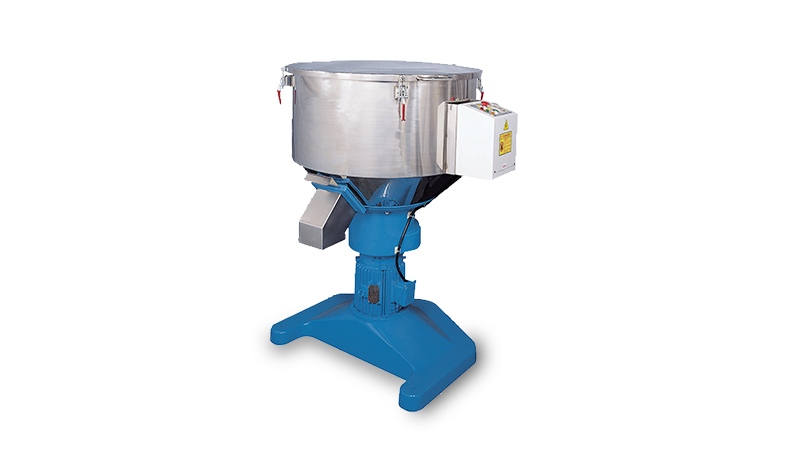 MASTER BATCH FEEDER MIXER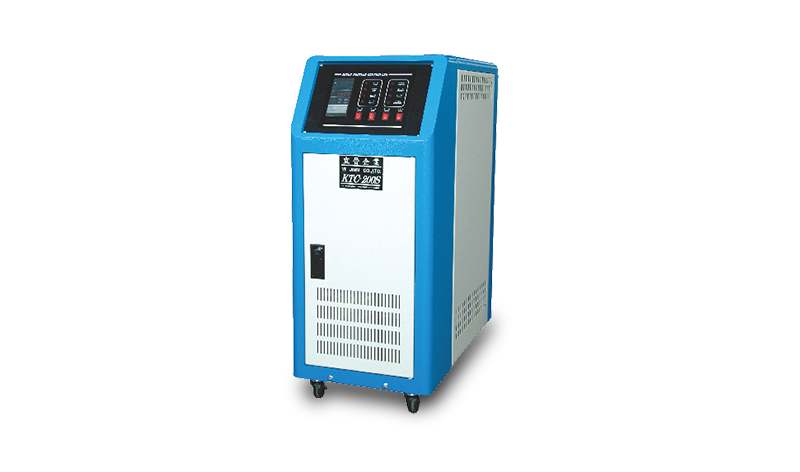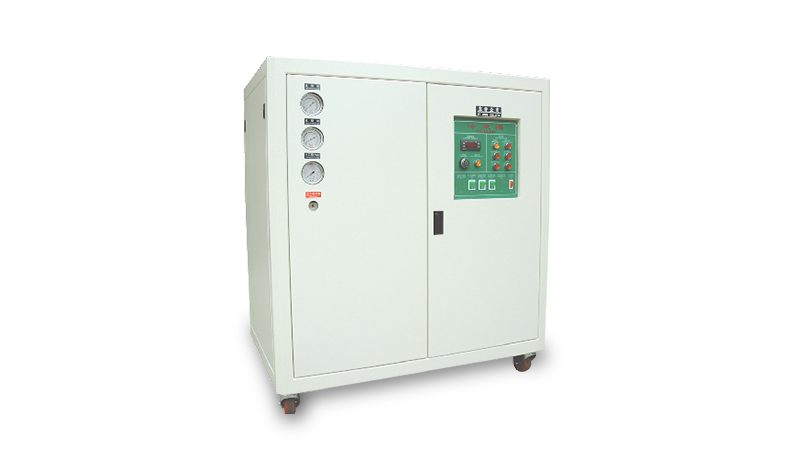 MOLD TEMPERATURE CONTROLLER WATER COOLING CHILLER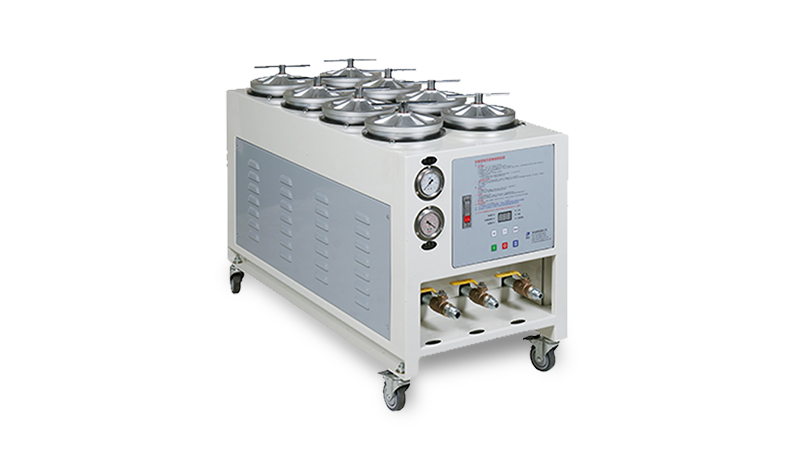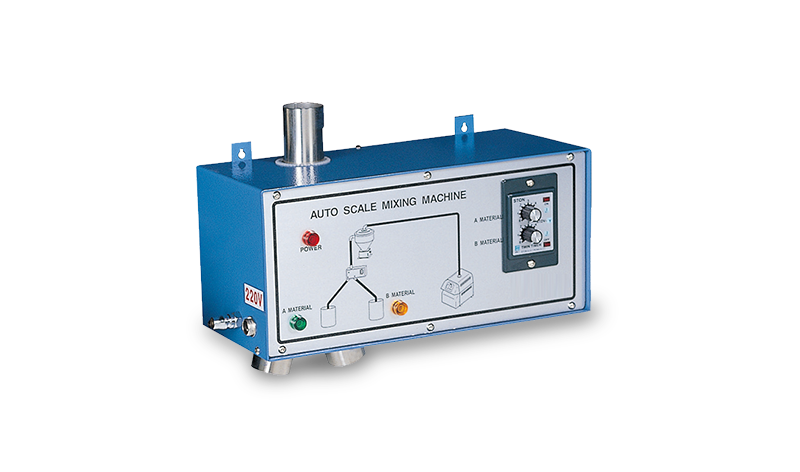 PRECISE OIL FILTER PROPORTIONAL DEVICE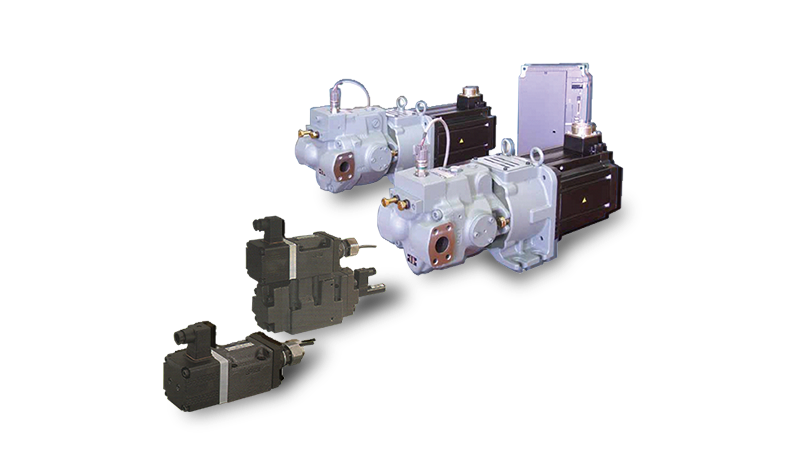 SERVO MOTOR SYSTEM