BoReTech: Latest Plastic Recycling Technology and Products Show at K Fair
---
BoReTech is a pioneering engineering company with integrated resources and technology in the recycled polyester industry. With 30 years of PET recycling production experience and more than 15 years of equipment manufacture experience, BoReTech provides a total solution of the plastics recycling system, polyester staple fiber and related textile production equipment, as well as bottle-to-bottle plant and service.

This year, we built a new factory to double production capability, provide the employee with a better working environment, a test lab and display hall.

We are BoReTech, a customer and service-oriented team that is provided with innovation and technology, focusing on plastic recycling.
BoReTech Business Scope
Plastic recycling System for post-consumer PET bottle, HDPE bottle, and LDPE film;

Functional washing equipment including bale breaker, label scrapper, pre-washing machine, plastic dryer, crusher, and so on;

Polyester staple fiber production line, POY, FDY, DTY production line, Bi-component fiber line, and related textile machine;

Plastic extrusion and pelletizing line;

Bottle-to-bottle recycling equipment (washing+pelletizing+SSP) and Engineering service.
"THE WORLD'S FIRST EQUIPMENT AND ENGINEERING COMPANY TO PROVIDE A TOTAL SOLUTION FROM PCR PET BOTTLES TO FOOD-GRADE PELLETS"

*BoReTech PET bottle-to-bottle plant

SIGNIFICANT ADVANTAGES
- European and American-based technology, Asian manufacturing brings a superior ROI;
- Flexible process and configuration, outstanding decontamination technology;
- Clear rPET flakes and pellets, comparable to the quality of the virgin resin;
- The stable specified IV value meets the highest quality of the various applications;
- Food grade with FDA & EFSA certification approval.

Less energy, more profit
- Energy-saving and environmental, based on European technology, the unit energy consumption is reduced by 35% further;
- Compared with European and American equipment, the Capex of the equivalent scale saves 50%, the output ratio is high, and the benefit is good.
Global projects, well acknowledged by brands
- More than 200 production lines are running in 30 countries worldwide, and rPET pellets are widely favored by international brand owners.
BOTTLE-TO-BOTTLE PLANT ADOPTS ES-PROCESS PET BOTTLE WASHING SYSTEM WHICH ACHIEVES THE EFFICIENT WASHING PERFORMANCE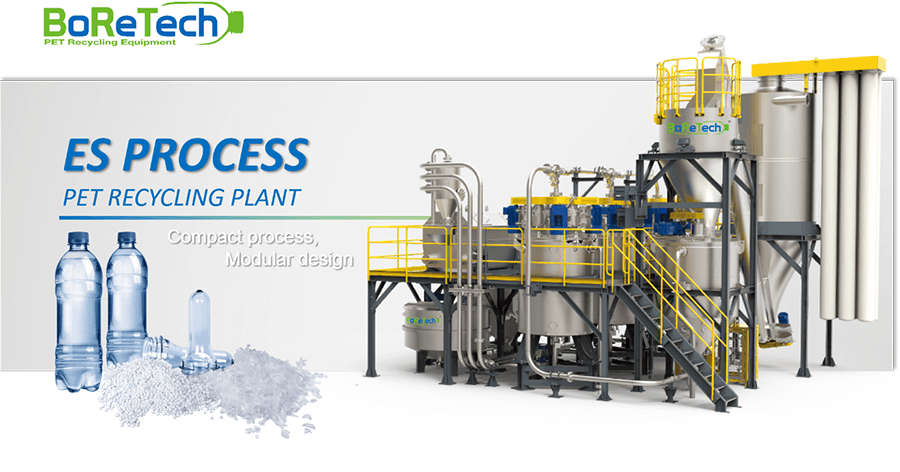 The ES-process PET bottle recycling line mainly meets the needs of potential customers in countries and regions with a developed economy, lack of land, and high labor costs. With the advantages of design, standardized spare parts, and pre-built pipelines, it is currently the world's most advanced PET bottle washing process. This process has higher technical application, compact land-occupation, and modulized process design.
- Small footprint, under the exact condition of the PET bottle recycling input capacity, the equipment occupies a significant reduction, accounting for only 50% of the typical washing process, helping customers to maximize the performance of investment in land use and plant construction;

- Highly modularized, realizes the reduction and aggregation of equipment technology and equipment functions, the module integrates multiple sections and the integration of stand-alone equipment functions;
- The final product is generated with high quality. Compared with the typical process, the quality of rPET flakes is more stable, and they can be directly used in the production of bottle-to-bottle and ultra-fine denier fibers;
- Low production cost, realizing recycling machine replacement, electrified operation replacing manual operation, high automation, improving efficiency, and reducing the unit production energy consumption of equipment;
- Maintenance convenience, reduction of equipment maintenance points, low equipment operation failure rate, and standardization of functional stand-alone spare parts;
- Environment friendly and sustainable, the chemical water is circulated through the detergent purification system to finely filter the chemical water inline to minimize the unit consumption.

Follow us






CONTACT US TO LEARN MORE ! 丨 WWW.BO-RE-TECH.COM 丨[email protected]
BORETECH IN K 2022: H9E21
Author:ZHEJIANG BORETECH ENVIRONMENTAL ENGINEERING CO., LTD.
We are environmental equipment & plastic recycling enterprise which comes from Taiwan with 20 years experience for PET bottle,and other waste plastic recycle and 15 years experience for polyester staple fiber. Our plentiful manufacturing experience has become our prime backbone in waste plastic recycling plan, design and produce. Especially in PET bottle field, we provide not only whole recycling line or single machine but also operate manufacturing and sales in various kinds of recycled PET material and their upper and lower reaches practically. With those outstanding conditions, the equipment and project provided by us are verified by actual operation and the spirit of design is conform to operator's demand perfectly.