FCS's Cooperative Partner Takes The Lead In Household Products In Bangladesh
---
Seizing the opportunity in the domestic market of Bangladesh
As necessities for people's livelihood, household products have increasing demand year by year with the progress of global urbanization and economic development, and their market has gradually matured and saturated. However, in some developing countries, the market for these basic livelihood products has just stepped into its growth stage. Over a decade ago, while Bangladesh was in dire need of basic household products, an FCS's cooperative partner already took the opportunity to invest in this emerging market, supplied livelihood products to the populous country, and secured the leading position among household product brands in Bangladesh.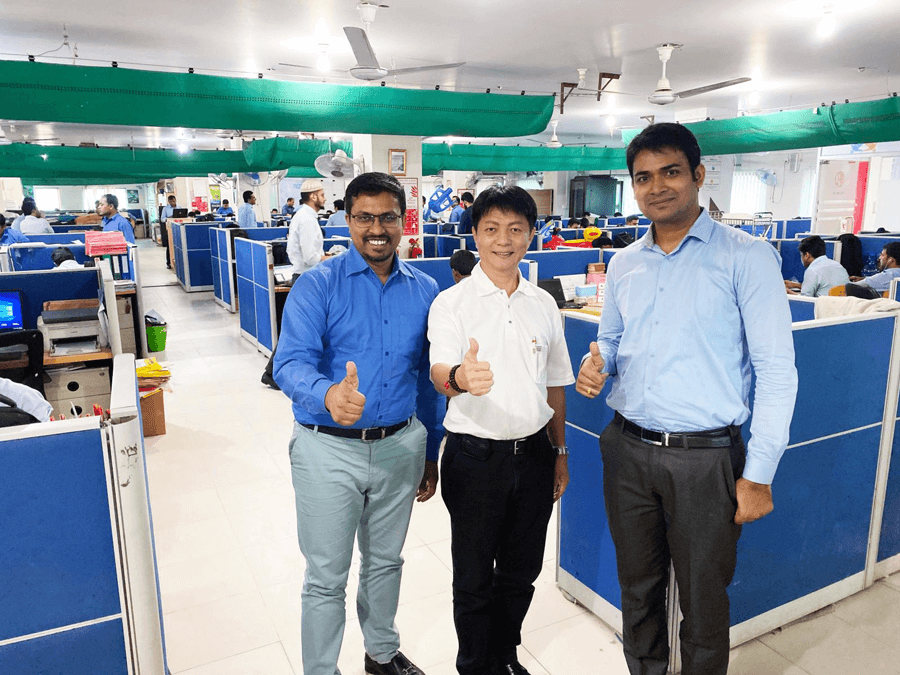 Photo/ FCS sales manager and cooperative partner are at the head office in Bangladesh.

Today, the sales volume of household products in Bangladesh accounts for 65-70% of the country's plastic manufacturing industry, bringing huge opportunities to the plastic products market.

Cooperative partner's change from a single component to two components
One of the index cooperative partners of FCS in Bangladesh, a company located in the capital Dhaka and founded more than 40 years ago, which provides high-quality daily necessities for domestic and export markets, and exports to nearly 150 countries, has been the No. 1 manufacturer in Bangladesh for 16 consecutive years with a wide range of product categories including household products, building components (PVC pipe fittings), furniture, and kitchenware.

With a good impression on Made in Taiwan, the well-known plastic manufacturer in Bangladesh chose injection molding machines from FCS Taiwan.

At the beginning of the purchase, the cooperative partner ordered some High-Speed/ Closed-Loop Hybrid Injection Molding Machine(AF series) from FCS in 2014 for the production project of thin-piece packaging materials. Later, it intended to enter the local niche market of two-component household hardware, so from 2014 to 2016, the cooperative partner purchased 28 injection molding machines from FCS with orders of more than NTD 60 million. Among them, the most purchased machine was FCS's Rotary Table Two-component Injection Molding Machine (FB-R series), which was used to produce two-color cups, two-color plates, two-color collapsible strainer, and other basic livelihood products.

Photo / Two-color bowls and two-color cups produced by the cooperative partner using FCS's Rotary Table Two-component Injection Molding Machine (FB-R series)
Photo / Two-color bowls and two-color collapsible strainer produced by the cooperative partner using FCS's Rotary Table Two-component Injection Molding Machine (FB-R series)

Building market differentiation by two-component technology and patents
As the standard of multi-component injection molding machines, FCS has been selling its star product of FB-R-series rotary table two-component injection molding machines for 38 years, with the sales revenue exceeding RMB 3.3 billion and the clamping force covering 140 to 1,900 tons. Worldwide, over 6,000 sets of FCS two-component injection molding machines have been widely used in various industries.

FB-R series has two isolated barrel sets which can inject at the same time to reduce the cycle time to get more profit. With an accurate rotary positioning clamper, it protects the mold. High loading capacity and self-supporting swivel unit to hold a maximum mold weight. With a high degree of customized machines, FCS has held the reputation and technical advantages in the two-component injection molding machine market.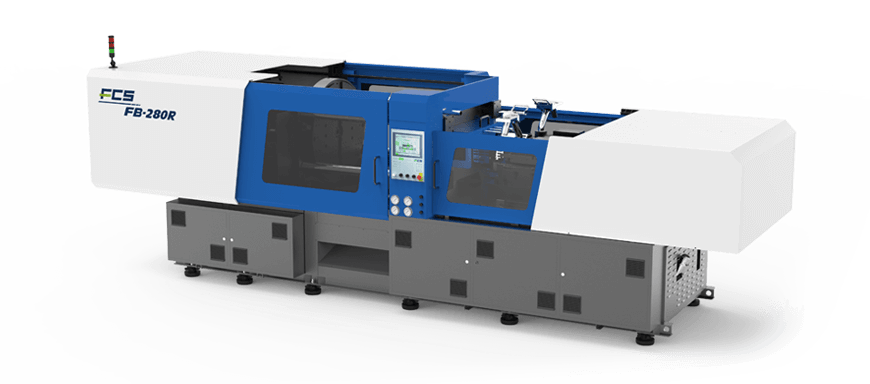 Photo/ Rotary Table Two-Component Injection Molding Machine (FB-R Series)

Multi-industry examples produced by FCS's multi-component injection molding machine

Click to watch: Production live of FB-R Series
| | |
| --- | --- |
| | |

Solutions inspired by the dilemma
In terms of product characteristics, the application flexibility of two-component products is better than that of single-component products in appearance or material, but limited by local economic conditions, people's average consumption capacity is low. In Bangladesh, two-component products are like luxury goods, and the market demand is concentrated in certain specific groups, so it will take time to popularize the products.

However, the dilemma did not stand in the way of the cooperative partner's production project. A creative idea inspired by the design of a flexible application structure in FCS's two-component injection molding machine allowed it to open another window.

This type of two-component injection molding machine uses a special way to achieve overmolding. Without a rotary table, it could also be used as a single-component machine.

The cooperative partner creatively used the FB-R series two-component injection molding machine for producing two kinds of single-component products at one time. As long as requirements for the two products (such as molding time, injection speed) are precisely calculated, the output can be doubled in the same time, and the production efficiency can be improved to save staff's working hours.


Photo / Production process of FCS's injection molding machines in cooperative partner's factory
Grasping the business opportunities of building components as early as possible
The construction industry is an important basic industry for national economic development. With the progress of infrastructure construction in Bangladesh, PVC building components, such as

pipe fittings, also have increasing demands year by year, which account for about 15% of the domestic sales of plastic products. As a result, the application of pipe fittings has constituted the second-largest potential developing market of plastic products production in Bangladesh.

The PVC injection molding machine is for producing PVC pipe fittings used in building and construction industries, such as PVC sockets, PVC tee, PVC elbow, PVC coupler, and PVC valves. Because of various styles and amazing annual demand, it is no wonder that the sales performance of FCS's PVC pipe fitting injection molding machine is brilliant in Taiwan, India, Vietnam, and other countries.
Click to learn: FCS's injection molding machine, suitable for all kinds of construction pipe fittings and keeping your potential orders flowing

Multi-Component Injection Molding Technology, FCS Has a Promising Future!
In recent years, multi-component injection molding technology has attracted more and more attention and covered many industries due to its advantages in production efficiency, energy saving, environment protection, and added value of products. At the same time, domestic and foreign enterprises are also increasing the research in multi-component injection molding technology. By virtue of this, multi-component technology has made great progress in the continuous development of new types of equipment and techniques, and become the focus and direction of injection technology research.

The market of two-component injection molding machines has become an inevitable trend, and the opportunity is for those who are prepared. FCS will continue to pay attention to the market, provide customers with solutions that meet future trends, and thus help you get ready and seize the business opportunity!
| | |
| --- | --- |
| | |
Author:FU CHUN SHIN MACHINERY MANUFACTURE CO., LTD.
FCS Group, based in Taiwan, was established 40 years ago and is well known in Asia as a quality manufacturer of machinery, offering several lines of injection molding machines and other specialty and customized equipment. In addition to the main factory and development center near Tainan, Taiwan, FCS has two additional factories in China. The company is the only injection molding manufacturer publicly traded on the Taiwan stock exchange.