Rubber Injection Molding Machine - Indirect Clamping JD-RL series
Classification : Rubber Injection Molding Machine
JING DAY MACHINERY INDUSTRIAL CO., LTD.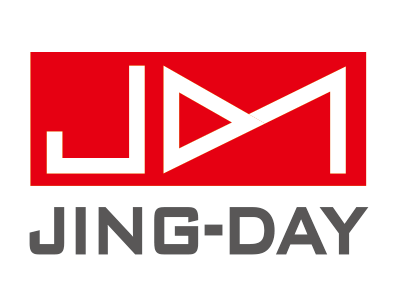 Contact Person:
Louis Tsai
Machine for natural, synthetic, oil resistant, heat resistant and reclaimed rubber.
Low bed structure with lower working platen high.
PLC and HMI functional control as standard specification.
Direct and indirect clamping structure.
Specialized nozzle design to prevent material overflow.
Specialized feeding device.
| MODEL | | JD-RL260T | JD-RL400T | JD-RL580T | JD-RL700T | JD-RL800T | JD-RL1200T | JD-RL1500T |
| --- | --- | --- | --- | --- | --- | --- | --- | --- |
| Shot Volume | c.c. | 1000 / 1500 / 2000 | 2500 / 3000 / 4000 | 3000 / 5000 / 7000 | 5000 / 7000 / 10000 | 7000 / 10000 | 10000 / 15000 / 18000 | 15000 / 20000 / 25000 |
| Injection Pressure | kgf / cm² | 1600 | 1600 | 1600 | 1600 / 1600 / 1200 | 1600 / 1200 | 1200 / 1200 / 1100 | 1100 / 1100 / 1200 |
| Injection Cylinder Pressure | kg / cm² | 140 / 150 / 150 | 150 / 140 / 170 | 140 / 150 / 150 | 150 | 150 | 150 / 150 / 150 | 150 |
| Injection rate | cc / sec | 100 | 160 / 150 / 180 | 150 / 220 / 220 | 220 / 220 / 380 | 220 / 380 | 380 / 430 / 430 | 430 |
| Screw Diameter | mm | 45 | 45 | 50 | 50 | 65 | 65 | 65 |
| Strip Dimension (T x W) | mm | 10 x 60 | 10 x 60 | 10 x 60 | 10 x 60 | 10 x 60 | 10 x 100 | 10 x 100 |
| Clamping Force | Ton | 260 | 400 | 580 | 700 | 800 | 1200 | 1500 |
| Plate Size | mm | 520 x 580 | 600 x 650 | 700 x 720 | 750 x 900 | 1000 x 1000 | 1200 x 1200 | 1500 x 1500 |
| Piston Diameter | mm | 400 | 495 | 600 | 660 | 700 | 900 | 955 |
| Closing Stroke | mm | 560 | 650 | 760 | 800 | 1000 | 1000 | 1000 |
| Clamping Stroke | mm | 60 | 100 | 100 | 100 | 100 | 100 | 100 |
| Space Between Tie Bar | mm | 645 x 275 | 680 x 280 | 805 x 385 | 910 x 510 | 1100 x 630 | 1265 x 675 | 1600 x 1000 |
| Oil Hydraulic System | HP | 20 | 30 / 30 / 40 | 30 / 30 / 40 | 40 / 40 / 50 | 40 / 50 | 50 / 75 / 75 | 75 |
| Hot Oil Cycling Motor | kw | 0.5 x 2 | 0.5 x 2 | 0.5 x 2 | 0.5 x 3 | 0.5 x 3 | 0.5 x 3 | 0.5 x 3 |
| Platen Heated | kw | 16 | 19.6 | 23.2 | 30.4 | Steam / coal oil | Steam / coal oil | Steam / coal oil |
| System Pressure | kg / cm² | 210 | 210 | 210 | 210 | 210 | 210 | 210 |
| Oil Tank Capacity | liters | 470 | 500 | 520 | 660 | 950 | 1140 | 1140 |
| Machine Dimensions | mm | 2950 x 2070 x 3350 | 3000 x 2400 x 4400 | 3500 x 2200 x 5400 | 3550 x 2300 x 5500 | 3750 x 3730 x 6490 | 4170 x 4270 x 7300 | 4400 x 5050 x 7120 |
| Machine Weight (Approx) | kg | 8200 | 12600 | 13500 | 14800 | 19000 | 33500 | 47000 |
MOLD INSTALLATION & HEATING PLATE DIMENSION

MODEL
JD-RL260T
JD-RL400T
JD-RL580T
JD-RL700T
JD-RL800T
JD-RL1200T
JD-RL1500T
STROKE
560
650
760
800
1000
1000
1000
DIMENSION
A
mm
520
600
700
750
1000
1200
1500
B
mm
580
650
720
900
1000
1200
1500
C
mm
910
970
1135
1260
1470
1745
2100
D
mm
200
200
300
400
400
400
500
E
mm
300
400
500
600
800
800
1000
F
mm
135
165
180
250
375
375
500
G
mm
18
18
18
18
28
28
28
H
mm
25
25
25
25
39
39
39
I
mm
10
10
10
10
20
20
20
J
mm
12
12
12
12
17
17
17
K
mm
645
680
805
910
1100
1265
1600
L
mm
275
280
385
510
630
675
1000
M
mm
100
120
150
200
200
240
240
N
mm
95
95
96
125
110
110
110
O
mm
580
640
750
860
-
-
-