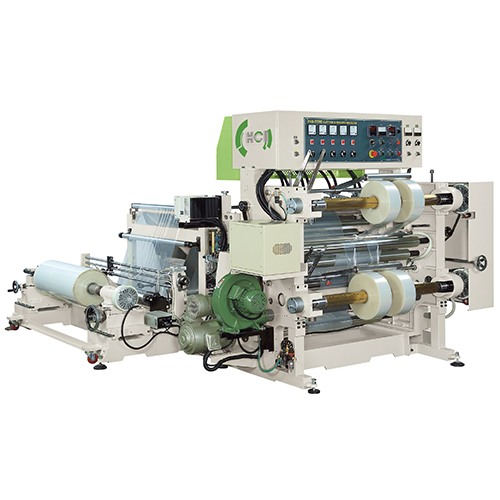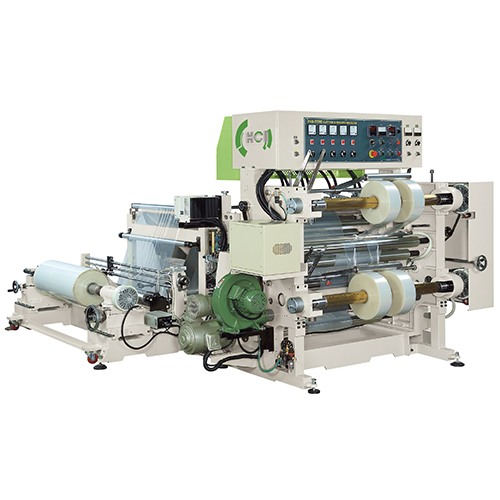 Classification :
Slitting Machine Slitter Rewinder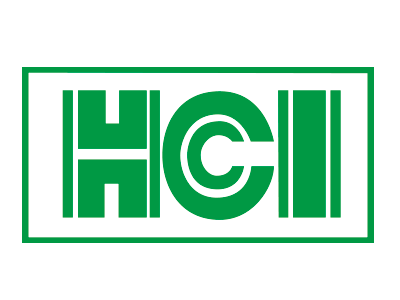 Country: Taiwan
Phone: 886-4-2359-0632
Fax: 886-4-2359-0710
Contact Person: Mr. Alan Ho
Unwinding Section

The cantilever (swing out) unwind shafts can be easily handled by a single operator.
Equipped with web adjustment roller. It can reduce the winkle that cause by the low parent roll quality.

Slitter Section

Duo cutting system: razor cutting in the air for regular films and heating knives for sealable films.
The side sealing slitter mechanism employs exclusive electrical resistor knives (heating knives). Once power is on, the knives are instantly heated to the normal working temperature for immediate operation.
Heating cutter auto ascending mechanism.
Statics eliminator equipped.
Equipped with trim reject fan which can blow the trim out directly.

Rewinder Section

Swing out type rewinding shaft for easy operation.
The rewinding mechanism is designed incorporating HCI friction quick lock rings to overcome the problems of material thickness variation.
Rewinding Lay-on roller *4 sets.
Length can be easily preset during operation. When the pre-set length is reached, the machine stops automatically.

Optional Accessories

Triangular folding unwind stand.
Web guiding system (printing line & edge).
Unwind tension auto controller with load cell sensor.
Magnetic powder clutch for rewind tension control.
Air shafts winding mechanism.
Upper & lower rewind shaft opposite winding mechanism.
Vacuum type trim disposal system.
| Specifications | FSH-1500 Side Sealing Slitter Rewinder |
| --- | --- |
| Mechanical Speed (m/min) | 0-100 |
| Unwind Stand | Shafted & Floating Type |
| Unwind Core Inner Diameter (mm) | 76 / 3" |
| Unwind Web Width (mm) | 400 - 1,500 |
| Maximum Unwind Diameter (mm) | 600 |
| Unwind Tension Control | Magnetic Powder Brake |
| Slitting Techniques | Razor / Heating Knife |
| Trim Removal | Trim Blower |
| Rewind Core Inner Diameter (mm) | 76 / 3" |
| Minimum Rewind Web Width (mm) | 100 |
| Maximum Rewind Diameter (mm) | 450 |
| Rewind Tension Control | HCI Friction Quick Lock Rings |