HSIN LONG: Leading Innovations in Multi-Layer Extrusion Dies to Achieve Sustainable Development Goals
---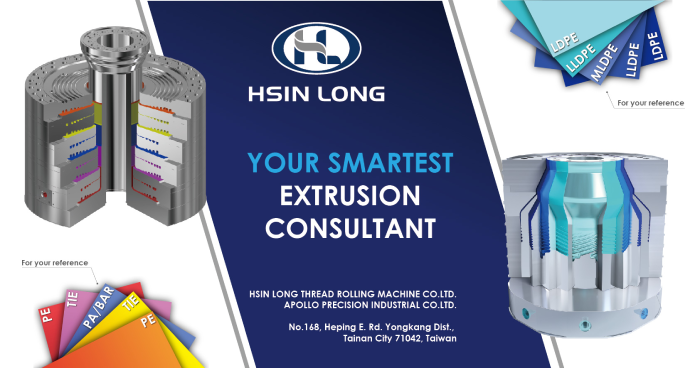 HSIN LONG in K 2022, Ideas Exchange with the Leading Experts in Blown Film Industry
K Trade Fair as the biggest and the most influential worldwide exhibition in the Plastics & Rubber Industry has been hotly held from 19 to 26 October. There is no doubt that everyone has already been waiting too long for this extravaganza especially after the effects of the COVID-19. HSIN LONG is no exception, bringing their newly innovated Multi-Layer Blown Film Extrusion Die to participate in K 2022 and has successfully deeply impressed the trade fair visitors.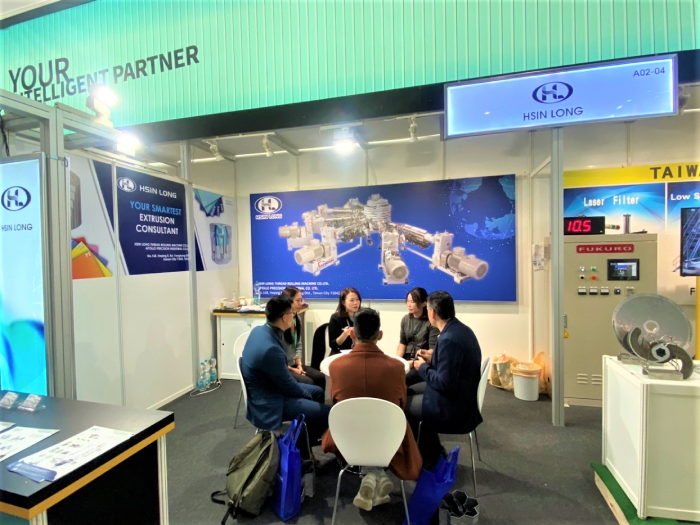 HSIN LONG at K 2022, Demonstrating Their Product: Multi-Layer Blown Film Extrusion Die Head
Blown Film Industry Transitions in Recent Years
As an over 50 years experienced Blown Film Die Head manufacturer, HSIN LONG has its own perspectives after going through the transitions of the industry. HSIN LONG noticed the small changes in every detail which gradually brought big changes in the industry and even our daily lifestyle. By virtue of Sustainable Development Goals (SDGs), every company is dedicated to taking the responsibilities of ESG, which is a big move for environmental sustainability. Owing to this great move, the consumption habits have some imperceptible changes.
Here are the changes in the Blown Film industry HSIN LONG has observed through the interactions with customers and some international exhibitions they have participated in.
1. Raw Materials Used in the Making of Blown Films
In response to SDGs, more and more manufacturing companies delved into the usage of more green and biodegradable materials to make plastic films. This allows the plastic films to be decomposed or recycled after using and hence decreases the pollution to our Mother Earth.
2. The Usage of Multi-Layer Blown Films is Becoming Mainstream Trend
There is a significant increase in the worldwide demands of the Multi-Layer Blown Film Line in recent years due to the benefits of multi-layer films such as production cost reduction, wider applications, etc.
3. The Most Affordable Multi-Layer Extrusion Die Head
In the past, Multi-Layer Extrusion Dies have large volumes but with continuous R&D, HSIN LONG's multi-layer extrusion die head has incomparable features which brings a lot of benefits to our manufacturers. For instance, space-saving, cost-saving, reducing carbon, etc.
Further reading: HSIN LONG: How to Choose Your Blown Film Die Head?
HSIN LONG's Exciting Innovations, Decreases Extrusion Multi-Layer Die Head Outside Diameter at about 15%
An usual Multi-Layer Extrusion Die Head with die lip of Φ400mm to Φ 500mm has outside diameter at about 1100mm to 1200mm. It is so indeed because of the previous application habits and also because of the high degree of difficulty in the technical process. That is why a high quality extrusion die head has a high cost since the quality of the extrusion die head manipulates the quality of the output films.
HSIN LONG founded in 1968, with dedications in skills improvement and product innovations, they are far more to be called as the best consultant in providing complete Blown Film Extrusion solutions. They are well aware that sustainable transformation implies systemic innovation. They noticed the transitions far from about 3 years ago, hence they put unrested efforts in the innovations of Multi-Layer Extrusion Die Heads and accomplish with outside diameter not more than 1000mm. Also, thanks to their rich experience and knowledgeable technical team, their outstanding multi-layer blown film extrusion die head can produce high performance films with decreased thickness variation, precise tolerances, without gel formation at their best assured quality.
HSIN LONG's Multi-Layer Blown Film Die Head
The Advantages of HSIN LONG's Newly Developed MultiLayer Blown Film Extrusion Die Head
Here are some advantages of HSIN LONG's newly developed Multi-Layer Blown Film Extrusion Die Head:
1. Raw material consumption reduction
2. Heating time shorten
3. Carbon footprint reduction
4. Cost saving
5. Space saving
6. More convenient for manufacturers
The Pursuit of High-quality Craftsmanship of HSIN LONG's Team
Making a high-quality precision multi-layer blown film extrusion die head is definitely not simple. Before proceeding into the production step, it is consequential to completely comprehend the output films' features and the machinery specifications. HSIN LONG will arrange meetings for discussions with customers to collect all essential data. These specifications and data help to clarify the best solution for customers.
| | | | | | |
| --- | --- | --- | --- | --- | --- |
| EXTRUDER | A | B | C | D | E |
| Screw Size (mm) | #55 | #55 | #75 | #55 | #55 |
| Max Extruder Output (Kg/Hr) | 80 | 80 | 80 | 80 | 80 |
| Thickness (microns) | 10-20 | 10-20 | 10-20 | 10-20 | 10-20 |
| Material Ratio | 1 | 1 | 2 | 1 | 1 |
| Melt Index (190°C/2.16kg) | 0.5 | 0.8 | 1 | 0.8 | 0.5 |
The Data Needed to Make a Multi-Layer Extruder as an Example
Furthermore, HSIN LONG will carry out Moldflow Analysis, combines with their years of practical experience, to provide the most right fit usable blown film die design which is the main factor of their high repurchase rate.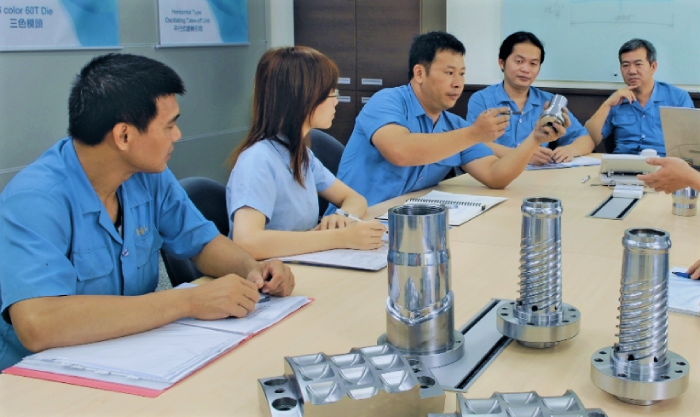 When it comes to the production step, it requires high machining techniques and quality control including surface roughness, polishing fineness, plating thickness, etc. HSIN LONG upholds the spirit of craftsmanship to check the quality of every component part in each production step strictly and thoroughly to ensure verticality, circularity and concentricity. Such systematic and detailed inspection can effectively ensure the die quality and minimize the factors that affect the quality of the output films. HSIN LONG believes, such a rigorous manufacture process can optimize the structure of the films to meet future market demands and this is also exactly what they observed at K 2022.
Further reading:
HSIN LONG: Your Best Consultant of Multi-Layers Blown Film Extrusion Die Head in K 2022
COMPREHENSIVE EXTRUSION SOLUTION AND CUSTOMERS RELIANCE-HSIN LONG
Want to learn more from HSIN LONG? Kindly contact them for an exclusive consultation at the links below.
Author:HSIN LONG THREAD ROLLING MACHINE CO., LTD.
HSIN LONG is one of the leading manufactures of Blown Film Die Head with a high-speed to move up the ranks in the world. To draw on our technological superiority to kick off the journey to a world-class branded manufacturer, we expended the production facilities and introduced new processing machine continuously.