Meet FCS at DMP Expo. See you in December!
---
On December 27 - 30, 2021, DMP Greater Bay Area Industrial Expo (the 24th DMP International Mould and Metalworking, Plastics & Packaging Exhibition) will be held at Shenzhen World Exhibition & Convention Center (the new center). With an exhibition area of 200,000m², the expo focuses on innovative technologies and solutions for digitalization, intelligence, and personalization for different industries. FCS will also display two models of injection molding machines, FB-R and CT-R, please look forward to it!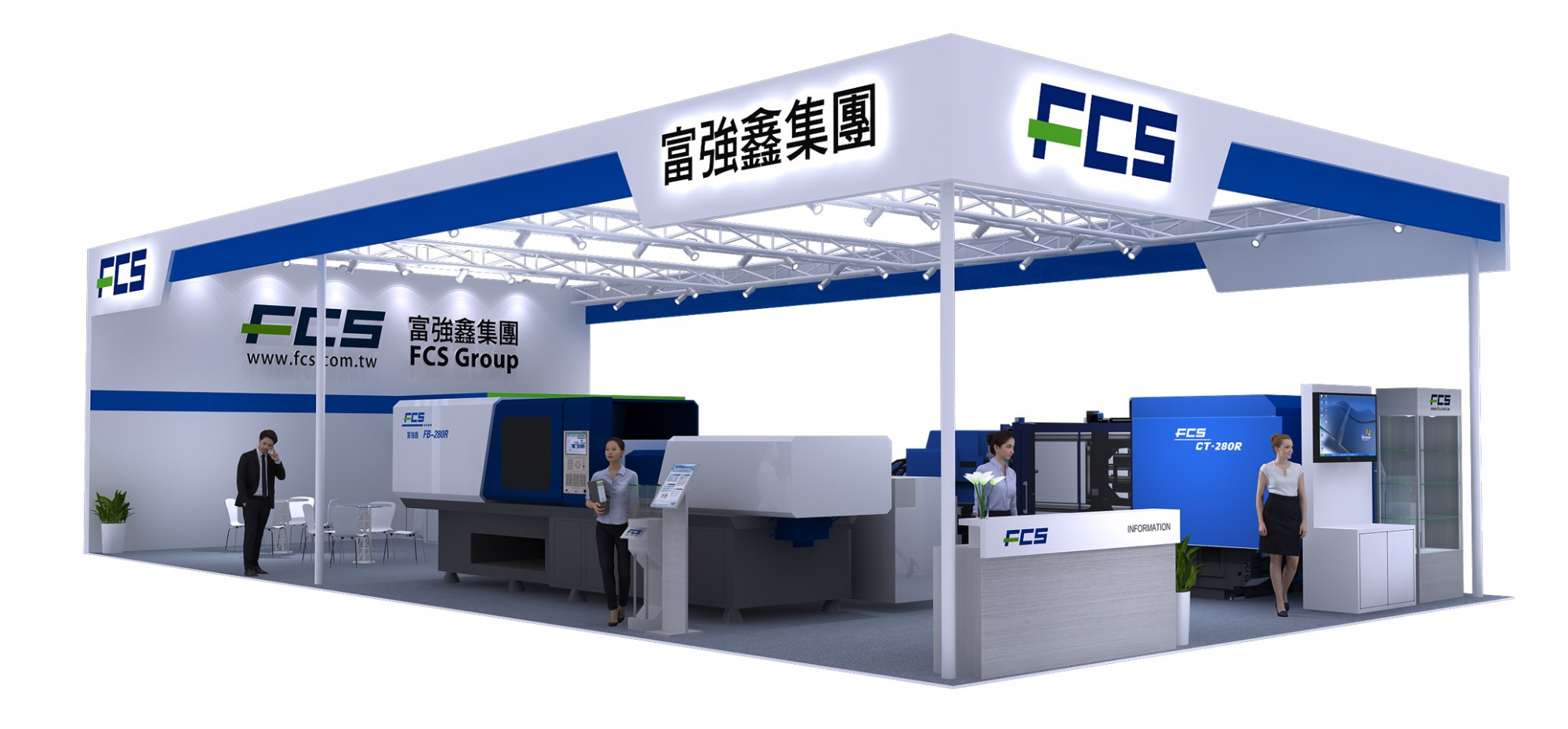 Rotary Table Two-Component Molding System: FB-R Series
FB-R series, FCS 2K technology has been developed for over 37 years, with clamping force from 140-1600 tons, which could apply to various fields.

A rotary table controlled by a servo motor could shorten the rotary time by more than 50%. Adopting a high-efficiency double servo power system which is certified the first grade of national power-saving standard (≤0.40kw h/kg). With an accurate rotary positioning clamper, it protects the mold. The FB-280R will show the airtight container production on site.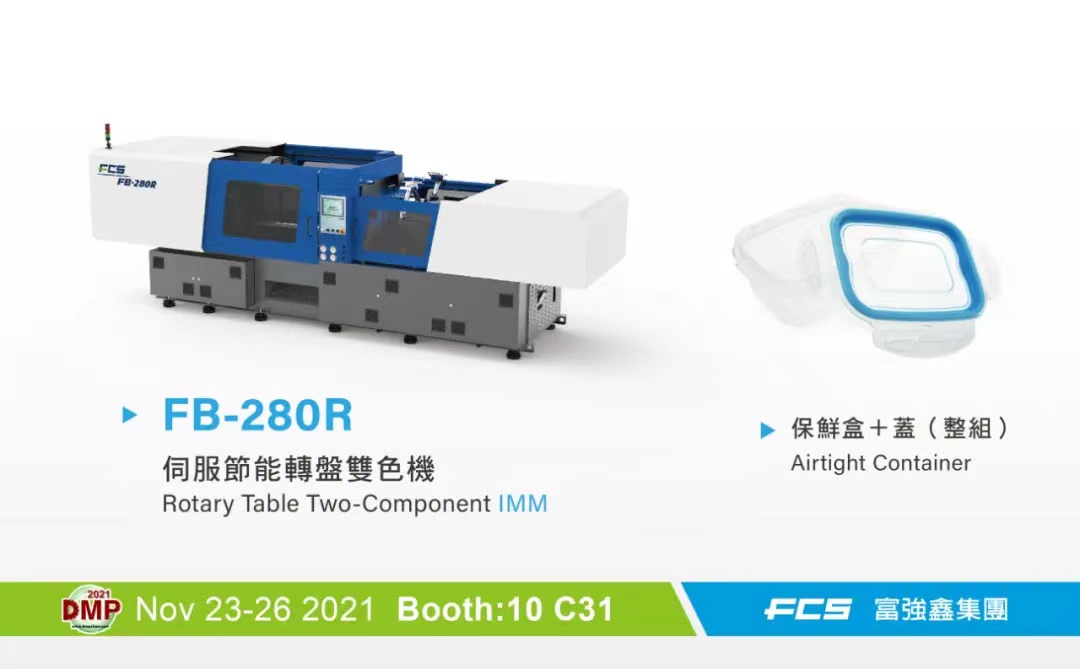 All-Electric Multi-Component Molding System: CT-R series
CT-R series is recently launched in 2020, suitable for multi-color products with high precision and low pollution.
Adopting multiple independent barrels for injection greatly shortens the cycle time. The rate of servo rotary table was improved by 30%-50%, and the positioning precision was up to 0.005°. Linear guide at injection unit makes back pressure approach 0 when charging, and reduces the melt overflow. European servo driver and controller system make injection accuracy up to 0.01mm. The 21.5" touch screen is equipped with a smart control interface.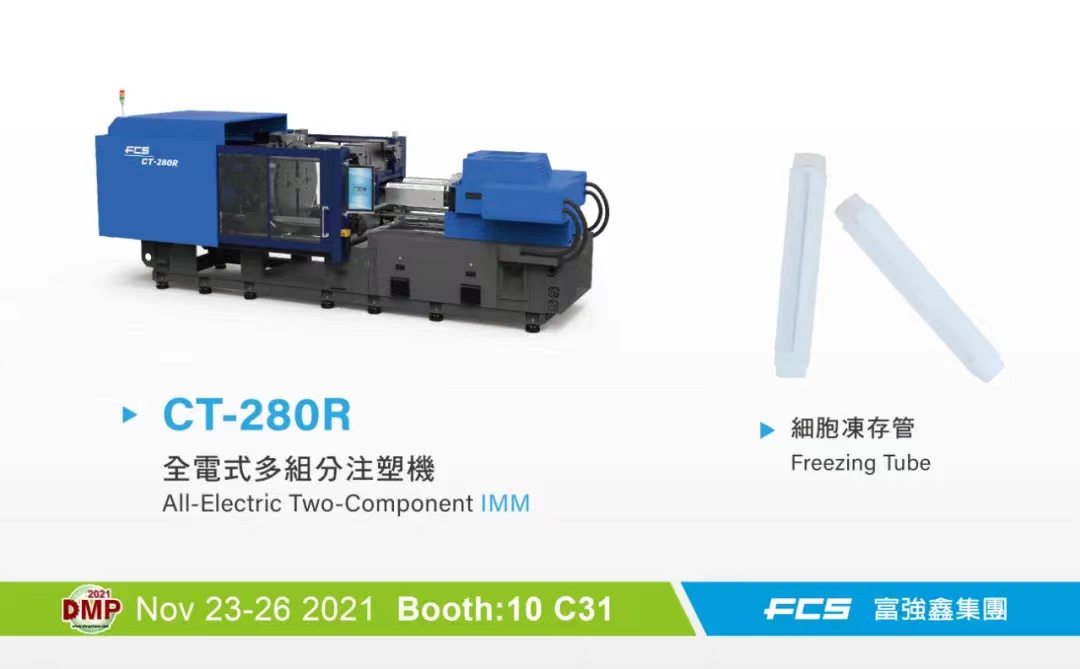 CT-R shows medical freezing tubes through 16 cavity mold and its cycle time is around 12 seconds. The cell freezing tube is made of polypropylene (PP), a transparent polymer material, which is specially manufactured to withstand ultra-low temperatures and is guaranteed to be leak-free for long-term cryopreservation of cells and tissues.

DMP Show 2021
Date: Dec.27 - Dec.30
Location: Shenzhen World Exhibition & Convention Center
Booth: 10C31
FCS sincerely welcomes you to visit our stand!
→ Click to see more exhibition information

DMP Greater Bay Area Industrial Expo, formerly known as DMP International Mould, Metalworking, Plastics & Packaging Exhibition, the expo was founded in 1999 and upgraded to DMP Greater Bay Area Industrial Expo in 2019. With 22 years of development, the expo has become an annual professional exhibition in the field of industrial manufacturing.

DMP Greater Bay Area Industrial Expo is a technology and innovation-oriented cooperation platform dedicated to connecting technology and industry, empowering the industry and the whole ecology. Exhibits include digital machine tools, digital tools, intelligent manufacturing systems, industrial robots, sheet metal laser, plastics and packaging, mold manufacturing, industrial Internet, industrial measurement, 3D printing, precision parts, digital chemical plants, artificial intelligence, die casting, hardware tools, metal materials, and others, covering the latest technology and products for the smart industry chain worldwide, such as raw and auxiliary materials, key components, advanced manufacturing equipment, integrated solutions, and personalized customization. With the large scale, extensive range of products, and vast audience, it has won the trust of the industry and become the wind vane of advanced manufacturing technology innovation in the Guangdong-Hong Kong-Macao Greater Bay Area.

Watch the video:FCS Full Range of Plastic Injection Molding Machine
| | |
| --- | --- |
| | |
Author:FU CHUN SHIN MACHINERY MANUFACTURE CO., LTD.
FCS Group, based in Taiwan, was established 40 years ago and is well known in Asia as a quality manufacturer of machinery, offering several lines of injection molding machines and other specialty and customized equipment. In addition to the main factory and development center near Tainan, Taiwan, FCS has two additional factories in China. The company is the only injection molding manufacturer publicly traded on the Taiwan stock exchange.