Monthly Focus: Gearboxes

***** PRM-Taiwan New Feature!
Join us and learn about some of the manufacturers and machines in Taiwan.
In this edition David from PRM-Taiwan gives an introduction to gearbox manufacturers.
Gearboxes and gear reducers are used in many different fields and all types of machinery, from your average family car, to construction, mining and of course plastic and rubber machinery. The main purpose of a gearbox is to transmit and control the energy from one part of the machine to another, the other main purpose of the gearbox is to change the direction from clockwise to anti-clockwise or vice versa. In plastic and rubber machinery, gearboxes are vital components in various products, such as: injection molding machines, extrusion machinery, printing machines, blow molding machines, recycling machines and many more.           

For gear reducers the purpose is to convert the speed of the rotation into torque, so that greater loads can be moved.
Gearboxes and gear reducers have now been produced in Taiwan for over 70 years, and exported all over the world. The quality and precision of Taiwanese gearboxes and gear reducers means that they are not only installed into Taiwanese plastic and rubber machinery but also top brands of Japanese, German and many other plastic and rubber machines around the world.  
Before purchasing a gearbox or gear reducer however, one must first know the type that they are looking for. A well-made gearbox or gear reducer should be able to last the test of time as any problems with a gearbox or gear reducer, usually mean operation failure of the whole machine. It can also sometimes be difficult to get to the gearbox or gear reducer as due to the nature of the product it needs to be encased so that elements cannot get into structure and affect performance. 
The most basic choice in this industry is for the machine type that you have. So when deciding to make your purchase, first ensure that the product is specially designed for injection molding, extrusion, blow molding or any other machine that you wish to install it on. The next is the type of system that you wish to use. As the name suggests within the gearbox or gear reducer there are gears. They are arranged differently depending on the manufacturer and the application.
Within this industry there are a few types that stand out: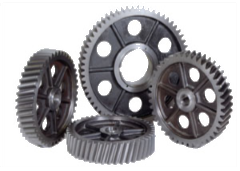 Helical gears, this are the basis for the planetary gearbox setup, named as such because the smaller gears seem to be orbiting the major gear in the centre much like the sun and planets. The teeth are angled in order to reduce the amount of noise when connecting, so are more suitable for high speed operations. 

Worm gears look more like a screw and has the benefit of being able to transfer motion in 90 degrees. The other advantages to worm gears are that they are able to process a higher torque/low speed ratio and self-lock, but they are also more prone to slipping in comparison to planetary gears. 
Taiwanese manufacturers can produce all of this and more, so be sure to check out their links on our website, or ask us directly for more information. Whatever type of gearbox or gear reducer you are looking for Taiwan has whatever you are looking for! 
Some of our gearbox/gear reducer manufacturing partners: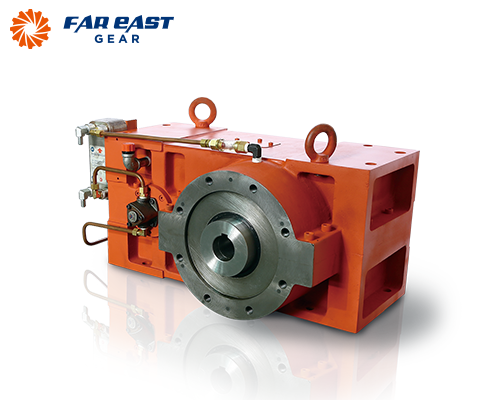 Focusing mainly on extruder gearboxes use the best imported processing equipment to make their gearboxes. All of their products meet AGMA/JISO/DIN4 standards and use computer analysis to ensure their equipment has low noise, high torque and high quality.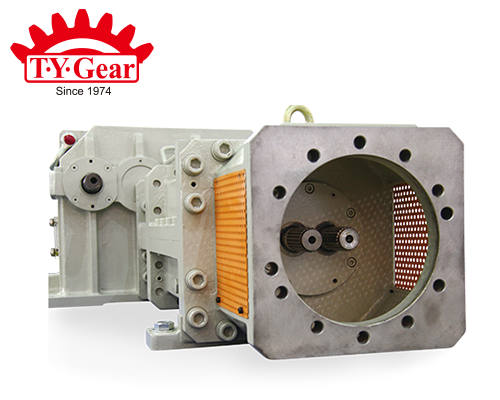 With over 30 years of experience and an export market that includes South East Asia, South America and the Middle East, Tien Yi can produce all different kinds of gear reducers, gear reducers for extruders, gear reducers for injection molding machines, and more. 
They accept custom orders, so if you can't find the gear reducer that you are looking for, inquire with Tien Yi and they will be able to customize a product to meet your demands.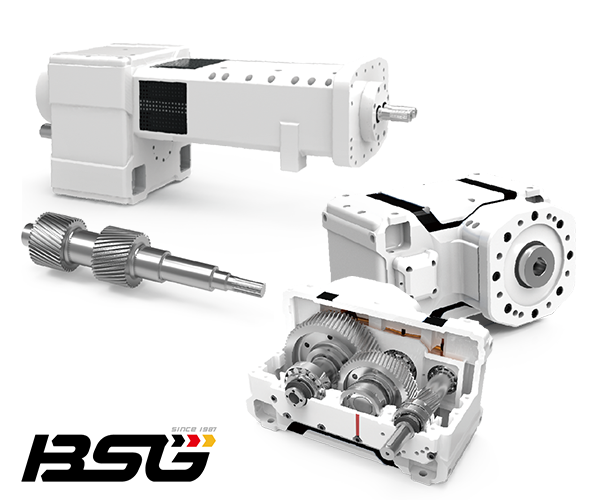 BSG are able to provide co-rotating gearboxes, direct drive gearboxes, parallel shaft gearboxes, counter rotating gearboxes, gearboxes for extruders and gearboxes for injection molding machines. 
With a focus on quality control and meeting ISO standards, their customers can be sure to receive the most precisely made gearboxes on the market. 
From the sourcing of the raw materials, to the design and fabrication of the final product. BSG are able to provide long lasting gearboxes that will increase your machinery efficiency.
Gearboxes Section in PRM-Taiwan: http://prm-taiwan.com/classify/Gearbox.html