Monthly Focus: Lamination Machines
Monthly Focus: Lamination Machines
PRM-Taiwan New Feature!
Join us and learn about some of the manufacturers and machines in Taiwan.
In this edition David from PRM-Taiwan gives an introduction to lamination machine manufacturers.

In the world of plastic machinery, lamination provides many bonuses to the composition of the final product. Strength, stability, sound insulation and appearance are all benefits when deciding to use plastic lamination machinery to enhance plastic films, plastic sheets, plastic flooring and many other plastic related items. It can be added to items made from PET, CPP, PVC, OPP, BOPP, PP, PE, Nylon, Aluminum Foil and more! (Raw Materials and Additives Section)

Plastic lamination machines have been produced and exported from Taiwan for well over 30 years, and now Taiwan is regarded as having some of the most advanced plastic lamination machines on the market.

But for those new to lamination, how does it work? The basic lamination process involves heating up the plastic resin so that it becomes molten plastic that can be extruded onto the base material. This is performed in a vacuum to prevent air being trapped inside and creating imperfections in the final product. That said if you have ever seen Air bubble extrusion machines this is also the way in which they are produced. The molten plastic is extruded in such a way that uniform air pockets are produced between the two sheets of laminate. This is why some companies that produce lamination film can also produce air bubble extrusion machines such as Yen Sheng.




Many different types of raw materials and compounds can be used in the plastic lamination process. Some of the most popular lamination resins that Taiwanese companies specialize in processing include:

PP (Polypropylene) The go to plastic of the modern world, famed for its thermoplastic characteristics (meaning that it can be heated to melting point and formed into shapes without losing its initial qualities). This also means that it's easier to recycle than other types of plastics. It's a strong plastic that is inexpensive and easy to obtain lending itself to a variety of lamination applications.

PE (Polyethylene)This is another thermoplastic that has a wide range of applications. PE is more expensive than PP but also more diverse in its usage because of how adaptable PE is. It can be formed into different types such as LDPE (Low Density Polyethylene) and HDPE (High Density Polyethylene) with the difference being the rigidity of the crystalline structure. The lower the density of the PE used the more flexible the end produce will be. So LDPE is commonly used for plastic bags and other stretchable plastics, while HDPE for items such as milk cartons and garbage bins.
This all means that for whatever type of laminated product you are trying to produce, PE should have a suitable variation that can meet your needs.
    
There are also other types of lamination resin that Taiwanese machinery can process for example EVA, Surlyn, EAA and many more. Just ask us at PRM-Taiwan or one of our partners listed below, and you will be able to find the information you are looking for.

Some of our laminating machinery partners: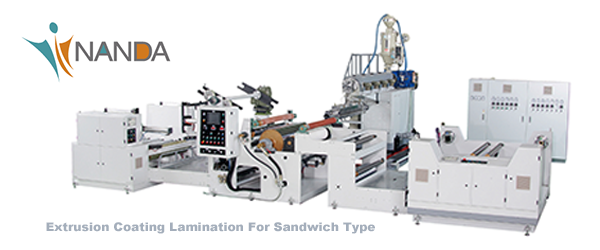 NANDA
Extrusion lamination machinery for Flexible Packaging, Tableware, woven bags, different types of paper, hamburger wrapping, cigarette packaging and many more. They can provide custom made machinery and enjoy innovating new products for their customer.
Laminating machines for PP woven bags, PP woven tents, non-woven fabric, PVC carpeting, Kraft paper, aluminum foil,and various other paper based packaging products. They believe that the success of the customer brings about success for their future. This is the key to their competitiveness.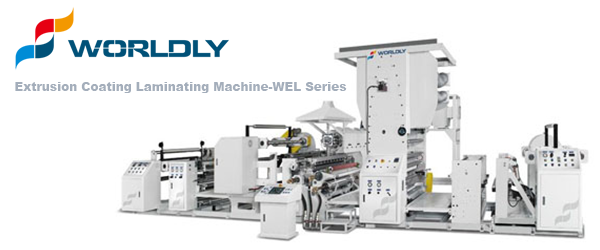 They provide wet and dry laminating machines applicable for many different types of plastic (PET, CPP, PVC, OPP, PP, PE), nylon, aluminum foil and packaging paper. Worldly strive for high quality and high performance machinery, while always keeping an open mind for opportunities within the marketplace and developing relationships with customers.


Lamination Section in PRM-Taiwan : http://www.prm-taiwan.com/classify/Laminating_Plant.html