Instant Recycling System
Classification : Automatic System
YANN BANG ELECTRICAL MACHINERY CO., LTD.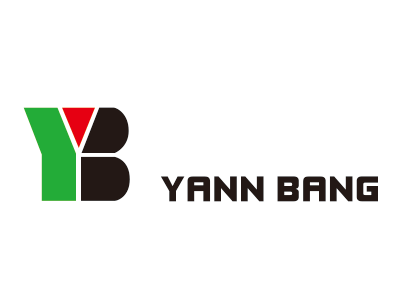 Phone:
ENGLISH: 886-4-2271-0000 | 中文:886-4-22716999
Contact Person:
Bunny Tsai
Instant Recycling System
In the past, operators throw away the sprues or waste material in small amount or wait for collecting them in big amount to reuse. However, that may be stuck dust by static electricity become too bade to be reused for a while. That not only occupies your space but also costs your time to assort, break plastic nature and regenerate in such long process.
Yann Bang "Instant recycling system" use a crusher immediately granulate the sprues, waste material or NG product into small pieces as recycled material that be mixed with virgin material by a proportional valve in right proportion.
The recycling process helps you cost down material outlay without effected quality. Small size with low noise and low power consumption is great for long hour operation.
A small automatic peripheral instant recycling system for you molding machine combine with four individual equipments: crusher, automatic vacuum loader, hopper dryer and proportional valve. Also can be used with a robot or belt conveyor. The main function is to mix the granulated waste directly from the injection molding machine and the virgin material with a right proportion. Benefit you with less material ware and pollution for your standard productions.
1. Auto instant recycling system can recycle, convey and dry the granulated material sequentially.
2. Less noise and less dust to keep your working area clean.
3. Compact size, light weight and easy-to move.
4. Accurate mixing proportion for good quality.
5. Instant recycling provides the high-efficient productivity and save material cost.
This series are suitable to granulate a small amount of sprues, waste material or defective products located next to your molding machine.
With low-speed and silence design, it can break evenly and quietly with less dust. Easy to clean and operate with multi safety device.
With patented design, once the crusher required for maintenance or repair, the crusher will completely stop as the safety device is on and it is very safe for the operator to open the crusher to clean, check or maintain.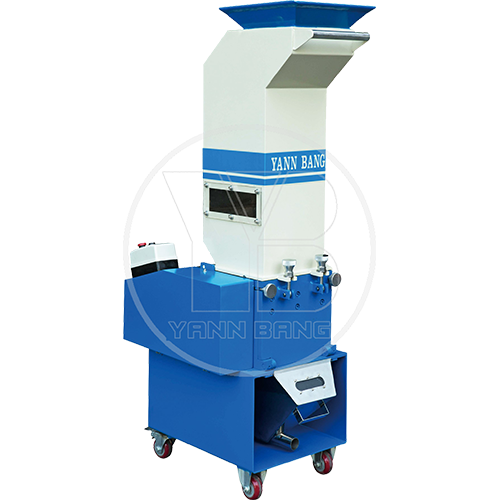 The unique air valve structure design stops dust from entering the cylinder of the unit and thus reduces waste.
Can mix or feed one kind of resin only if required.
The controller is fitted with digital readout (PV-A-D Series) and setting for the mixing cycles which gives a high rate of accuracy. It is easy to set and be set in the range of 0-9.9 seconds.
Transparent cleaning cover design for quick cleaning and easy changing materials.
Individual controller for convenient operation.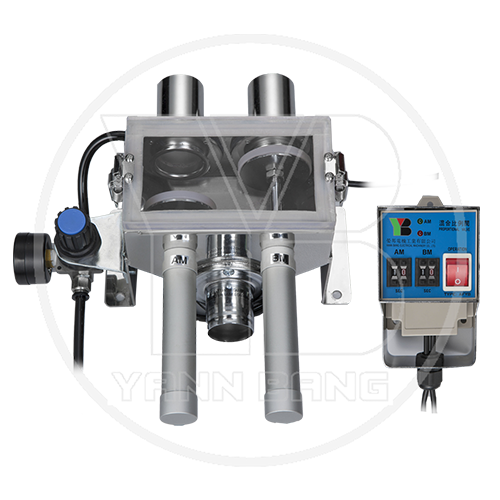 Hopper Dryer (HD/IHD/DHD)
‧ HD Series
Rapid heating.
Constant temperature control.
‧ IHD Series
Special insulated design.
Energy saving.
Save against burns.
‧ DHD Series
Insulated design.
Dust-free, clean free.
The standard DHD model is equipped with timer(T), EGO overheat protector(P),and patented magnetic stand (NSD)
Floor Mounted Auto Vacuum Loader
The separated design of a blower and a suction hopper with mighty horsepower is suitable for long distance conveying. The flexible combination of one blower with one suction hopper up to four suction hoppers can help you to save space and equipment investment cost. That also keeps your resin away the pollution and extend suction points easily for future need.
Easy use by a quiet and powerful induction motor. The motor cabinet can be placed on the floor for convenient operation and the suction hopper on the hopper dryer for easy installation.
Use the same commutator motor as the BC series, and separate motor cabinet and suction hopper design as the TA and TC series. Combine the advantages of the hopper mounted and floor mounted loaders.
The blowers are belt-driven that are the best choice for silent operation.
Patented Optional Parts

Vortex Cyclone (VC): Works with any auto loaders to stop the regrinded resin from discharging to the surrounding area.

Filter Set: s optional equipment from YANN BANG is perfect for dust-free of indoor working place. To do the filter routine maintenance is so easy without dirtying your hands and place. Unload the filter set without opening the cover until move to the please you want to clean.

Auto Dust Cleaner: Saves your time and labor. No need to clean your filter anymore. The Auto Dust Cleaner is designed to install upon the filter of the loader. Set the timer and it cleans your filter routinely.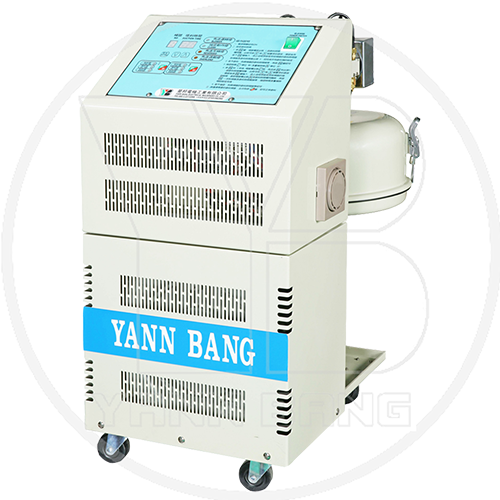 By negative pressure principle, convey the raw material into the hopper controlled by the limited switch.
Fitted with a proximity switch to make the accurate control and the material supply easily observed. It can be mounted directly onto the molding machine and gives the operator a clear view of the loading through the sight glass.
Stainless Series for Optics (HS-S/GS-S)
The stainless suction hopper which is internal buffed is dust-free and best choice for optics industry.
Flexible Hopper design to increase or decrease your hourly capacity is economic and user-friendly.
Dust-Free Filter Hopper for optics (HDF)
During conveying, dust and resin are separated. To compare with other air filter, it can increase 300% efficiency to de-dust. Stainless design with transparent tempered glass gives a clear view of the loading, and it is perfect for optics need of dust-free.
Working with a floor-type auto loader (TAE series) .It is the best choice for powder user. Available for powder, pellet or flake resin. Both new and recycled material are no problem. Special design to prevent dust and keep workshop clean. No longer worry about the powder jam at the bottom.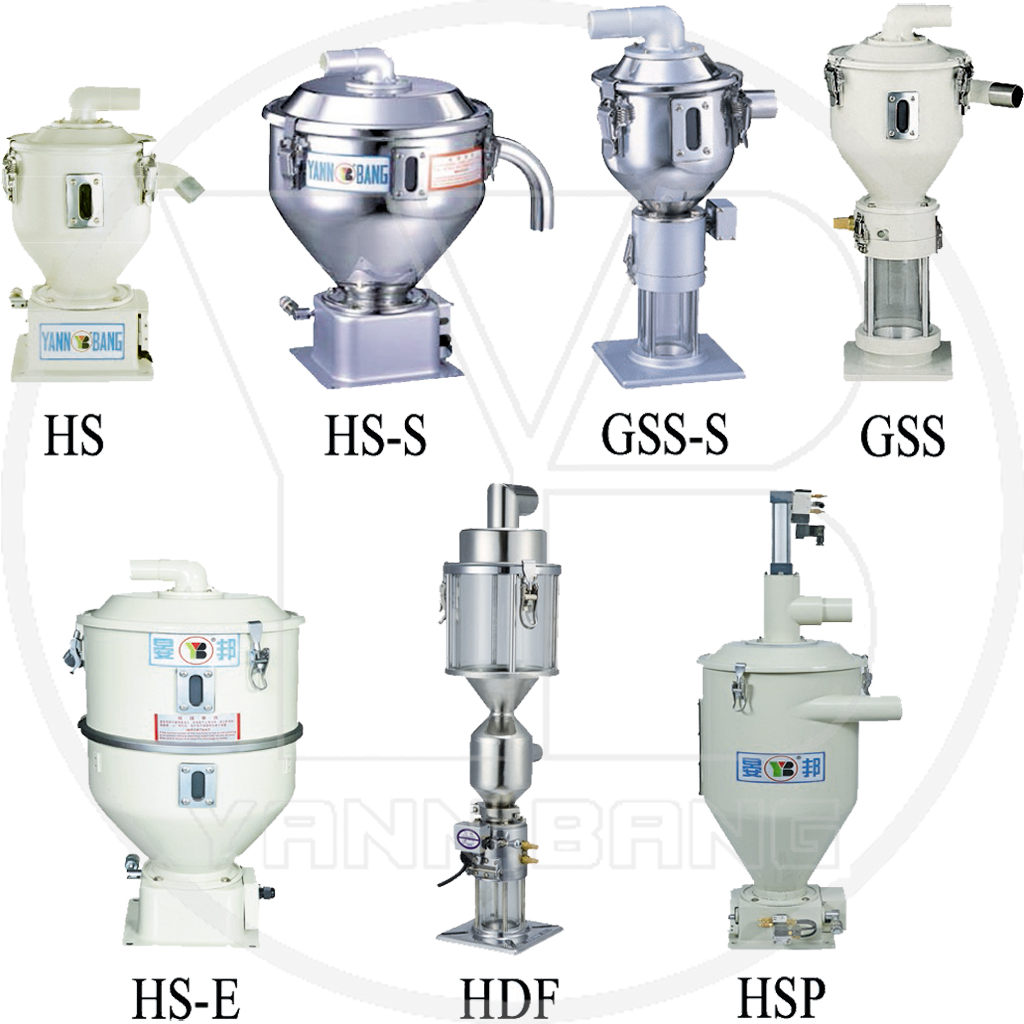 Sent the recycled material instantly to the discharge bin by compressed air.
Unique design avoids pollution for good quality.
The filter can keep your working place clean.
The discharge outlet with multiple designs is great for your different uses.
The feeder and base can adjust the output of raw resin or recycling material.
To speed up the air inside pipe by 4-6kgf/cm² compressed air conveys the recycled material to the discharge bin.