Principle & Functions
The infra-red rays causes molecular heat oscillation acting directly to the core of the particles from the inside-out so the moisture inside the particles are quickly heated and vaporized into the circulating ambient air to remove the humidity at the same time.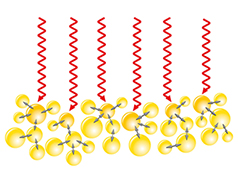 It provides continuous processing of PET flake, reducing moisture from over 4,000 ppm to less than 50 ppm in tens of minutes, compared to 5-6 hours for conventional systems.
It is significant benefit for PET material crystallizing and drying as well as the short exposure to heat in the IRD to preserve IV properties.
IR Drying
Heat is absorbed inside the particle because the plastic and moisture are excellent IR absorbent so that the drying takes a short time.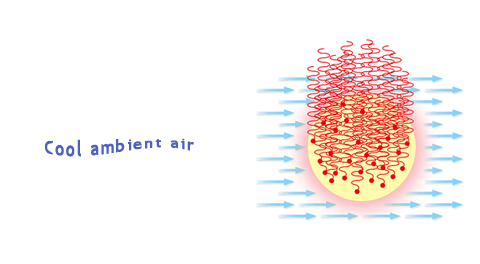 Heating; Crystallizing and Drying are in the interior particle.
Infrared Rotary Drum (IRD) Process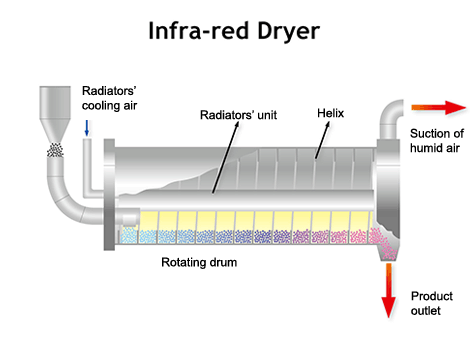 The Drum has an internal helix that pushes the material forward when rotating; at the same time the material passes under the IR radiators for drying.
The output needed will size the drum diameter and length together with the radiation power. Exposure time and temperature are controlled by the speed and the IR power applied during the process.

Application: 50% virgin + 50% regrind APET
Bulk density: 0.75 g/cm3 + 0.4 g/cm3
Initial material moisture: virgin 4,000ppm; regrind 6,000ppm*
MODEL
IRD050-120
IRD072-240
IRD072-300
IRD120-300
IRD120-360
Drum size
(Dia. x L mm)
500 x 1200
720 x 2400
720 x 3000
1200 x 3000
1200 x 3600
Feeder size
(Dia. x L mm)
50 x 400
90 x 600
90 x 600
100 x 650
100 x 650
Output capacity
(kgs/hr)
50
120
150
250
350
Infrared lights power (kW)
36
54
63
84
144
Feeding power
(kW)
0.38
0.38
0.38
0.38
0.38
Drum turning power (kW)
0.38
0.75
0.75
1.5
1.5
Cooling Blower
(kW)
0.2
0.2
0.2
0.4
0.4
*1 % = 10,000ppm
MODEL
IRD150-300
IRD150-360
IRD150-450
IRD180-360
IRD180-450
Drum size
(Dia. x L mm)
1500 x 3000
1500 x 3600
1500 x 4500
1800 x 3600
1800 x 4500
Feeder size
(Dia. x L mm)
139 x 650
139x650
139 x 650
139 x 650
139 x 650
Output capacity
(kgs/hr)
500
700
1000
1200
1600
Infrared lights power (kW)
126
144
222
222
240
Feeding power
(kW)
0.75
0.75
0.75
0.75
0.75
Drum turning power (kW)
2.2
2.2
2.2
2.2
2.2
Cooling Blower
(kW)
0.75
0.75
0.75
0.75
0.75
*1 % = 10,000ppm