3-Layer Air Bubble Film Extrusion Line from CHICHANG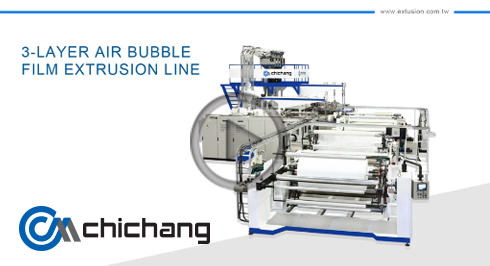 3-Layer Air Bubble Film Extrusion Line



Application
The main uses of the Air Bubble Sheet are:
> Packaging of electronic material with anti-UV additive.
> Agricultural sector(green house) with anti-UV additive.
> Covering of swimming pool with anti-UV additive.
> Typical packaging with anti-shock, anti-abrasion and anti-crushing functions.
> Laminated with paper, PE woven and aluminum foil for making envelope.

Other product
Chi Chang also manufactures the following lines:PP Sheet Extrusion Line, Breathable Cast PE Film Extrusion Line, Multi / Single Layers Sheet Extrusion Line, Cast Film Extrusion Line, Extrusion System Lamination Machine, etc..
Chi Chang even offer the most complete & economic turnkey project for their customers.

Chi Chang welcomes customers' suggestions and designs the machines according to customers' requirements. Most of the machine components are either Taiwan made or international brand. Chi Chang aims to create the best possible machinery for its customers and puts 100% effort into making the machines. This target has always been, and will always be the ultimate goal for Chi Chang.